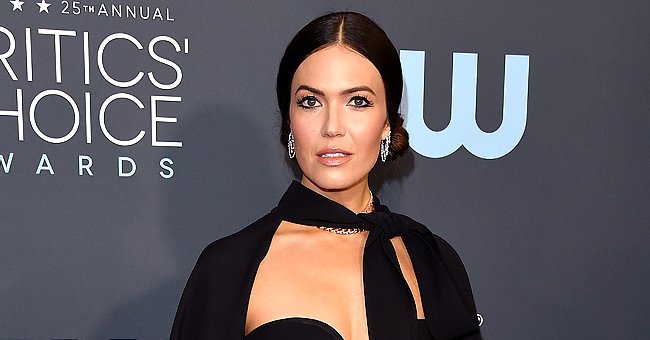 Getty images
'This Is Us' Star Mandy Moore Has to Change Birth Plan after Significant Drop in Her Platelets

Actress Mandy Moore is expecting her first child, and already she is experiencing unfavorable circumstances during her pregnancy. Moore is forced to change her birth plan following a health concern.
In her Instagram Story, Moore posted a photo of herself in what looks like a visit to a doctor. In the snap, she is wearing a floral blue dress with a grey facemask.
With her hand on her baby bump and a handbag on her lap, she wrote, "weekly platelet check at the hematologist." The 36-year-old revealed that her platelets dropped exponentially, and "it has sadly altered my birth 'plan.'"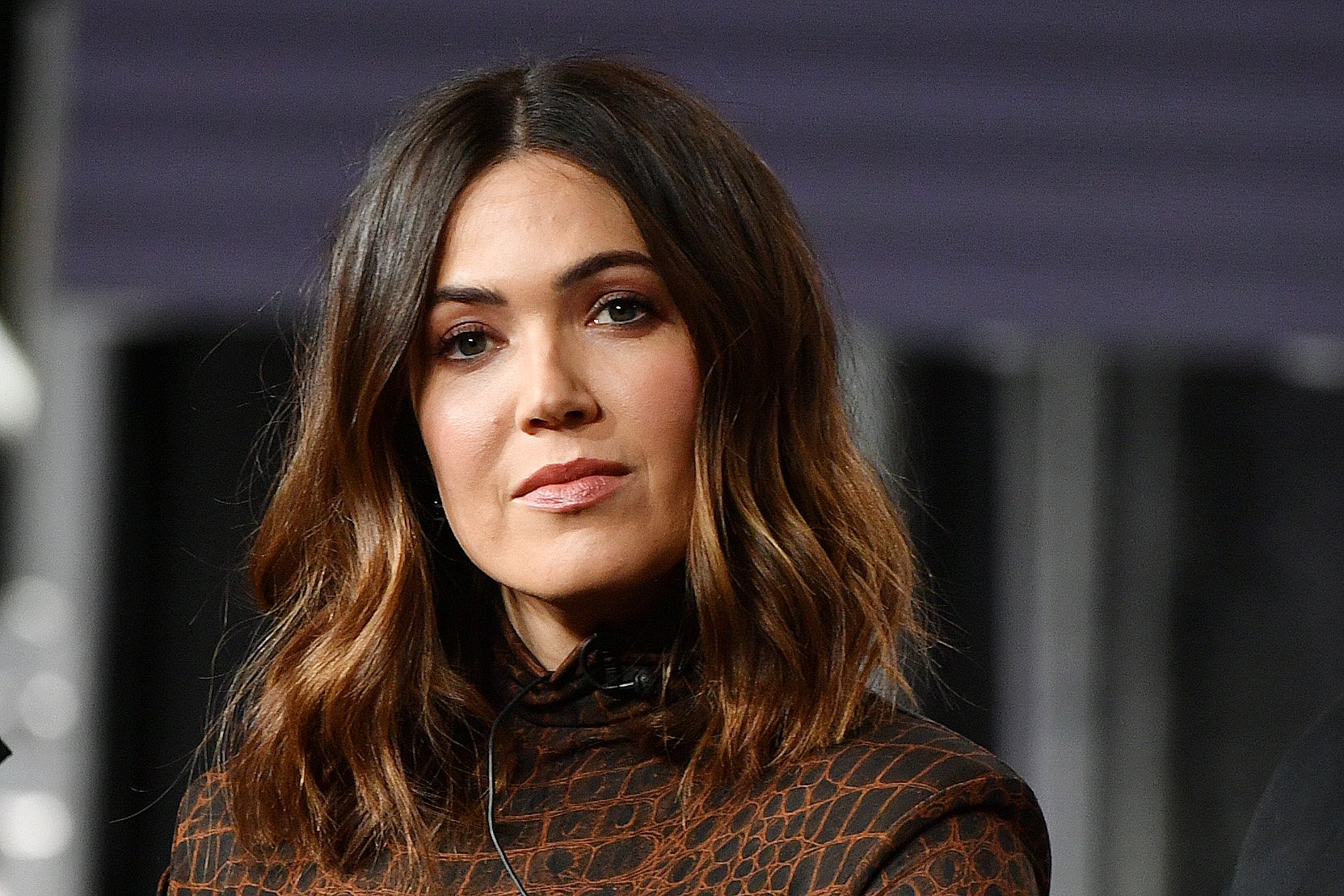 Mandy Moore of "This Is Us" speaks during the NBCUniversal segment of the 2020 Winter TCA Press Tour at The Langham Huntington, Pasadena on January 11, 2020 in Pasadena, California | Photo: Getty Images
Moore then posed the question if there are other mommies-to-be who are currently in the same situation as her. Platelets are cells that help blood clot.
Even though a drop in platelet count during pregnancy is normal, if they drop below the normal range, it's known as a condition called gestational thrombocytopenia. It is common and occurs between seven and 10 percent of pregnancies and delivery.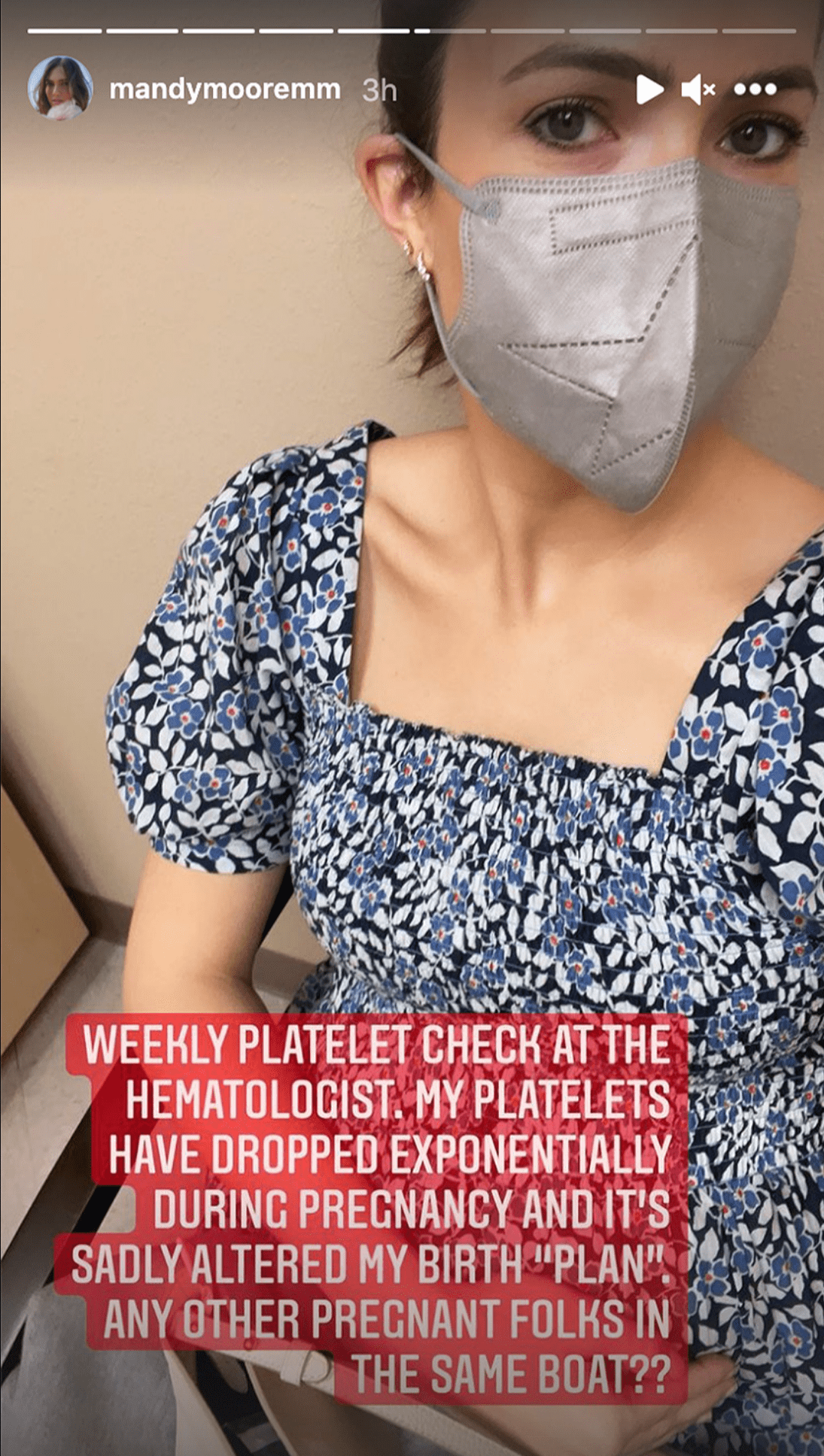 Mandy Moore gives an update on her pregnancy | Source: Instagram/@mandymooremm
The actress announced her pregnancy in September and has been open about her difficult first trimester and fertility struggles. Moore revealed that she was in disbelief when she discovered that she was pregnant because of her history.
The award-winning actress reportedly shared that she gave it a good 12 weeks for her to come to terms with the news. However, now that she has reached her third trimester, it has dawned on her that it is finally happening.
The "Tangled" star shared that she suffered extreme nausea early in her pregnancy. Moore added that she had no appetite, lost a tremendous amount of weight, and spent much time on the bed.
Thankfully, she overcame that hurdle, and is although she is facing another one now, she feels a lot better. Moore also continues to update her followers on her pregnancy journey on social media.
The "Princess Diaries" actress is expecting a baby boy with her husband, Taylor Goldsmith. The couple got married in November 2018, and she reportedly fell in love with the musician in the aftermath of a divorce.
Moore was previously married to singer-songwriter Ryan Adams. The "Chasing Liberty" star once shared that she met her now-husband on Instagram.
According to Moore, back in May 2015, she expressed her love for the singer's band Dawes. To her surprise, Goldsmith saw her message and sent her a note, and from thereon, they emailed each other back and forth until they eventually went out on a date.
Like her spouse, she is also a singer and started as a pop singer with her breakout hit "Candy" in 1999. Moore got her acting break when she starred alongside Shane West in "A Walk To Remember" in 2002.
Please fill in your e-mail so we can share with you our top stories!