Malika Haqq Shares a Heart-Melting Photo Showing Look-Alike Son Ace with His 1st Teeth Growing
"Keeping up with the Kardashians" star and social influencer Malika Haqq just shared the most heart-melting image on Instagram of her son Ace Flores with his first teeth showing.
Malika Haqq left her fans in awe at her 11-month-old baby, Ace Flores, and his new teeth in an adorable snap shared to the 37-year-old actress's Instragam account two days ago. 
The close up of Ace's face shows two dark, kind eyes and a happy little mouth, boasting two bottom teeth. The post received over 85 thousand likes and was shared with Haqq's 5.3 million followers.
Several fans commented on the cuteness of Haqq's child, complimenting his genetics and sweet cherub face. The television personality's son is clearly trendy already.
Haqq is thrilled to be a mother and has been sharing her growing baby boy in her posts since his birth last year. She captioned her most recent picture of him, saying:
"Love of my life."
Like other celebrity moms, Haqq has been quick to jump on the twinning-with-mommy trend on social media. A few months ago, she shared an image in matching black outfits with her son to celebrate him turning 8 months.
Both Haqq and Ace were in Fendi apparel. Haqq had on sweatpants, and her son was wearing little shoes to match the logo running down the side of his mother's pants.
In September 2020, Haqq opened up about Ace's father being unwilling to set up their child's crib.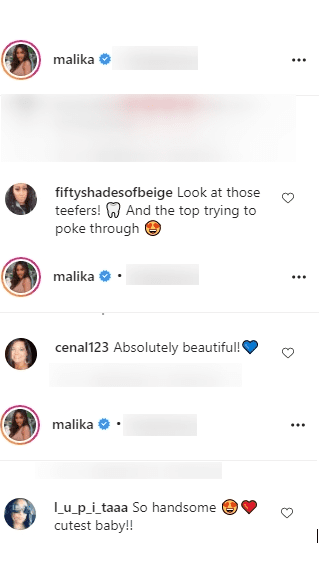 Haqq and her now ex-boyfriend O.T. Genasis (Odis Flores) had Ace in 2020. The couple decided to part ways while Haqq was still pregnant but were always committed to co-parenting their child.
Haqq took to Instagram to share the news about her upcoming child last year in March. She described how incredibly blessed she was to be pregnant saying:
"God said it's my turn, and I couldn't be more grateful for the little spirit that grows inside of me."
In September 2020, Haqq opened up about Ace's father being unwilling to set up their child's crib. She gave Khloé Kardashian a tour of her new house and said that she was eager to sort out the nursery as soon as possible.
However, she said that Genasis had brushed her off when she asked him for help. He felt that they had plenty of time. Haqq responded by stating that she would probably have to get a professional handyman to do the job.
As Haqq's best friend, Kardashian could likely relate to this relationship trouble due to her own cheating issues with her baby's daddy, Tristan Thompson, while she was pregnant with True. 
As Ace's first birthday approaches, fans should expect a notable celebration from Haqq and her close friends, the Kardashians. The Kardashians and Jenners also sent many gifts when Ace was born last year.