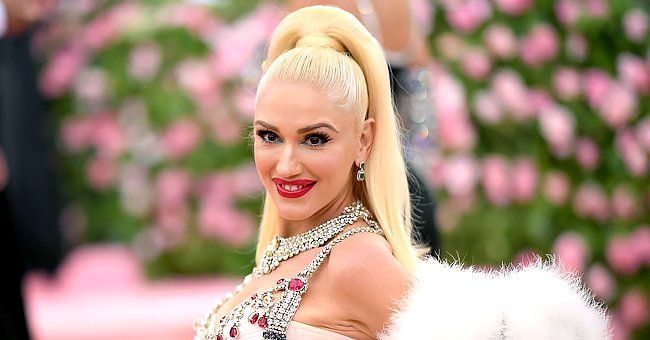 Getty Images
Gwen Stefani Claps Back at Online Critic after Commenting on Her TikTok Video — See Her Response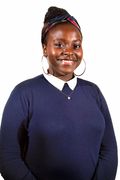 Popstar, Gwen Stefani has found herself clapping back at a commenter who left harsh criticism on the star's TikTok account, posting some choice words for the critic on her Instagram stories.
Gwen Stefani jumped on the TikTok bandwagon to share a fashion transition clip. While fans supported her, one fan labeled her video a fail. Stefani took to Instagram to post her response.
The TikTik video under scrutiny starts with Stefani dancing in a fitted white suit before transitioning to a sequined bodysuit. Stefani's transition was not as smooth, according to many who noted her odd mood change.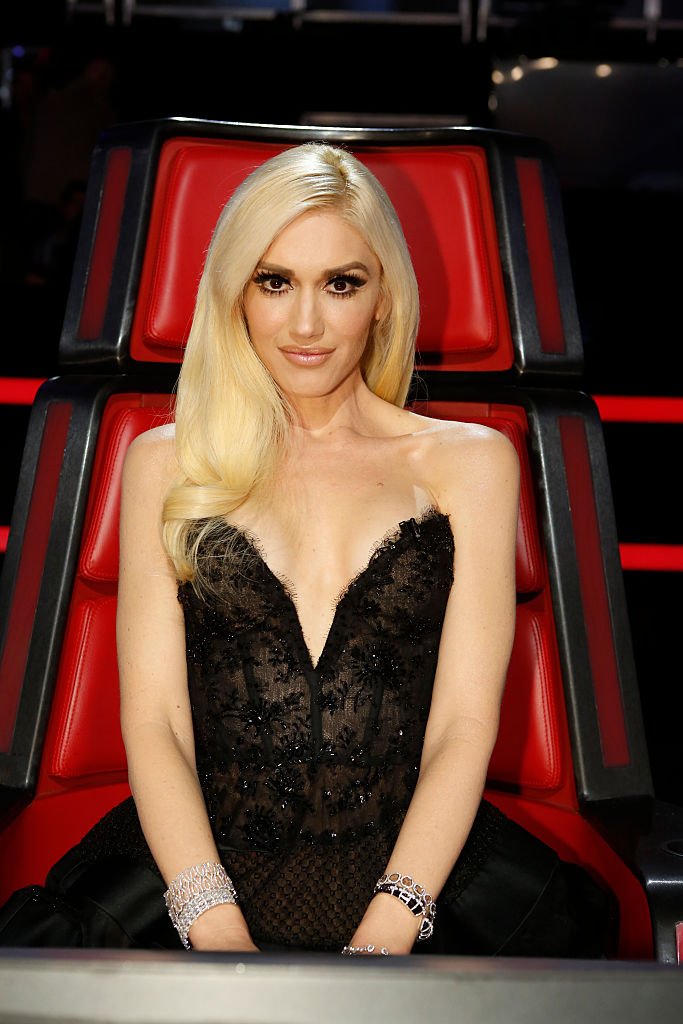 A portrait of Gwen Stefani on singing competition show 'The Voice' Source | Photo: Getty Images
Followers caught on to Stefani's nervous state, and Stefani's comments were bombarded with mixed reactions shortly after to her TikTok fun. The critic was unimpressed with Stefani's video and made it known.
Stefani seemed not to take the hater's comment personally but responded to the critic over on her Instagram stories. The singer took a light-hearted approach to the criticism and shared her feedback saying:
"Thank u for calling me out you're right!!! TickTock is not for me."
Stefani asked the critic to sit back and enjoy the music the singer posts on her TikTok platform instead. In the post, Stefani also expressed her confusion at being called a celebrity and posed the question to fans.
It was not clear if the star intended to add another layer of comedy to her response by misspelling TickTock, but the singer finished off her response with a laughing emoji that let fans know she was alright.
Stefani has found love again in Shelton.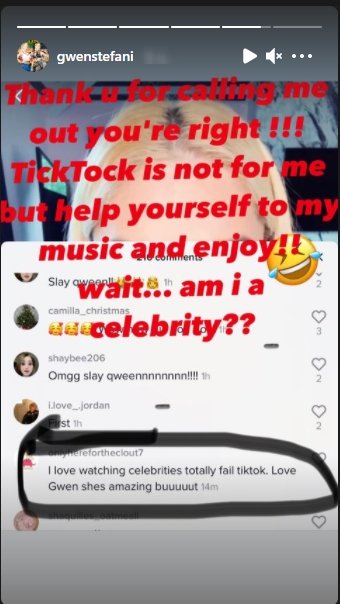 Gwen Stefani claps back at a fan Source | Photo: instagram.com/gwenstefani/
Despite the conflict, Stefani has remained active on her social media accounts. The star's recent Twitter activity may have secured her a wedding singer in the form of fellow pop star Miley Cyrus.
Stefani complimented Cyrus impressed with the star's NPR "Tiny Desk" performance of her new song "Prisoner." Cyrus snatched up the opportunity and made an offer to Stefani to perform at her upcoming wedding.
Stefani did not make it clear whether Cyrus will be performing at her upcoming nuptials. However, she expressed her gratitude to Cyrus, thanking her for the offer, lovingly referring to Cyrus as a puppy.
Before Stefani's engagement to country star Blake Shelton, Stefani was married to rocker Gavin Rossdale. Stefani and Rossdale split after cheating allegations were brought forward against Rossdale.
Stefani has found love again in Shelton. The two dated for 5 years before Shelton popped the question last year. Stefani shared the news on her Instagram page, flaunting her huge new diamond.
Stefani's TikTok video joins a list of celebrities who have posted headline-making TikTok content. From Jojo Siwa to Fall Out Boy rocker, Pete Wentz celebs have left fans taking a double-take at their attempts at Tik Tok.
Please fill in your e-mail so we can share with you our top stories!