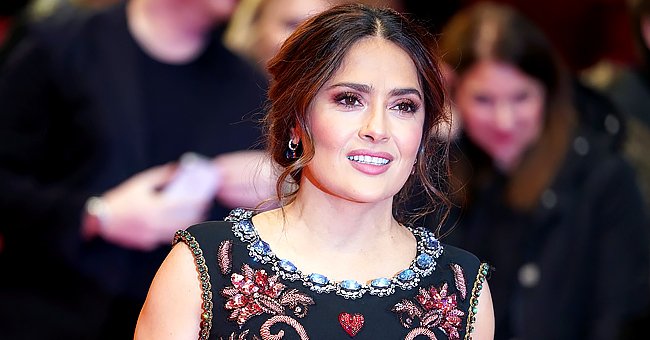 Getty Images
Salma Hayek Flaunts Two Massive Tattoos on Her Chest Wrapped in a Dressing Gown
Acclaimed actress Salma Hayek shared a selfie of herself wrapped in a dressing gown that barely covered her shoulders and showed off her two massive tattoos on her chest.
Salma Hayek posted a stunning selfie of herself on Instagram on February 4. In the caption, the 54-year-old star explains that she's testing makeup, hair, and tattoos for her new film "Bliss."
Hayek is shown smiling, and she was glowing in the adorable snapshot. She let her long, brunette hair loose, and she wore eyeglasses. Her post gained a lot of attention from fans.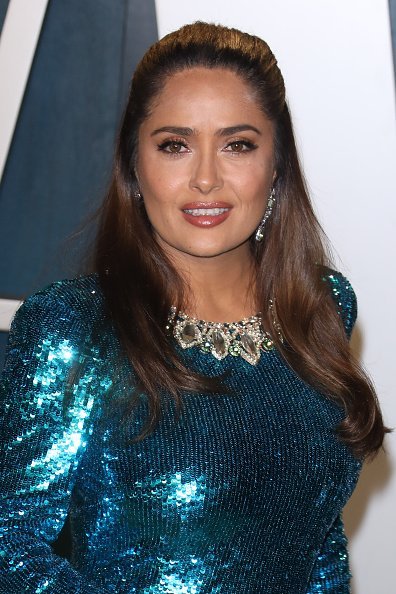 Salma Hayek at Wallis Annenberg Center for the Performing Arts on February 09, 2020 in Beverly Hills, California. | Photo: Getty Images
SOCIAL MEDIA REACTIONS
One person wrote that whoever did her tattoos must be a fortunate person. Another fan complimented her "stunning beauty" and called her captivating. Someone else commented:
"You are so gorgeous and elegant."
Earlier in the day, Hayek promoted her film from inside her London home in a plunging low cut green top. Fans were allowed to peek inside her gorgeous mansion during the interview.
DISCUSSING HER WORRIES
In the interview, the actress, who has been married to French business titan François-Henri Pinault, expressed her concern about filming in a post-pandemic world.
Hayek said that despite knowing she must observe precautions when she produces Netflix's "Monarca," she still gets tripped up when it comes to enforcing those regulations when she's acting.
The star recently shared a picture with her fans that captured her relaxing at the pool.
SHE'S NOT ALLOWED TO TOUCH ANYTHING
The celebrated actress explained that she often dwells at the craft table and would try to grab something, but that she would be told, "NOOOOOO! Don't touch anything!'"
Hayek said the food wasn't the only problem on the set, but she found it challenging to follow the mask protocols. She said that after a take, everyone is running away from her since she has no mask.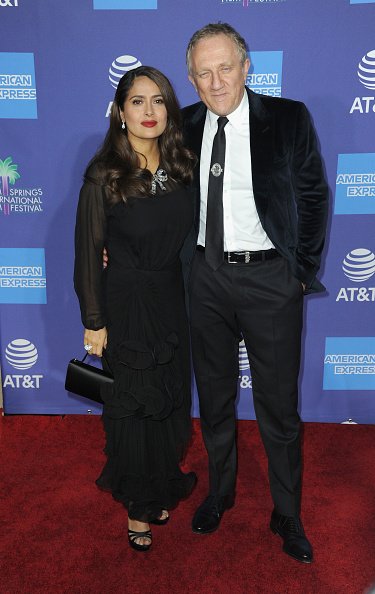 Salma Hayek and François-Henri Pinault at Palm Springs Convention Center on January 2, 2020 in Palm Springs, California. | Photo: Getty Images
The actress is currently engaged in several projects and was promoting her science-fiction drama "Bliss," starring Owen Wilson. The movie was directed and written by Mike Cahill.
Meanwhile, it isn't the first time Hayek has displayed a tattoo on social media. In April 2019, she shared a snap of herself showing a tattoo for her film, "The Hitman's Wife's Bodyguard."
In the previous week, Hayek has been walking her dog through the snow in London and then relaxing by a pool. Her recent travels called for less clothing, so her fans were appreciative of that.
The star recently shared a picture with her fans that captured her relaxing at the pool. In the shot, the star bent her back beneath the surface. She proved her ability to make any pose sexy.
Please fill in your e-mail so we can share with you our top stories!