Emma Watson & Tom Felton Did Not Date in the past — All about the Malfoy Actor's Personal Life
"Harry Potter" stars Emma Watson and Tom Felton worked side by side for many years in the movies and have been the subjects of a fan-conjured romance for just as long. Take a look at the Draco Malfoy actor's love life. 
Years ago, actor Tom Felton appeared on screens as a pure-blood Slytherin wizard, Draco Malfoy, in the film adaptations of the best-selling fantasy series, "Harry Potter."
He appeared alongside actress Emma Watson, who played Hermione Granger, a muggle-born Grryfindor witch. Being co-stars, there were many speculations that the two dated for some time, but they denied such rumors over the years.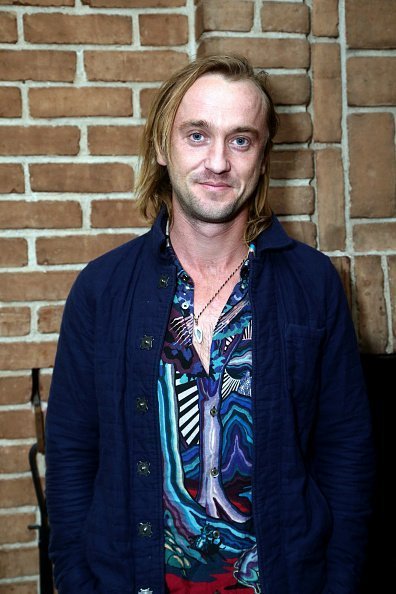 IT STARTED WITH A CRUSH
As though the Watson-Felton ship needed more wind to its sails, the English actress admitted to having a crush on Felton for the first two movies back in 2012.
During an appearance on the Jonathan Ross Show in 2012, the "Beauty and the Beast" actress bashfully admitted:
"Between the ages of 10 and 12 I had a really terrible crush on Tom Felton. We love a bad guy, and he was a few years older..."
The actress went on to share that Felton actually knew of her adorable crush on him, but as one might expect, the actor often said that he saw her as a younger sister.
Watson then admitted that it broke her heart. Ultimately, they remained good friends during the time they worked together and, of course, much after the series came to an end.
[Watson] sparked engagement rumors when she was spotted rocking a band on her ring finger
THE RUMORED RELATIONSHIP
"Harry Potter" fans or Potterheads, as they are called, have always been intrigued by Tom Felton and not just for his portrayal of Draco Malfoy.
Since the years he played the character, many have wondered about his love life and the status of the Malfoy actor's relationships.
It is not strange to find that co-stars and even actors and non-acting members of movie crews get together. This not only acted as a base reason but propagated the speculations that Watson and Felton had indeed found love with each other.
For years, owls carried news left and right on the internet of Emma Watson and Tom Felton dating, leaving many to wonder if they ever did date at any point. Their relationship names included "Dramione," "Feltson," and "Temma." Their fanbase was undoubtedly meticulous.
In 2019, the duo raised eyebrows when they shared a cute selfie of themselves in their pajamas while on holiday together in South Africa. Felton captioned the shot of them playing the guitar together and wrote:
"Quick learner x."
Again, he shared a photo of himself on the beach, giving Watson a sneaky shoutout for taking the photo in his caption. "Dramione" shippers went wild in the comments, perceiving it to be a sign that their dream for the two to get together was finally coming to pass.
RUPERT GRINT AND "DRAMIONE"
Actor Rupert Grint, who played Ron Weasley in the movies, also had plenty to say about his co-stars and the kind of relationship they had.
Grint reportedly admitted that when it came to Felton and Watson, there was always something, a little bit of a spark. He then went on to add that they were kids at the time, and it was, of course, nothing more serious than playground romance.
FELTON PUTS THE OWLS TO REST
When asked if he ever felt the same way about Watson as she did all those years ago, the actor was quick to deny that he ever had a crush on her shyly. 
Of course, the Draco Malfoy actor was also quick to praise his co-star and her excellent acting in the series. It was clear that those rooting to see Tom Felton and Emma Watson together would probably never get it.
FELTON'S ACTUAL GIRLFRIEND
While many Potterheads still held out for a much-needed spark between Felton and Watson, neither let that hold them back. In fact, Felton went on to date another "Harry Potter" co-star.
In 2008, he started dating actress Jade Olivia Gordon, who played his wife, Astoria Greengrass, in the movie "Harry Potter and the Deathly Hallows: Part 2."
The two were often seen acting madly in love, and as expected of the many Draco Malfoy fans, there were many rooting for them too. In 2015 while talking about her, he described her as his best friend and said:
"Having someone who truly understands you, where you don't have to sugar-coat things..., is rare."
Sadly, come 2016, the owls once again carried the news that Tom Felton's girlfriend, Jade Olivia Gordon, was no longer with him, and the two had parted ways.
DATING TROUBLE FOR FELTON
Two years after Felton sadly parted ways with his ex-girlfriend, he shocked everyone when he was spotted locking lips with a mystery blonde in Los Angeles.
The pair looked very smitten as they strolled around town hand-in-hand with large happy smiles gracing their faces. Although not much came out of that, July 2019 also saw the actor walking his dog in L.A., this time with a stunning brunette by his side.
That also apparently ended in a dead-end as the 33-year-old was said to have joined a dating app in 2020. The app, Raya App, has become rather popular among celebrities. 
A source close to the actor reportedly explained that Felton experienced difficulties finding someone who understands his lifestyle as an actor that consists of him traveling and being away for long periods.
According to the source, the actor was optimistic and willing to look out for that one person that would relate to his lifestyle, hence his joining the celebrity dating app.
EMMA WATSON'S BOYFRIEND
As for Watson, things are not quite the same with dating as they are with Felton. In April 2020, it was revealed that the actress was dating Los Angeles business tycoon Leo Robinton.
Watson and Robinton, who reportedly met through mutual friends, most recently sparked engagement rumors when she was spotted rocking a band on her ring finger while saying goodbye to the businessman early in February.
These photos of Emma Watson have some fans wondering if she's engaged to her beau Leo Robinton, (though there has been no confirmation at this time.) Check out why fans are talking: https://t.co/QuN1bo1Pdd

— JustJared.com (@JustJared) February 8, 2021
It is clear that both Watson and Felton are in different places in their lives at the moment, and perhaps there are no hints to "Wingardium Leviosa" any hopes for Dramione. Still, fans can only hope.