Jordyn Woods Flaunts Ample Assets While Posing with Roses in a Tight Bodysuit
A new update posted by Jordyn Woods made her Instagram followers gasp in pure amazement. Her form-fitting bodysuit best showcased her ample assets and enviable body shape.
As seen in the photo, Jordyn Woods wore an off-white bodysuit that enhanced the glow of her flawless skin. Additionally, it had a plunging neckline that showcased her sleek bust.
Meanwhile, the sleeveless design highlighted her slender arms. The lower part of the suit showed off a lot of skin around her bikini line and emphasized her lean thighs.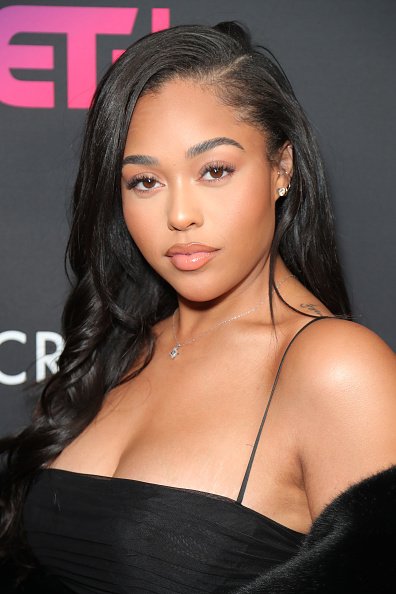 Woods was photographed inside a bedroom. There was lots of light inside the room that made it great for taking pictures. On top of the bed, she kneeled sideways, her legs apart.
While holding the vase filled with rich red roses, the model gazed into the camera with a serious expression. The photo was taken in front of a black headboard, pillows, and white walls.
Woods kept her long, dark hair in a bun. Her nails were painted in a french tip style, and she wore pairs of hoop earrings and several rings. On her lips, she chose a bold red lipstick that suited her well.
"I love you," Woods simply wrote in the caption. While the model didn't mention her beau's name, Karl-Anthony Towns' Instagram page was tagged in the photo. 
Prior to this post, Woods uploaded a video of herself doing the "Buss It" challenge.
Dose of Roses was also given credit in the post since Woods tagged the company's Instagram page. Over 481,000 followers liked the update, and numerous comments have come in from fans.
Her greatest compliments came from everyone commenting on how stunning she looked. One person wrote: "Wow, girl! You look amazing!! Hard work pays off!!! Keep it up."
Before this post, Woods uploaded a video of herself doing the "Buss It" challenge. In this viral challenge, people glam up while twerking to "Buss It" by Erica Banks.
The TikTok video features Woods switching from sweatpants, and a hoodie with her hair tucked back to revealing pants and a bodysuit. A fan blows behind the camera, causing her hair to flow.
In reaction to the video, Towns, her 25-year-old boyfriend, said, "God is good." Meanwhile, the Minnesota Timberwolves player confessed to testing positive for COVID-19 on January 15.
While Towns cannot see Woods, he keeps giving her sweet things until he reunites with her, such as a hoodie with a message of love to bring the model comfort.