Elderly Couple of 58 Years Meet in Person for the First Time in Almost a Year Due to COVID-19
An elderly couple who have been married for 58 years could reunite in person for the first time in almost a year due to COVID-19. 
Harriet and Jerry Shenkman, an elderly couple of 58 years, meet in person for the first time in almost a year due to the COVID-19 pandemic and its restrictions. 
Jerry is currently living at The Bristal Assisted Living facility, as he is battling Alzheimer's. He was diagnosed 3 years ago. During the pandemic, Harriet could only visit him by standing outside and talking through a window.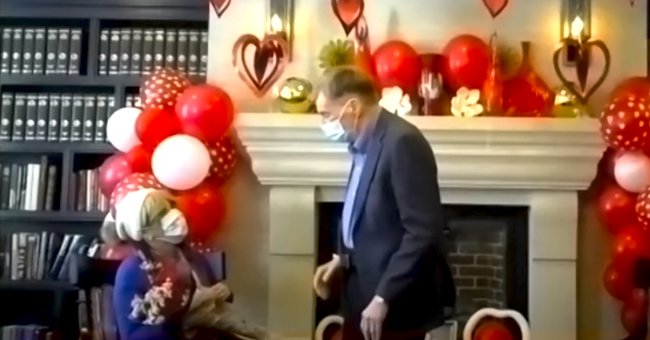 The caring staff at the living facility had bought heaters so that Harriet would not be cold during her daily visits with her husband. 
The couple was able to meet in person ahead of Valentine's day. The facilities regional director,  Winsome Brent, shared that it was exciting to see the way Jerry would light up when Harriet visited:
"Seeing him and how he lights up, and how happy he is when he sees her. And to see what happens today, he can physically be closer to her, we are excited about that."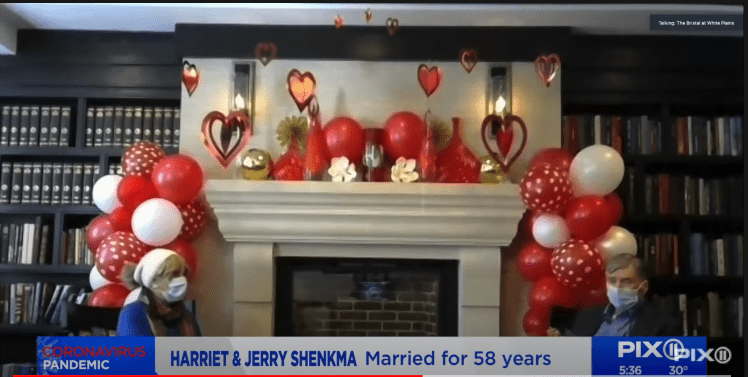 During their Valentine's week reunion, Jerry gave his wife a beautiful bouquet. The couple sat a few feet apart and wore their masks during the visit, as seen in a video from PIX11 news. 
The couple had originally met when Harriet's friend had set them up together. Harriet shared that they had gone to a Jazz club, but he was too focused on the music and did not pay her any attention. 
However, Harriet was busy receiving her vaccination. 
A couple married nearly 60 years that was forced to separate for 335 days due to #COVID19 protocols reunited Wednesday in White Plains. @AielloTV has more on the bond between Jerry and Harriet Shenkman. https://t.co/dnypRB3bZP #coronavirus

— CBS New York (@CBSNewYork) February 11, 2021
Fortunately, she gave him another chance, and the two have now been married for almost 6 decades. They have 3 children and 2 grandchildren. 
Harriet is a professor of education at CUNY. He had studied law. Harriet shared with WCBS that she felt lucky to have Jerry as her husband, as she said:
"My husband is a very kind, lovely person. So I give a lot of credit to him. Just a good person, and I was very lucky."
Love truly does conquer all, including the COVID-19 pandemic. The couple was going to be reunited on Valentine's day. However, Harriet was busy receiving her vaccination. 
This story is heartwarming and heartbreak at the same time and very similar to what "The Bachelorette" Clare Crawley had experienced with her mom. 
Crawley shared with her fans on Instagram that she had been reunited with her mom, who has Alzheimer's.  She shared a photo of her holding her mom's hand to mark the occasion.
 She wrote that she gets so emotional as she knows their time together is precious, especially as her mom's condition deteriorates. However, she shared that her mom still knows when she is having a bad day.