Kobe Bryant's Wife and Kids Spend Quality Time Together on 2nd Valentine's Day without Him
Kobe Bryant's wife Vanessa Bryant and her daughters enjoyed their 2nd Valentine's Day without him and Gigi by spending quality time together and playing games.
Vanessa Bryant, wife of the late Kobe Bryant, and her daughters looked to be having a good time on Valentine's Day as they spent time playing games and enjoying treats, as seen on Instagram.
Taking to her Instagram story, Vanessa shared snapshots of herself and her girls having a great time as they played card games such as Russian Roulette and Texas Hold' Em.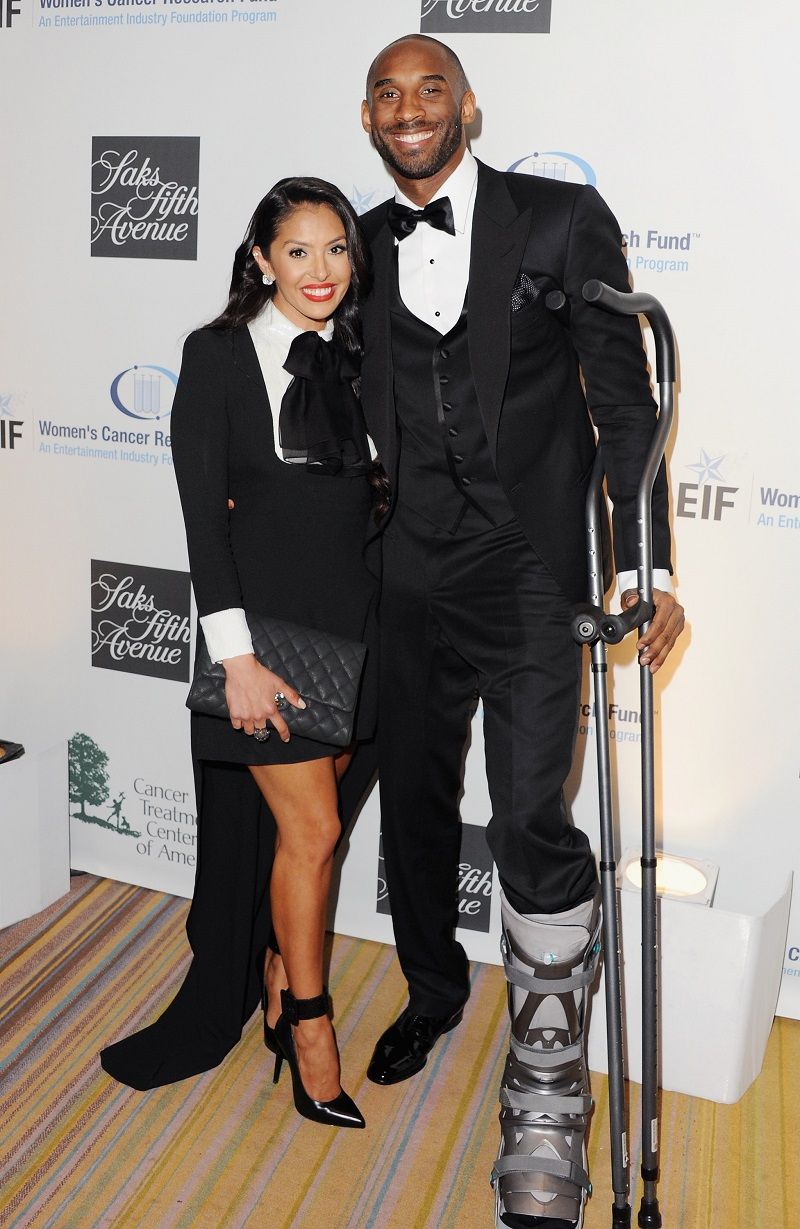 One of the shots showed her displaying a set of cards, and on the image, she wrote that she had won. Another photo showed her winning another game, which she dedicated to her late husband and daughter Gigi.
Vanessa displayed four flower bouquets that contained pink and red roses in another post. The bouquets were arranged on the countertop, and Vanessa explained saying:
"4 flower bouquets for Nani, Gigi, B.B, and Koko (just like Daddy always ordered for them). #Traditions. ❤ @kobebryant set the bar high..."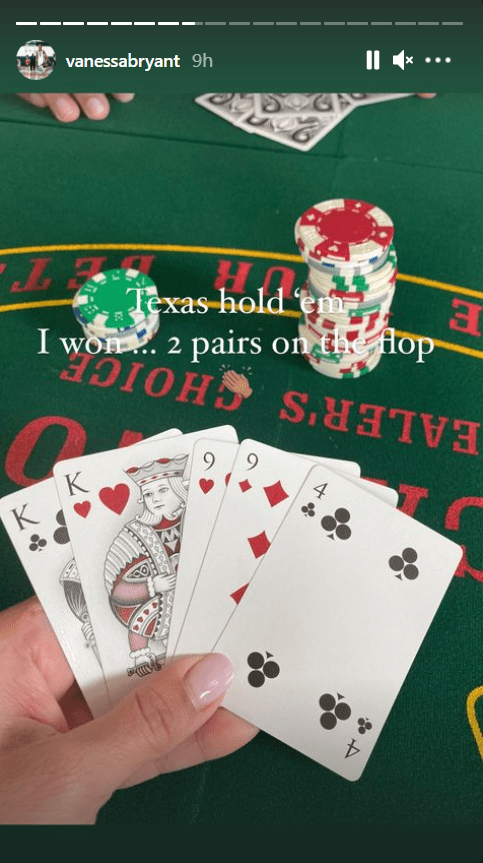 The former dancer continued by sharing a picture of herself and Bianka sitting at a makeshift casino game board table. Bianka had a cup of milkshake in her hands, while Vanessa wore a white shirt with her hair falling messily across her face.
The last image Vanessa shared was a goofy shot of herself as she held on to her game coins. In this shot, the mother-of-four had her tongue out and her head cocked to one side. The filter used for the pictures made it goofier.
Kobe and Vanessa had been lovers from a young age.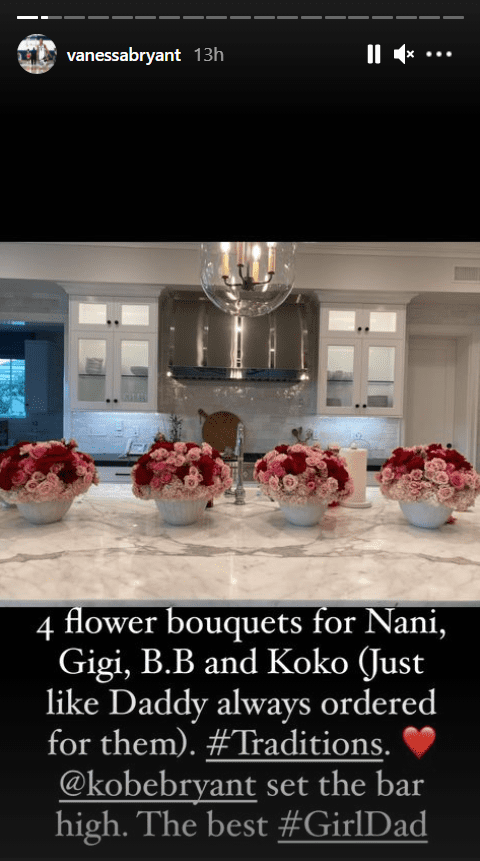 Natalia also shared pictures of the family having a good time as they spent the day together. Her images consisted of her winning some card games. She also shared a photo of the Valentine charcuterie they had.
Although she lost some of the card-playing games to her mother, Natalia also enjoyed some winning streaks. One image she shared was that of herself and her mom. They looked cute in their matching white shirts. On the photo was the caption:
"That Look. LOLOL."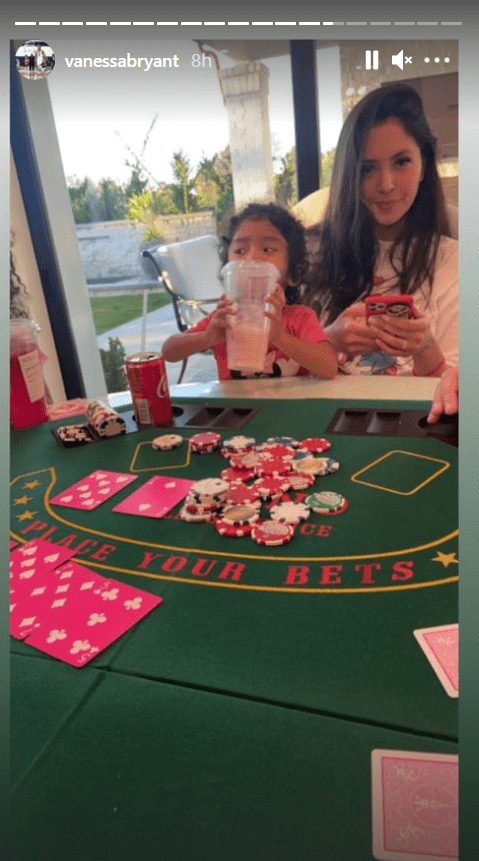 Besides sharing images of herself and her kids, Vanessa also shared a few throwback images of her and Kobe when they were younger to honor the good times they both shared on Valentine's Day.
Kobe and Vanessa had been lovers from a young age, and the pair got married in 2001 while she was still in high school. They welcomed their first daughter Natalia, who recently got accepted to Oregon University, in 2003.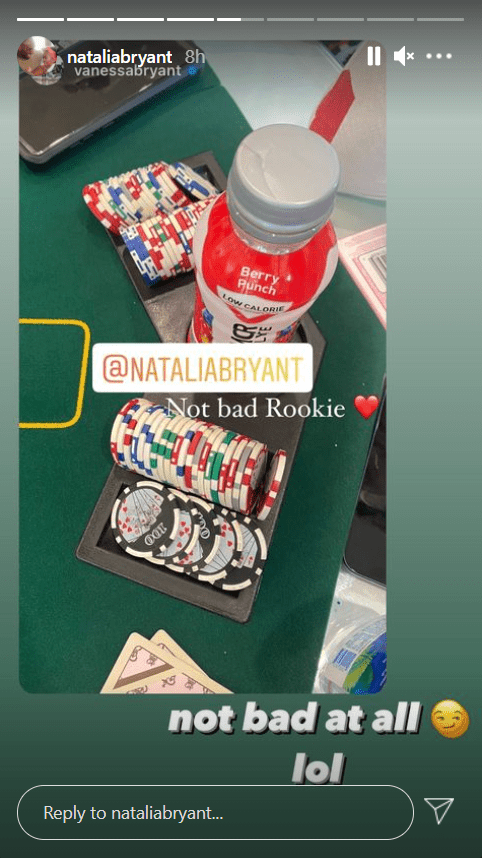 After Natalia, they had their second daughter Gianna "Gigi" in 2006. In 2016 and 2019, Kobe and Vanessa welcomed their daughters Bianka and Capri, a sneakerhead like her late elder sister Gigi.
While this is the second Valentine's Day Vanessa would be spending without Kobe, as his tragic death became a year old in January 2021, the family continues to protect the deceased's legacy.