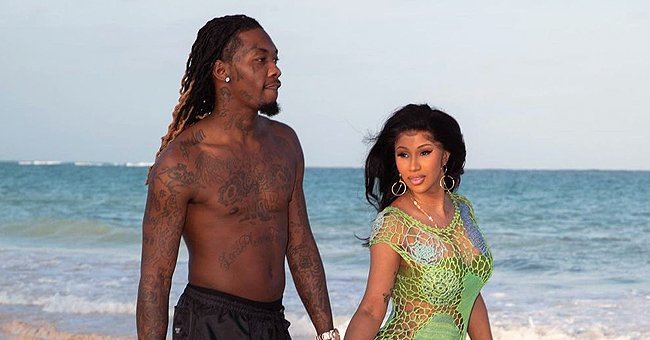 Instagram/offsetyrn
Cardi B and Her Husband Offset Look Romantic Taking a Stroll on the Beach during Their Vacation

The two famous rappers, Cardi B and her husband Offset shared a post on Instagram with multiple photos, looking lucky in love as they strolled through a beautiful beach on their romantic vacation.
In the first post's photo, Cardi B appeared happy as she held her spouse's hand walking beside the sea in a dazzling beach dress. The blue and green shades emanating from the dress only served to compliment the scenery.
Offset, staring at his loving wife, wore short black briefs, tattoos covering his chest and arms as he walked slightly behind Cardi B. The two stars both looked to be quite relaxed and well-rested.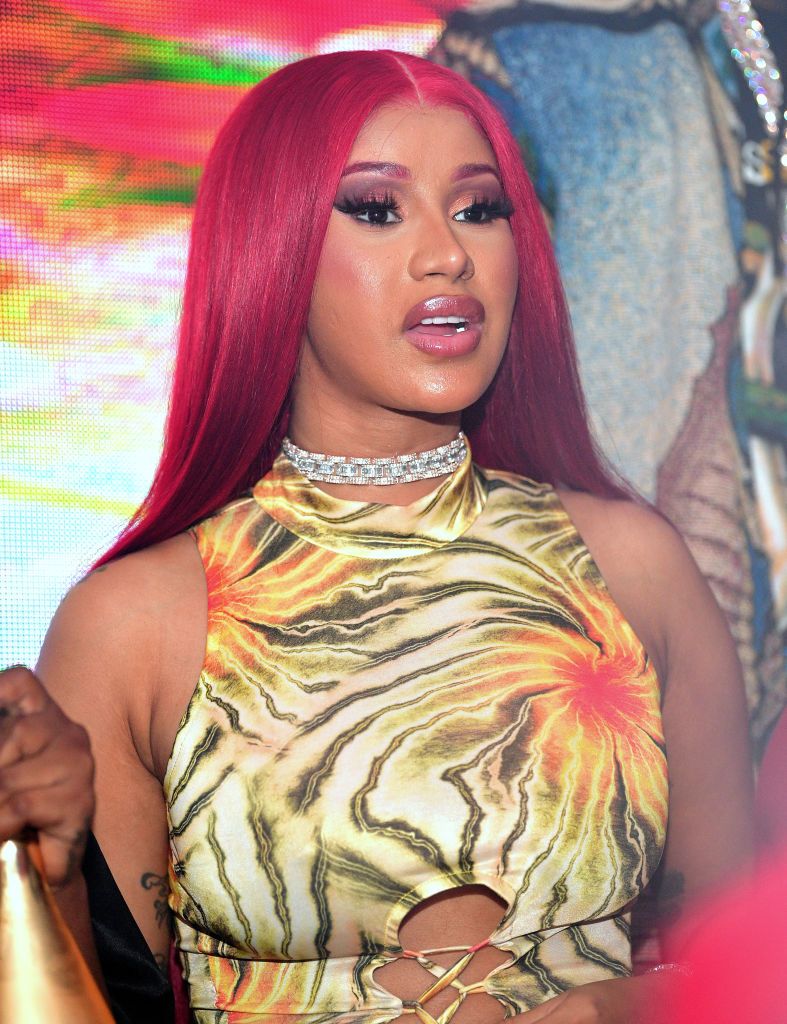 Cardi B seen at Red Martini Nightclub on October 13, 2020 in Atlanta, Georgia. | Source: Getty Images
RELAXED AND RESTED
In the post's second photo, the couple is still holding hands, now both looking into what must be a beautiful distance. In celebration of Valentine's Day, Offset captioned the post on his account, writing:
"Happy valentines u are my happiness I love you and the dynasty we continue to build"
The post attracted just over 1 million likes with the comment section reflecting a sea of positivity. This is no surprise considering that Offset has 18.2 million fans and followers on his Instagram.
FUN IN THE SUN
The third picture reveals the couple's playful side. Whilst Offset achieves a perfect handstand on the sandy beach, his wife looks on with a surprised smile on her face and one hand on her hip.
In mid-2018, Cardi B and Offset notified the public of the birth of their first child via Instagram.
The combination of deep relaxation and fun in the sun seems to make for the perfect holiday. These two seem to have achieved both of these whilst on vacation, showing what a perfect match they are for each other.
TROUBLE IN PARADISE
Although the couple looks like they are in paradise (literally), their relationship wasn't perfect with the female rapper filing for divorce in September 2020. Speaking about their relationship, a source said:
"Offset has pretty much cheated the entire time, but Cardi looked the other way because of the baby."
However, the love birds eventually got back together the following November. Speaking about calling off their divorce, Cardi B stated that she simply missed having her best friend around not being able to talk with him.
WE'RE HAVING A BABY
In mid-2018, Cardi B and Offset notified the public of the birth of their first child via Instagram. The pair decided to name their child Kulture Kiari Cephus in honor of Offset's real name, Kiari Kendrell Cephus.
The two received a lot of backlash for their daughter's name, with many claiming they didn't like it. Many took to their Twitter accounts, expressing their dislike for the famous newborn's name.
Offset wasn't the only one who shared pictures of their Valentine's vacation online. Posting on her official account @iamcardib the star shared professional photos of the couple on the beautiful beach.
In the pictures, the female rapper was dressed in a white skirt and top with silver earrings. Her husband matched her dress with a white necklace, shoes, and socks as the two posed in style.
Please fill in your e-mail so we can share with you our top stories!