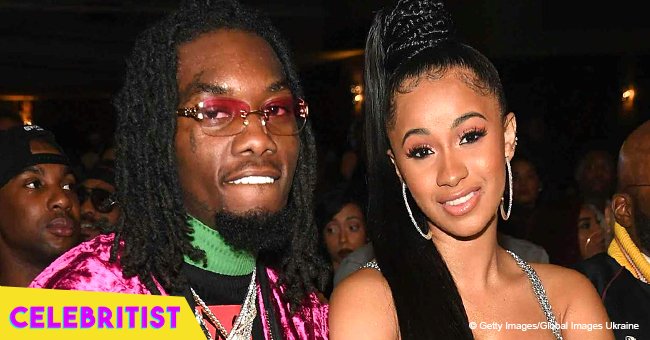 Cardi B and Offset announce birth of their first baby

The 25-year-old rapper Cardi B took to Instagram to share a photo of herself surrounded by several flowers. In the caption, she revealed her child's name.
In the image, which was uploaded on July 11, Cardi is seen completely naked covering her breasts with one arm and her groin with her legs while sitting on a white chair. Her makeup was on point, and her hair was let loose.
Apart from that, she was surrounded by different types of flowers that gave the picture a colorful style. Even though the photo attracted a lot of attention, her caption was the highlight of the post.
'Kulture Kiari Cephus 07/10/18,' Cardi wrote, revealing that it is the name of her first child. The real name of Rapper Offset, the father of Kulture, is Kiari Kendrell Cephus.
Even though several fans loved the name the couple chose for their daughter, some people didn't like it that much, and they took to Twitter to share their thoughts.
One of them was user @dyllmichael, who posted a meme of a woman disgustedly looking at her phone and wrote 'I know Cardi [and] Offset did not name their baby Kulture.'
@alyssam0502 chimed in and wondered if every time that the trio Migos said 'do it for the culture' they were referring to the baby.
@_GoldenVanity confessed that she couldn't believe Cardi and Offset really named their daughter Kulture.
@EstMoonXx admitted that 'Kulture' was a good name choice over 'Offsetnisha' or any other thing dealing with Offset.
Just like them, many others used their Twitter account to confess that the famous couple could have done a few more brainstorming sessions before picking Kulture as their first daughter's name.
Cardi was not the only member of the now-family of three who uploaded a photo revealing the name of the baby.
Offset uploaded a picture showing Cardi naked and covering her breasts with her arms, just like in her post, but this one portrayed her surrounded by pink sheets.
TMZ revealed that even though the couple got married already, they were planning to throw a wedding party later this year.
Please fill in your e-mail so we can share with you our top stories!