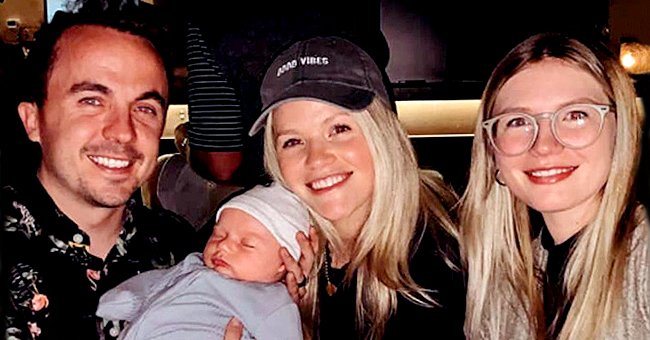 instagram.com/pogmuniz
'Dancing with the Stars' Pro Witney Carson Introduces Son Leo to Dance Partner Frankie Muniz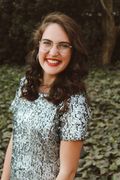 Witney Carson has taken the next step with her dance partner Frankie Muniz by introducing him to her 6-week-old son, Leo, for the first time.
The "Dancing with the Stars" professional Witney Carson introduced her 6-week-old baby to her dancing partner Frankie Muniz who is also expecting his first child with Paige Price.
Carson took to Instagram to share the snap of Muniz holding her baby boy with Carson and his wife next to him in the photo. The new mom and the parents-to-be looked ecstatic in the captured moment.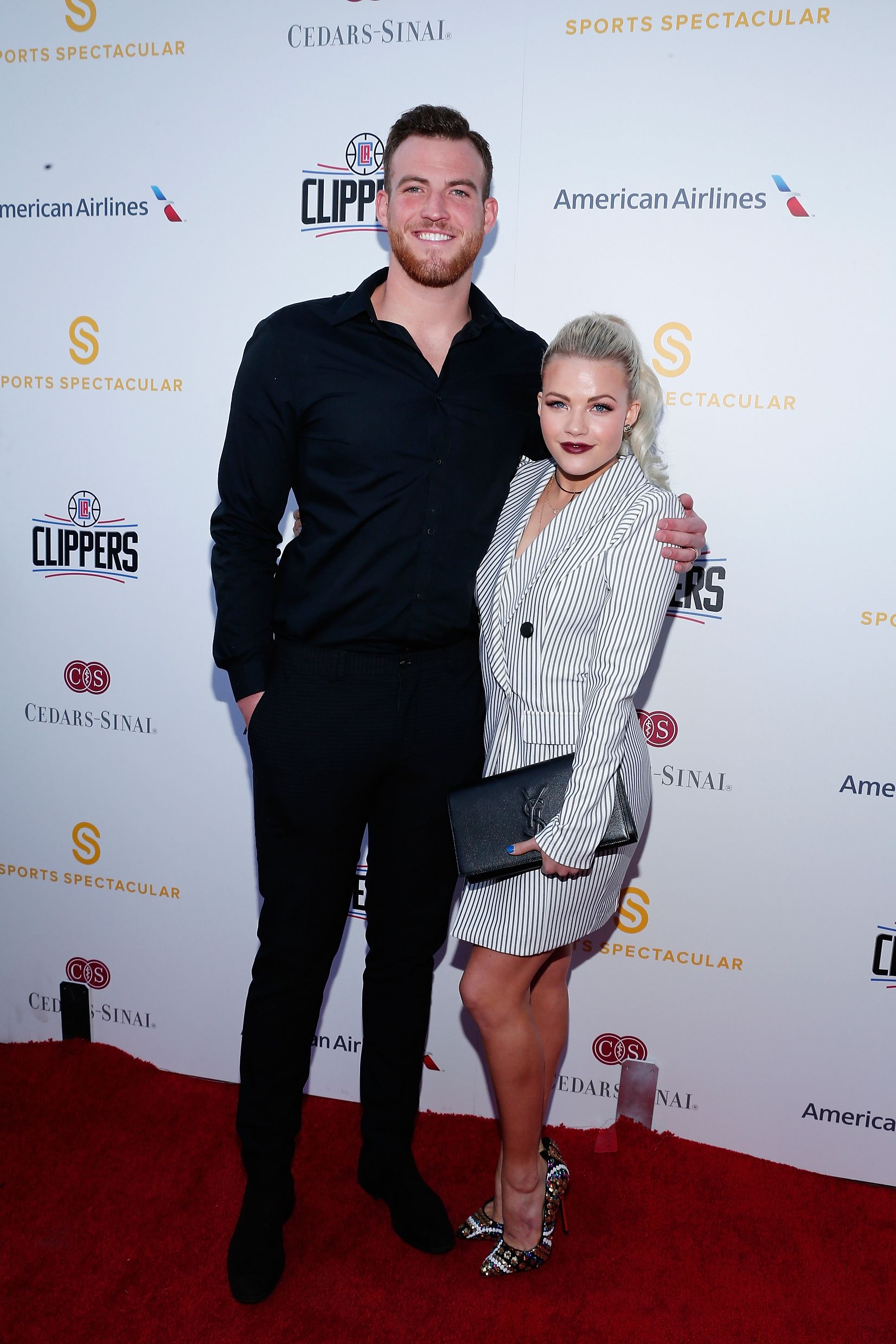 Carson McAllister and Witney Carson at the Cedars-Sinai Sports Spectacular in West Beverly Hills on March 25, 2016 | Getty Images
MORE THAN DANCE PARTNERS
It is evident that Muniz and Carson's bond stretches further than sharing the dance floor in the 2017 season of "Dancing with the Stars." Holding up Carson's son, Leo, Muniz looks elated to meet his dance partner's first child.
Muniz and Price are also expecting their first child, making the interaction with baby Leo even more exciting. The dancing pro is supportive of Muniz and his wife as the journey towards parenthood as she wrote the following with the snap:
"Leo finally met @frankiemuniz4 & @pogmuniz last night! We are so excited for you guys!!!"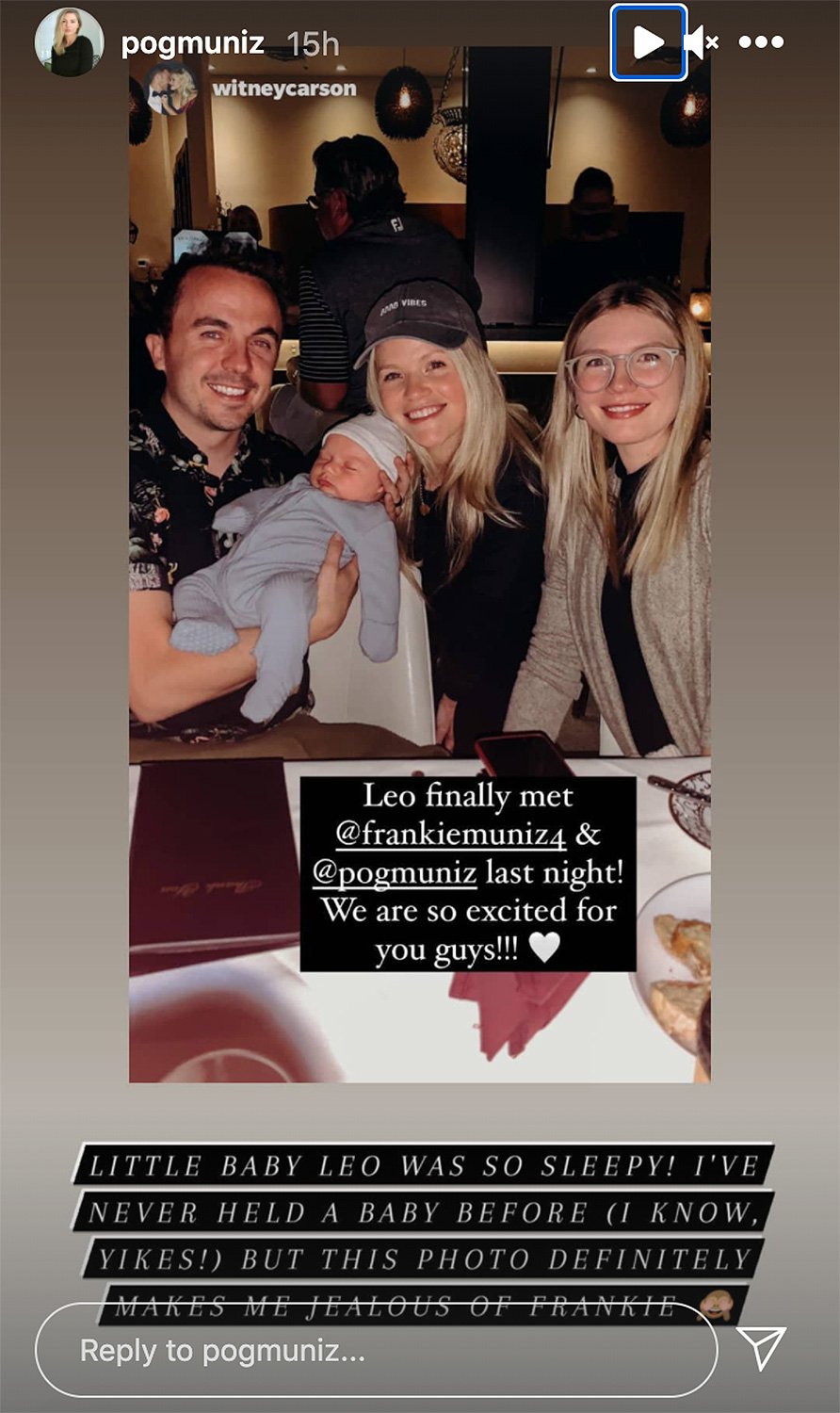 Screenshot of Paige Price's Instastory from February 17, 2021 | Source: Instagram /pogmuniz
YOUTUBE ANNOUNCEMENT
Muniz and Price took to their YouTube channel in September 2020 to post that their family would be welcoming a new addition. The news followed their wedding in January 2020.
The "Malcolm in the Middle" actor opened up about the magical moment of hearing his first child's heartbeat and its significance. The couple has experienced various things together, with this one topping the list.
EMERGENCY C-SECTION
27-year-old Carson has beaten her dance partner to the parenting game. She had a traumatic birthing experience when Leo was born in January 2021 that ended up in her having a C-section. Carson shared the following:
"His heart rate started going really high. So we had to do an emergency C-section and obviously, we did whatever was right for the baby."
Carson tied the knot with Carson McAllister in January 2016 and announced that their family was expanding four years later. The 27-year-old is a proud mom, regularly gushing over Leo meeting his milestones.
CARSON'S BACKGROUND
The new mom started her dancing career on the show "So You Think You Dance" before moving on to becoming a well-known face as a professional on "Dancing with the Stars."
Carson is a Utah native raised by her two parents together with her three younger siblings Cade, Jaxon, and Camry. Her husband is from the same valley as the two were high school sweethearts.
The 27-year-old singer has also had a few scary run-ins with cancer. Both of her parents were diagnosed with melanoma, and she also had a cancerous mole removed surgically.
Carson's father-in-law sadly died of pancreatic cancer after a two-year-long battle with the disease. The dancer shared their loss on social media after updating them about his condition a few months before passing away.
Please fill in your e-mail so we can share with you our top stories!