Chris Brown's Daughter Royalty Dons a Black Ensemble with a Silver Dolce & Gabbana Handbag
Chris Brown's daughter, Royalty Brown, posted an adorable smiling picture of herself on a black long-sleeved top and matching pants on her Instagram Story. 
Chris Brown's daughter, Royalty Brown, recently took to her Instagram page to share an adorable picture of herself, which she captioned:
 "Monday target runs."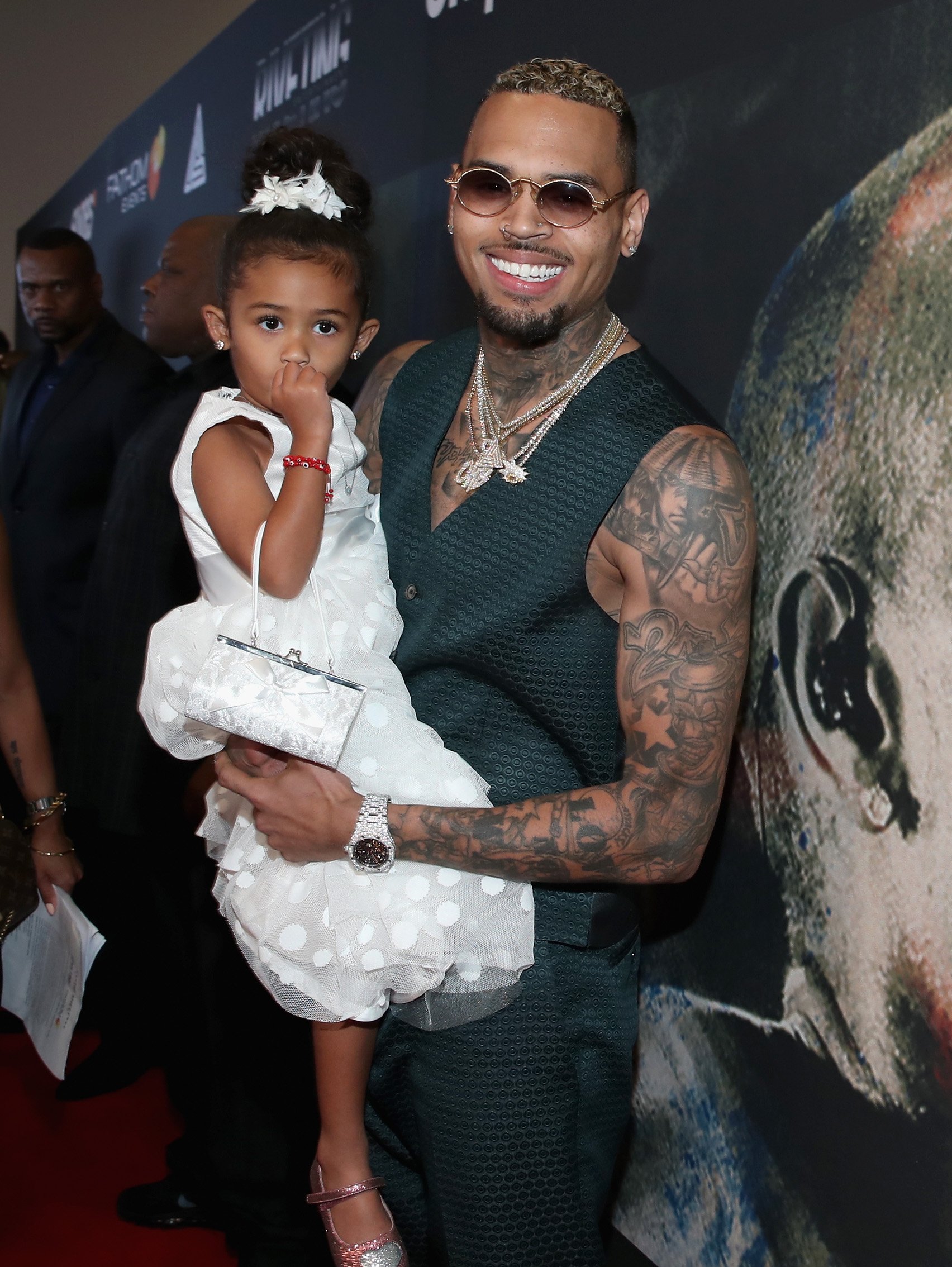 In the snapshot, Royalty donned a black print sweatshirt which she matched with black sweatpants. She also rocked long, brown hair. 
The six-year-old accessorized her stylish look with a silver necklace and silver Dolce and Gabbana handbag that she slung across her shoulders. 
Royalty completed her look with a colorful pair of sneakers and wore dark shades, which she stylishly pushed down her eyes as she posed. 
To celebrate Royalty's sixth birthday, Brown and Guzman reunited after years of being at loggerheads.
She posed confidently, smiling as she showed off her Royal Kids Collection ensemble. The picture made waves as her followers liked it and called her beautiful names. 
The photo showed once more how the little fashionista continues to make her mark in the world of fashion with her incredible modeling talent. 
Last month, she made headlines when she modeled an ocean blue half-zip onesie and tie-dye outfit for her grandma Joyce Hawkins' Rose Marrón fashion line.  
She also rocked a gray, purple, and blue tie-dye outfit with matching pants while on a food run. The little tot's love for tie-dye and her continuous display of modeling talent has not gone unnoticed by her fans and numerous Instagram followers.  
Besides being a fashionista, Royalty is also a great dancer and displayed her incredible dance moves in a video she shared on TikTok, showing as she danced to Mr. Hotspots' "My Friends (We Get Turnt Up) " in a Gucci suit. 
Many fans were blown away by her scintillating moves and even compared her to her father, with some even claiming she is a better dancer than he is. 
Besides being a fashionista and dancer, Royalty is also a doting big sister, as observed in a recent photo that showed her posing with her half-sister, Sinatra. 
In the snapshot, she held the little tot in her hand, along with her mother, as they posed for an adorable family photo in front of their house. 
Last year, Royalty graduated from kindergarten days before she celebrated her sixth birthday. Her mother shared her graduation pictures on social media, showing the little tot showcasing her diploma. 
To celebrate Royalty's sixth birthday, Brown and Guzman reunited after years of being at loggerheads to throw their adorable daughter a befitting celebration. 
They spared no expense in the celebration, though it only included close friends and relatives. The doting parents also made a beautiful cake for their daughter and gave her two pet birds in a white birdcage as her birthday gift.