Here's How Chrissy Teigen Marked What Would Have Been the Due Date for Baby Jack
Chrissy Teigen marked what would have been the due date of baby Jack with a special tribute on Instagram. She suffered a pregnancy loss last year. 
Chrissy Teigen honored her late baby, Jack, on what would have been his due date with a special tribute on Instagram. Teigen and her husband, John Legend, suffered a miscarriage last year. 
Teigen has been open about the pregnancy loss and the grief she experienced. She shared two posts to commemorate his due date. 
She shared a photo of herself, with her hand on her chin, at a dinner table with a meal set out on it. In the photo, Teigen looks relaxed and had her hair braided in two. 
Teigen's fans commented messages of love and support for the TV personality as the caption of the post read that she was thinking of her late baby. She wrote in the caption:
"Can smile all day but thinking of you on your due date, bug."
In her Instagram stories, Teigen showed her fans another way she is honoring Jack. The picture shows a stack of bracelets, each with the name of her children, Jack, Luna, and Miles. 
Teigen shared on Twitter that she was not having a good week as it was the week Jack would have been born. The mom shared, too, that she underwent endometriosis surgery this month. 
Teigen shared that there have been some positives to her devastating loss, including sobriety and finding therapy.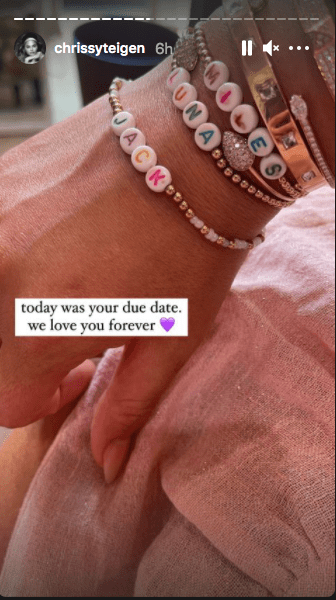 Teigen has opened up the conversation for women who had suffered a miscarriage or pregnancy loss as she has been sharing her journey through the process. 
She shared heartbreaking photos from her time in hospital when she and Legend lost their baby. The black and white photos show her in a vulnerable state and in pain. In the caption, she wrote:
"We are shocked and in the kind of deep pain you only hear about, the kind of pain we've never felt before."
During an interview on "The Ellen Show," Teigen shared that there have been some positives to her devastating loss, including sobriety and finding therapy. 
She shared that Jack had saved her as she would not have discovered therapy, sobriety and found a path to love herself if it had not been for his passing.
She shared that the experience feels so long ago and is a blur. She shared that her Thai heritage and her family has helped her to cope with the loss of her baby. 
Teigen shared a lot of her journey on Instagram and Twitter and other highlights and low lights from her year. One highlight including being a part of President Biden's Inauguration Day.