Eddie Murphy's Daughter Zola Shows Her Natural Beauty Posing in a Blue Horse Print T-Shirt
Eddie Murphy and ex-wife Nicole Murphy's daughter Zola Ivy Murphy took to her Instagram Story to show off her natural beauty while posing for a cute snapshot. 
Eddie Murphy's daughter, Zola Ivy Murphy, is pretty, knows it, and is never shy to show it. The flawless beauty did just that in a recent post on her Instagram Story. 
She shared a cute snapshot that showed her posing in a blue horse print T-shirt. In the photo, she stood in a room, giving the camera a stern look while flaunting her black locks. 
The sun's radiation reflected on Zola's face and T-shirt in the snapshot, giving the picture a good lighting effect. The 21-year-old did not caption the post. 
Zola's gorgeous picture post emphasized how much she has come of age and her remarkable advancement from a teenager into an adult. 
Her fans have seen her years before now, whether stunning with her mother, Nicole Murphy, slaying with her sisters, or having fun with her other family members. 
In 2013, a 13-year-old Zola was spotted with Nicole and her friend, Claudia Jordan, enjoying a sun-drenched day on the Miami beach shores. 
Zola said she tends to wear simple clothing and that all of her expressions come from the jewelry she wears.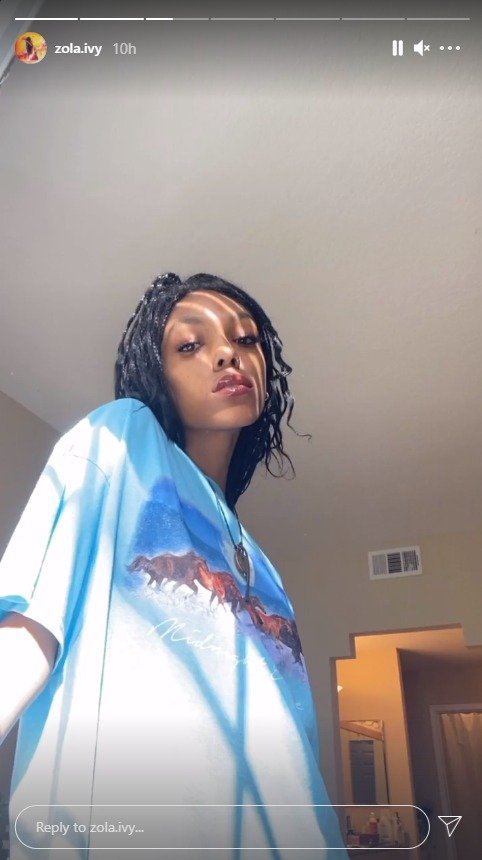 Despite being a young teenager at the time, Zola did not look out of place and held her own while spending time with her ever-stunning mom and Jordan. 
In 2017, Zola joined her older sisters, Bria Murphy and Shayne Audra Murphy, and their mom, Nicole, at the red carpet of the Women of Excellence Awards Gala in Los Angeles. 
Zola looked impressive in her outfit for the gala. She donned a gorgeous purple dress which stopped just above her knee. She also rocked a long black hairstyle and matched her stylish look with nude stilettos. 
In 2019, Zola participated in a question-and-answer session with Global Intuition Basic Coachella Line, where she revealed details about her everyday style. 
Zola said she tends to wear simple clothing and that all of her expressions come from the jewelry she wears. She further described herself as an artistic person, a trait that expresses itself with her clothing. 
The beautiful Zola is one of her father's ten children whom he shares with five different women. Despite the nature of his blended family, Eddie enjoys spending time with his kids and loves being there for them at all times.