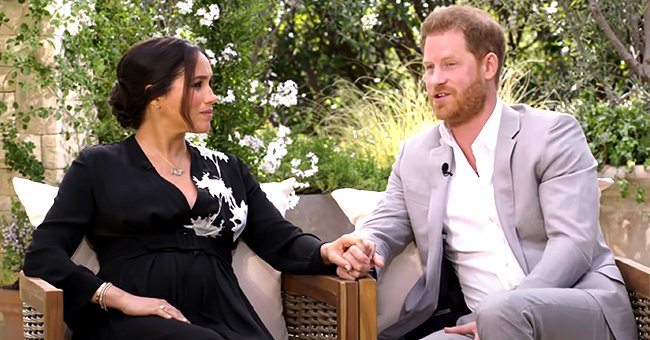 YouTube/CBS
Pregnant Meghan Markle Wears Princess Diana's Diamond Bracelet during Her Interview with Oprah
Meghan Markle carries Princess Diana's legacy with her into her tell-all interview with Oprah Winfrey scheduled to air on March 7.
Meghan Markle and her husband Prince Harry have the spotlight on them now more than ever with their tell-all interview with Oprah Winfrey airing on March 7, 2021.
Markle took a piece of the late Princess Diana with her into the interview, as she wore Prince Harry's mother's diamond tennis bracelet on her wrist whilst seated next to her royal husband.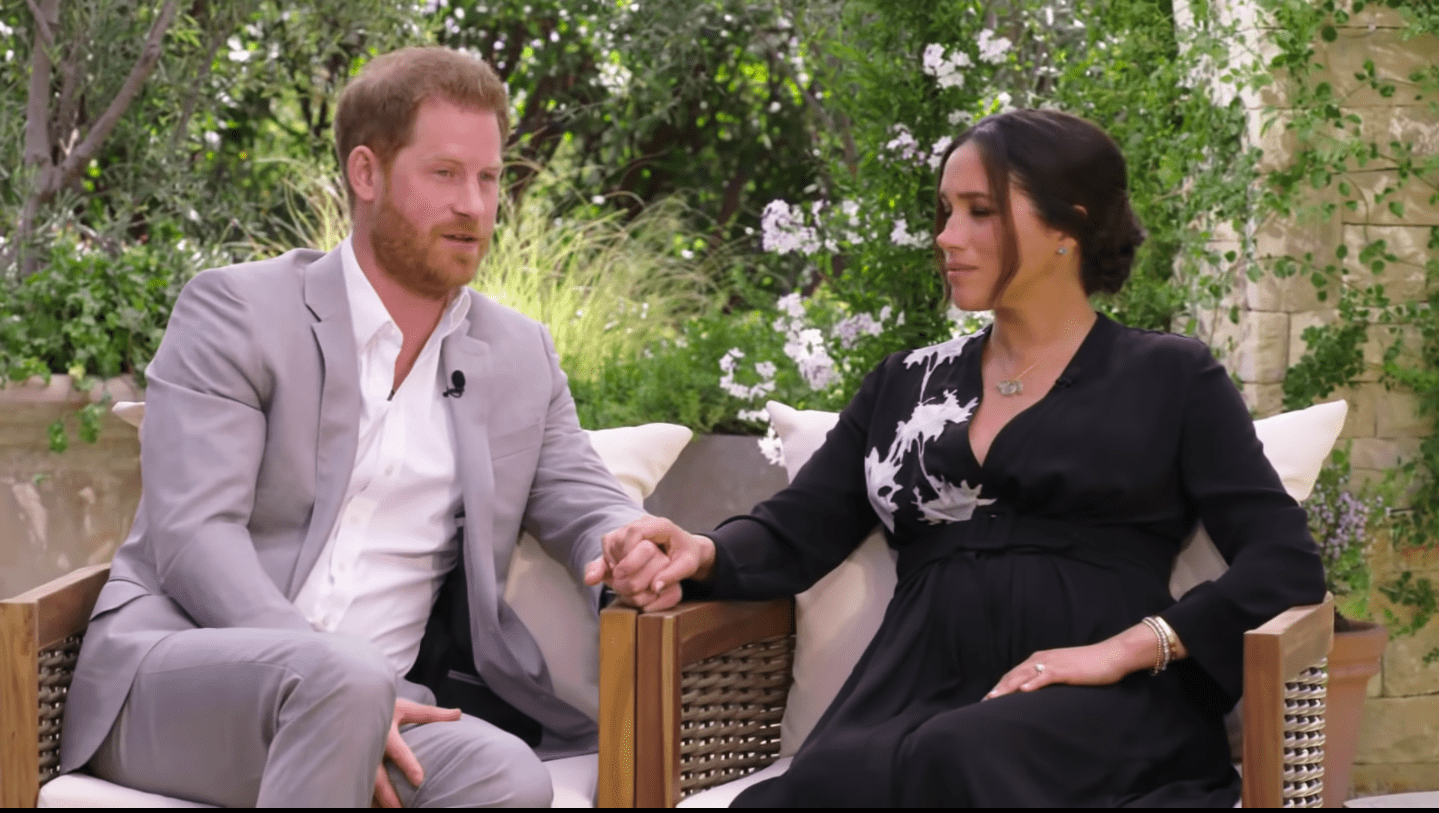 Screenshot of video showing preview of Meghan Markle and Prince Harry's tell-all interview | Source: Youtube/CBS
Markle and Prince Harry's interview has been the talk of the town since the preview was released. The former "Suits" actress had all eyes on her in her black Armani dress paired with Princess Diana's jewelry and a Cartier Love bracelet.
The snippet shows 36-year-old Prince Harry open up about the experiences that his late mother had to endure as part of the royal family, saying that he wanted to avoid going down the same path. He elaborated:
"I can't begin to imagine what it must have been like for [Princess Diana] going through this process by herself all those years ago."
KEEPING PRINCESS DIANA'S MEMORY ALIVE
Princess Diana's Cartier bracelet is not the only piece of her husband's mother's jewelry that Markle has worn before. The Duchess of Sussex adorned the Princess of Wales' butterfly earrings in 2018 whilst on her Royal tour of Australia.
Prince Harry's mother would not have been pleased with his stepping back.
One of Diana's gold bracelets was also seen on Markle's wrist when she was in Australia. Markle carried Princess Diana with her through her jewelry after announcing that she was pregnant the first time.
FIRST INTERVIEW SINCE STEPPING DOWN
The couple's revealing discussion with the legendary television host Oprah is also the first interview that they are doing together since stepping back from their responsibilities as senior royal family members.
The interview preview showcases it as a momentous occasion where the royals reveal intimate and never-before-told information. Prince Harry shared on their decision to step back, saying:
"My biggest concern was history repeating itself."
The Duke and Duchess of Sussex's bold move to step away from their royal lives have left many asking the question, what would Princess Diana have thought of her son's decision?
Roberto Devorik, a close friend of the late royal, shed some insight saying that Prince Harry's mother would not have been pleased with his stepping back as she wanted him to be part of the monarchy's change.
Regardless of the speculation concerning how Princess Diana would have reacted to Prince Harry and Markle's exit out of the royal family, the couple is evidently still determined to keep her memory alive.
Prince William and Kate Middleton carry Princess Diana's most iconic piece of jewelry as the Duke of Cambridge proposed to Middleton with his mother's Saphire cluster ring that she chose as her engagement ring.
Please fill in your e-mail so we can share with you our top stories!