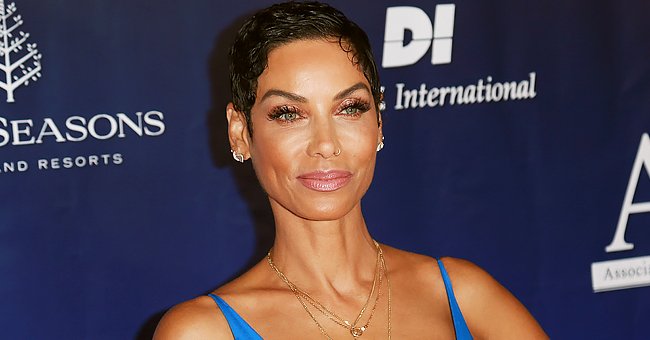 Getty Images
Nicole Murphy Stuns with Her Flawless Body as She Rides Skateboard in a Top & Leggings (Video)
Nicole Murphy looked absolutely stunning in an Instagram post with her flawless figure, rocking leggings and riding a skateboard in a TikTok video.
In a recent Instagram clip, model Nicole Murphy took to the streets on her skateboard with her adorable dog following her via a leash she was holding. She wore leggings and a top, showing off her absolutely flawless body.
At the beginning of the video, Nicole is seen holding her little white pooch in her arms while riding a skateboard, somehow making it look easy. She eventually lets go of the cute pup, leaving it to catch up to her while she holds it by a leash.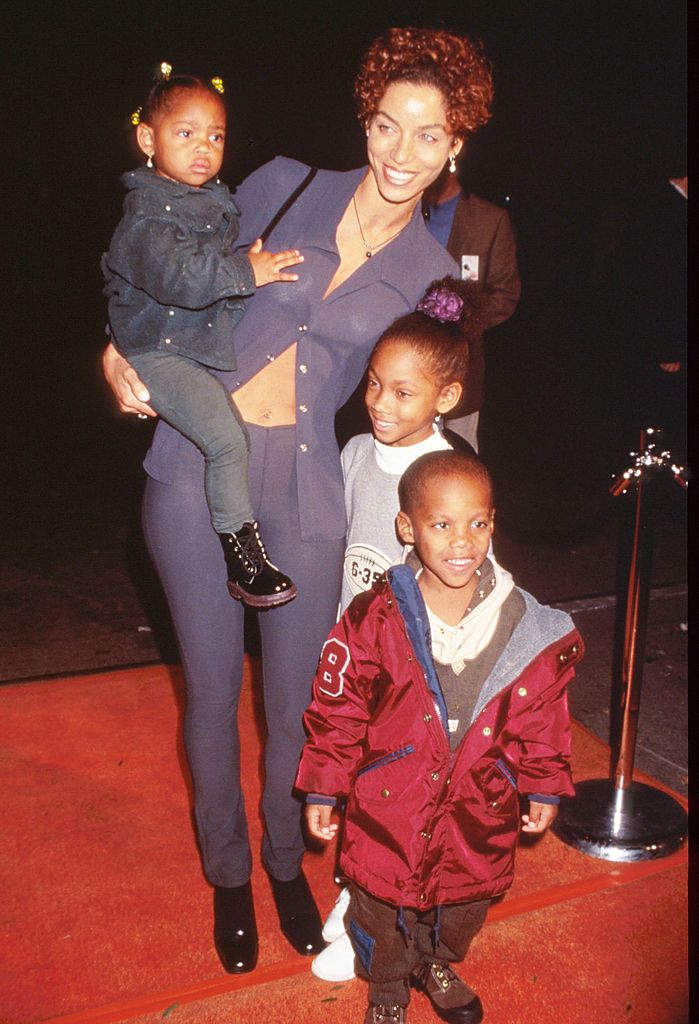 Model Nicole Murphy and her children attending a benefit on October 3, 1996 in New York. | Photo: Getty Images
A WOMAN'S BEST FRIEND
Nicole and the comment section seemed to be obsessed and highly focused on her Maltese poodle, with the model including the dog in the caption and followers remarking on how cute it is. She wrote the following in the caption:
"Enjoying the moment with my Babi #maltese #skateboard #outfoorfun #healthylifestyle #stayactive"
One fan, namely @sherryphall expressed her love for the little pooch. Remarking on how sweet the poodle is, she explained that the name "Babi" translated to Ukrainian and actually means grandmother.
STYLISH AS ALWAYS
The model wore a casual yet flattering and well-thought-out outfit. Her simply tight white shirt showed her cleavage slightly and accentuated her slim abs. Her black tights showed off her incredible curves as she cruised down the road.
As with most celebrities, Nicole has had her fair share of scandals.
Her cap and jacket also added to the casual yet high-class look. However, it does leave one wondering, with that jacket and those dark tights, was the famous model not dying from heat in that sun?
SCANDAL AND RUMORS
As with most celebrities, Nicole has had her fair share of scandals. In the past, now ex-husband and famous actor Eddie Murphy was allegedly angry after he found out that she had purportedly kissed someone else.
This followed an incident where Eddie's then-wife refuted a statement where she allegedly claimed that she had kissed director, Antoine Fuqua. B. Scott, who had reported the statement then replied, claiming that she was lying and that she had made the assertion.
Continuing, B.Scott claimed that Nicole chose to eventually backtrack on her statement because, in a sense, she had to. This, he alleged, was due to the fact that comedian and actor Eddie was the one supporting her lavish way of living.
A PARENT'S LOVE
Despite this drama, it appears that Eddie and Nicole are maintaining a great co-parenting relationship with each other. Last year, the two took to the world of social media to celebrate their daughter, Bella's graduation.
In one picture, Nicole shared a snapshot of their young girl standing next to Eddie. Writing in the caption, the doting mother expressed just how proud she was of her daughter.
Nicole and Eddie were married for a total of five years after they met at the NAACP Image Awards show in 1988. They cohabitated for just over a year until they were finally hitched, with the wedding taking place at the Plaza Hotel.
During her walk down the aisle, they chose to play the song "Don't Give Up on Love". Nicole and Eddie have five children together namely Bria, Myles, Shayne, Zola, and of course, Bella.
Please fill in your e-mail so we can share with you our top stories!