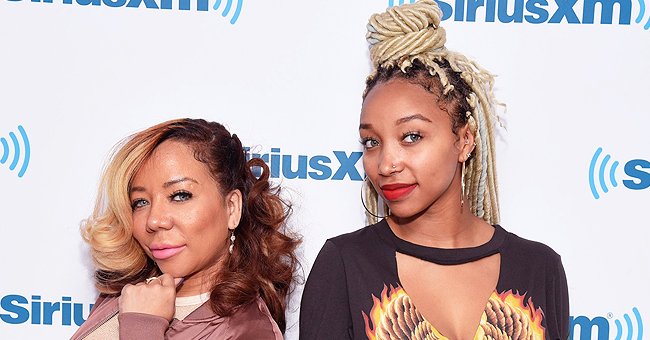 Getty Images
See Tiny Harris' Daughter Zonnique's Natural Beauty as She Sits on a Table in a Khaki Tracksuit
Tiny Harris' daughter Zonnique recently stunned her fans on social media after she posted a photo of herself striking a pose in a khaki tracksuit.
There is nothing Zonnique Pullins wears that she does not look good in, and in today's world, that's a superpower. She flaunted this ability recently when she posted pictures of herself wearing different Fashion Nova outfits via her Instagram story.
The famous media personality and singer could be seen seated on her kitchen island dressed in a fabulous and comfy-looking khaki tracksuit in one photo.
She barely had any makeup on, and the hand she raised to her head drew attention to the messy way she styled her long curly tresses. It was packed in a heap atop her head, giving a glimpse of her slender nape.
With the looks she's serving, it is somewhat hard to believe that the 24-year-old is already a mother of a child she shares with her boyfriend, Bandhunta Izzy.
The pair welcomed their first child, a daughter, in December last year. "The Mix," a talk show Pullins co-hosts, was the first to share news of her baby's arrival.
Pullins' co-host Romeo Miller also made the announcement on the show, revealing that the new mother had gone into labor a day before giving birth.
Harris mentioned that she wants to be called "Zaza" or "Honey."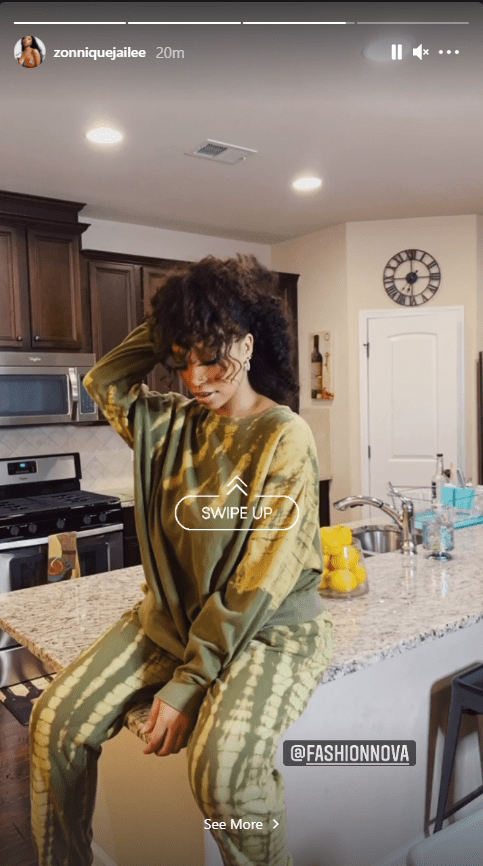 A picture of Zonnique Pullins as she poses on her kitchen counter | Photo: Instagram/zonniquejailee
At that point, congratulatory messages and well wishes were already flooding in, but nobody seemed as happy as Pullins' mom Tiny Harris and her husband T.I.
Harris dished about the delivery in an Instagram post where she claimed she had been right about the baby arriving "fat and cute." A detail she was happy about.
While her daughter was recuperating from the strain of giving birth, Harris and her hubby appeared on an episode of "The Mix" where they spoke about what they want to be called by their new grandchild.
Harris mentioned that she wants to be called "Zaza" or "Honey," but T.I, whose nickname is "Big Dog," stated that he would rather let the child decide for herself what she wants to call him.
The idea was directly at odds with his wife, who thinks it is better to put the name she wants in the child's head right from the beginning. T.I likened this to mind control, but Harris was resolute.
The pair seemed ready to launch into an argument, but thankfully T.I was able to stop that with his jokes and nuances. At the end of the day, both parties were just glad to be making another addition to their already voluminous family.
Please fill in your e-mail so we can share with you our top stories!