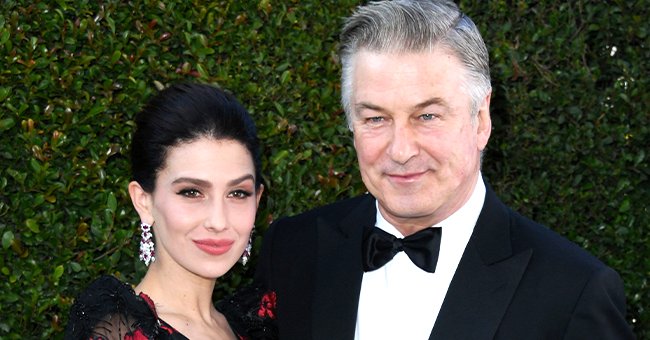 Getty Images
Hilaria Baldwin Introduces Her Newborn Daughter Lucia — See Her Family's 6th Child
Hilaria Baldwin introduced her newborn daughter, Lucia, after the couple announced they had welcomed a 6th child together.
Hilaria Baldwin revealed the name of her newborn daughter, Lucia. She had shared a photo of herself and her newborn surrounded by the couple's five other children.
People confirmed that Alec and Hilaria welcomed Lucia via a surrogate. The mom of now 6 gave birth to their youngest son, Eduardo, a few months ago in 2021.
Hilaria shared an adorable close-up photo of little Lucia fast asleep. Her baby girl is dressed in baby pink bunny onesies, surrounded by a blanket of the same color.
Hilaria has removed the ability to comment on the posts of her new baby, probably to prevent backlash or negative comments. She captioned that photo:
"We are so in love with our daughter, Lucia. Just like your brothers and sisters, you are a dream come true ?"
On the other hand, Alec left his comment section open on his post about the new baby. Users were quick to comment on their opinions and questions about Lucia.
Headstrong Alec was quick to shut the "haters" down. He replied to a few comments and told one user to "Suht the f--- up" and mind their own business.
The "Mom Brain" podcast host shared a snap of Lucia and two of her siblings on her Instagram Story.
He told another user that the "haters" were stupid for continuing to bring up his wife's fake Spanish accent and heritage controversy that happened last year.
Rumors of Hilaria's apparent Spanish heritage were sparked when a Twitter user revealed that she had grown up in Boston and gone by the name "Hillary." Hilaria cleared up the rumors on Instagram and revealed:
"I'll reiterate my story, as I've done many times before. I was born in Boston and grew up spending time with my family between Massachusetts and Spain."
Hilaria took a break from social media at the time but has returned and been sharing many adorable photos of her 5 (now 6) children, Carmen, Leonardo, Romeo, Rafael, Eduardo, and Lucia.
The "Mom Brain" podcast host shared a snap of Lucia and two of her siblings on her Instagram Story. Lucia and Eduardo are on the bed while another child is asleep on the couch.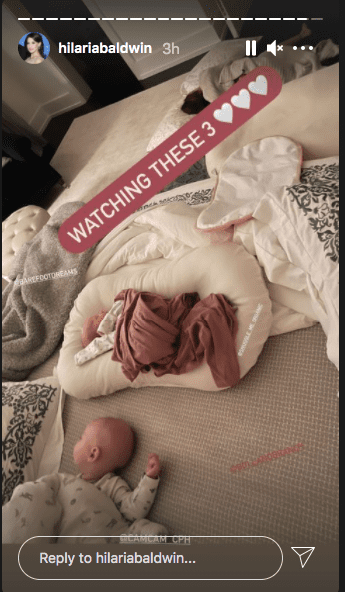 Hilaria Baldwin shared a photo of her three children on her Instagram Story, 2021. | Photo: Instagram/hilariabaldwin
In another story, she explained that her and Alec's bed was "getting rather crowded" now that they have welcomed a 6th child and all their children are under eight years old.
Baby Lucia is her dad's 7th child. Hilaria honored Ireland Baldwin in her caption of the photo that announced they had welcomed a child, as she captioned the photo "7," which is a nod to Ireland.
Please fill in your e-mail so we can share with you our top stories!