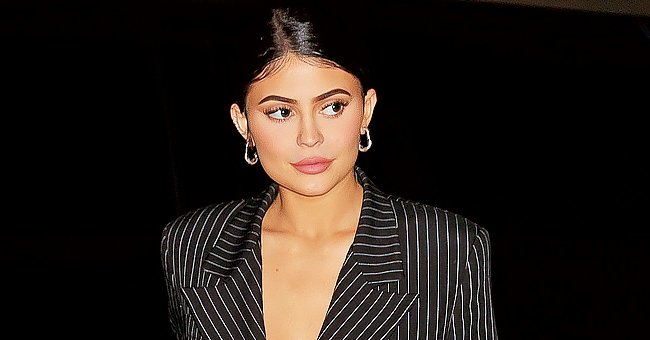 Getty Images
Kylie Jenner's Daughter Stormi Looks Stylish Posing in Front of a Lamborghini with a Prada Bag
Kylie Jenner's three-year-old daughter with Travis Scott, Stormi Webster, is heartstoppingly cute in a recent snap of the child sporting a Prada purse and posing in front of her mother's posh Lamborghini.
Kylie Jenner's only baby is one lucky tot. She was just featured on her mother's Instagram account again, this time in a silver tracksuit that reveals her midriff and fancy multi-colored sneakers.
The enormous orange Lamborghini in the background contrasts Stormi's slight frame. The Kylie mini-me strikes an expert pose as she looks away from the camera and shows off her outfit.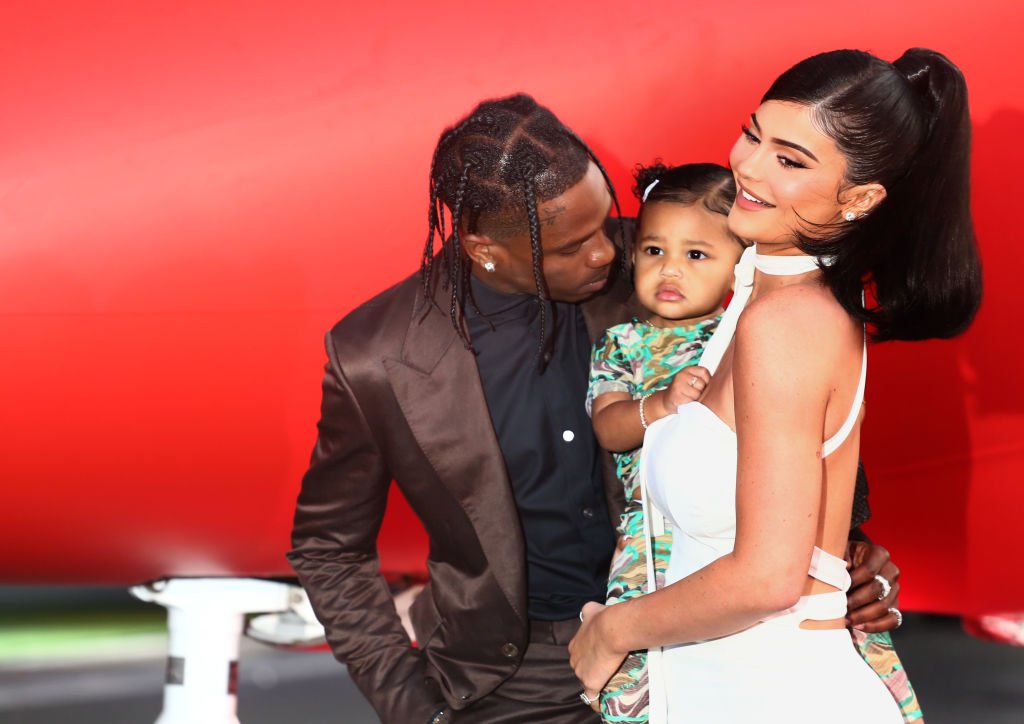 Kylie Jenner, Travis Scott and their daughter Stormi Webster at the "Look Mom I Can Fly" Los Angeles Premiere, 2019 in Santa Monica, California | Source: Getty Images
Stormi's hair was styled similarly to her father's statement hair look. Her little braids hung elegantly from her head. The 23-year-old star owns a range of expensive cars, including the $400,000 bright orange Lamborghini.
Stormi is privileged enough to own several designer items. Her tan Prada bag alone costs $1390. Her mother wrote in the caption of the extravagant picture commenting on their bonding time:
"chill days w mommy."
Jenner has a Mercedes G-Wagon, and she also bought a bright pink Barbie jeep since Stormi loves the color. The Rolls Royce is customized with leather seats and boasts a fancy constellation roof.
The fashion icon posted a picture of Stormi exploring the vehicle earlier this year, shortly after the family vacationed in Santa Barbara over Valentine's Day weekend.
She came under criticism for flaunting her wealth despite the ongoing pandemic.
Jenner celebrated Stormi's third birthday at the beginning of February with an exorbitant family birthday party. Not only did she transform her house into a castle, but she also hired a slide with Stormi's inflatable head at the top.
Jenner gave birth to her daughter in 2018 and was understandably emotional at how quickly Stormi has been growing up. She took to Instagram to share a montage of the little girl and expressed in a post:
"Watching you experience everything for the very first time has been the best part of these last few years."
Besides her designer Prada bags, Stormi also has a $3,455 shoe collection which Jenner was quick to show off on Instagram. As a result, she came under criticism for flaunting her wealth despite the ongoing pandemic.
Jenner, who owns a $72 million jet, has been using the aircraft to travel to various exotic locations. Fans have felt that this ostentatious display of her riches is unnecessary when so many people are currently unemployed.
To celebrate her 23rd birthday, Jenner and her family flew to Turks and Caicos. Previously, Jenner and her sister Kendall also visited Aspen, where they were seen with $8000 Dior snowboards.
The Kardashians have also faced backlash for continuing with their lavish lifestyles despite COVID-19 restrictions and during a time when people are struggling financially.
Please fill in your e-mail so we can share with you our top stories!