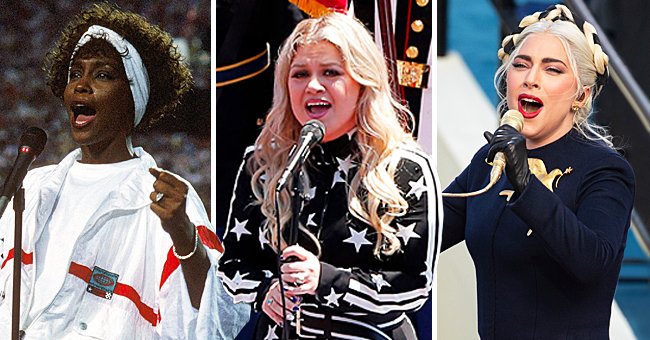 Getty Images
National Anthem Day — 5 of the Greatest 'Star-Spangled Banner' Performances
Today is National Anthem Day and as part of the monumental celebration, check out five of the most outstanding National Anthem Performances of all time.
America's National Anthem, "The Star-Spangled Banner," is one of the country's symbols of loyalty, which is all too clear whenever it is sung during sporting events, concerts, political gatherings, etc.
The National Anthem evokes so many citizens' emotions and makes them commit to serving their fatherland till death. Here are five of the greatest renditions of the anthem by famous artists to mark National Anthem Day.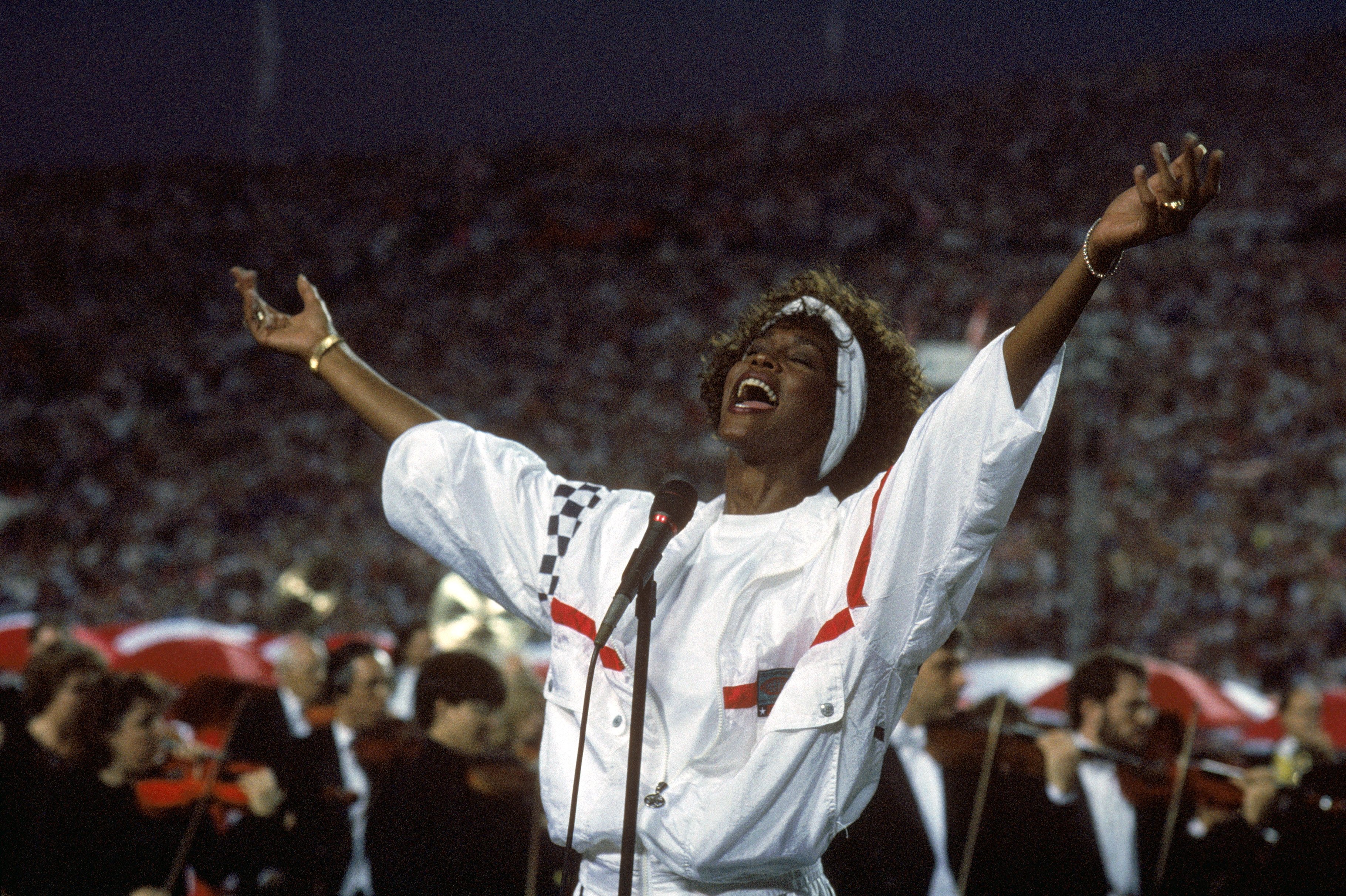 Whitney Houston cemented her name in the history books, when she delivered an astounding performance at the 1991 Super Bowl. | Photo: Getty Images.
WHITNEY HOUSTON
The late Whitney Houston remains one of the most iconic female musicians to have graced the music industry. In 1991, she showed her class and talent with her spectacular rendition of the National Anthem at Super Bowl XXV.
Few renditions of the National Anthem have eclipsed Whitney Houston's memorable performance, which came at a patriotic time for Americans.
The Persian Gulf War had just started, and Houston's rendition was later released as a single and re-released after the September 11 terrorist attacks in 2001.
JENNIFER HUDSON
Jennifer Hudson is a great singer and is known for her incredible "Dreamgirls" success. Three years after the iconic movie, Hudson thrilled with a storming performance of the National Anthem at the 2009 SuperBowl.
Hudson honed the anthem with her impressively precise performance, which included a mind-blowing belted high F. Despite the difficulty of the performance, she made it look so effortless. Breathtaking!
LADY GAGA
Lady Gaga performed "The Star-Spangled Banner" at Super Bowl L on February 7, 2016. The singer started her performance on an F sharp major triad, showing off her rich alto tones.
The 34-year-old showed her style and left a dramatic pause before the anthem's final fortissimo phrase, allowing herself to savor the crowd's cheers before ending her performance.
KELLY CLARKSON
Singer and television personality Kelly Clarkson sang the National Anthem for NASA's SpaceX launch in May 2020. She was not physically present for the launch but lent her remarkable voice for the monumental event.
Clarkson sang the anthem virtually from her home, with NASA sharing her beautiful rendition on its official Twitter page, drawing compliments from fans.
LADY GAGA AGAIN!
Lady Gaga followed up her impressive rendition of the National Anthem at the 2016 Super Bowl with yet another characteristically grand performance at President Joe Biden's inauguration on January 20, 2021.
Besides her inspiring performance, Lady Gaga's outfit at the inauguration also caught the eye. She wore a custom Schiaparelli Haute Couture ball gown designed by Daniel Roseberry, giving her an elegant look.
The Star-Spangled Banner became America's official National Anthem on March 3, 1931, after President Herbert Hoover signed a congressional act to that effect. Francis Scott Key composed the Anthem's lyrics on September 14, 1814.
Please fill in your e-mail so we can share with you our top stories!