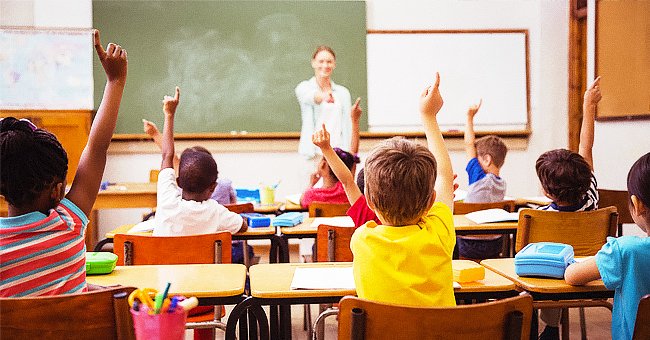 shutterstock.com
1M Illinois School Children to Receive $450 Each through Federal Program Amid COVID-19 Pandemic
It has been confirmed that a large number of school students will receive $450 for food. This is part of the Federal Program initiated to help them during COVID-19.
Early last year, the world was taken aback by the alarming number of deaths following the outbreak of the novel coronavirus which later became a pandemic across the globe.
The virus changed the order of things, leaving many Americans to seek a means of survival against all odds. Businesses folded up, offices shut down, and schools were not exempted as they had to learn from home.
Photo of students in a classroom | Photo: Pexels
All these made the government as well as health experts to dish out some health measures that could curb the widespread of the disease. People have developed some programs to alleviate the burden, especially since the arrival of the virus.
Recently, news reached the media that there is an ongoing federal program aimed at supporting Chicago Public School students, about one million of them.
The proponents of this project explained that many families in rural areas faced food insecurity before the ongoing health crisis and the Chicago Public School students rank a spot in the less privileged counties in America.
This government initiative is called Pandemic Electronic Benefits Transfer. Its objective is to rescue students who often get free or reduced-price meals at schools.
People across the country are opening their warm hearts to their fellow countrymen.
CPS students do not need any form of qualification. Every student is included in the program. While school kids are getting free food, their families are not exempted.
The project will credit families with monthly benefits from May to December. Altogether, the P-EBT is concerned about the mental health and stability of school kids.
Since studies show that children would never concentrate on an empty stomach, it makes the program widely accepted, as their target is hungry and underprivileged kids.
Officials revealed that they intend to kick out hunger from Illinois in no time. To partake in this program, one must possess a debit-looking card that can be used to purchase food at retail and grocery stores.
The card will be received at no charge. One's eligibility is not based on societal status, and if there are more than two or three kids in a family, that is no problem as they will each be handed a card.
People across the country are opening their warm hearts to their fellow countrymen at such a tumultuous time. In February, news about war veterans complaining about the availability of food made the headlines.
Their families stressed that it has been challenging to feed, especially with the tension in this COVID-19 period, without going to food banks provided to cater for people.
Undoubtedly, the world has witnessed a 360 change following the outbreak of the virus, and this has been to the detriment of both adults and kids.
Please fill in your e-mail so we can share with you our top stories!