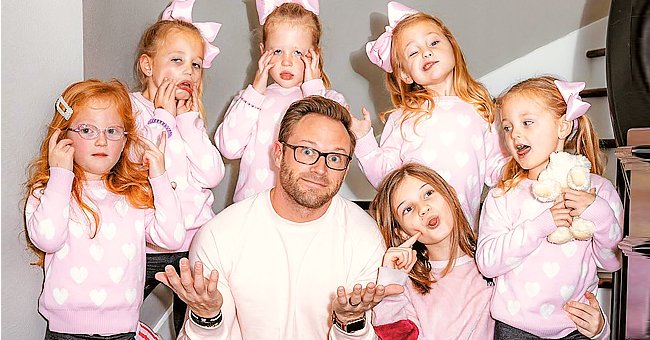 instagram.com/adambuzz
Adam Busby Responds to Criticism about His Daughters Not Wearing Life Vests during a Boat Ride
TLC'S "Outdaughtered" star Adam Busby recently fiercely clapped back at a critical comment from a fan questioning his decision not to give his daughters life vests during a boat ride.
Celebrities and reality stars are no strangers to getting criticized and questioned, especially when it comes to raising their kids. "Outdaughtered" star Adam Busby recently had a fair share of such criticism on Instagram.
The father of six recently posted a series of photos of him and his quintuplet daughter in the front of their home. All girls were adorably focused on riding their matching bicycles as Adam went from daughter to daughter, guiding each one on her bicycle.
In his caption, the doting dad hilariously expressed how crazy and unbelievable it is trying to reach all five girls how to ride a bike at once. While the photos were cute, a fan was more concerned about a previous segment of their show.
The fan left a comment asking why the girls did not wear life jackets while they were on a boat in the previous episode. Although the comment emphasized that they did not mean to be judgmental, Adam felt otherwise and clapped back fiercely. He replied:
"But you are judging. Asking me that question is judging my decisions because it's different than you would do, and you think it's not the right one."
Continuing his fierce reply, the papa bear clarified that there were, in fact, life jackets within arm's reach of everyone on the boat. He also added that they were on a safe pontoon boat moving out at a slow speed.
The lengthy response was concluded with Adam firmly stating that he grew up with boats and no stranger to being on the water. His daughters are in good hands, he wrote.

A fan's comment on Adam Busby's Instagram post asking why he did not wear life jackets for his kids | Photo: Instagram/adambuzz
Adam Busby is the proud father of his six daughters; the oldest is his daughter, Blayke, 9, and then his five-year-old quintuplets, Ava, Olivia, Hazel, Riley, and Parker. He is married to their mother, Danielle.
The proud parents reportedly met nearly two decades ago when they were both employees at the same Target store. They dated for a couple of years and eventually tied the knot in 2006.
Adam Busby's reply to a fan's comment on why he did not wear life jackets for his kids | Photo: Instagram/adambuzz
Five years later, they welcomed their first child, Blayke, and although they now have a full house, they did experience infertility issues after Blayke was born. After four years of trying, they finally gave birth to the miracle daughters.
The quintuplets are the only set of all-girl quintuplets in the USA. Back in May 2020, Adam and Danielle shocked fans when they revealed that they are open to having more children running around in the house.
Although they were not looking to birth any more kids, they revealed that they are open to adoption. It is quite obvious that the husband and wife make the best parents for their kids and are always ready to look out for them, especially at the sight of nosey fans.
Please fill in your e-mail so we can share with you our top stories!