Omarion's Daughter A'mei Shows Creativity Sitting in a Car While Using His Cash like a Phone
Omarion's daughter stole many hearts after her superstar father shared a video of her making a phone call— with a wad of his cash!
Omarion's daughter, A'mei Kazuko Grandberry, made an expensive joke recently, and fortunately for netizens, her famous father was there to capture it on camera. The talented singer shared a clip with his fans via his Instagram story. He captioned the post:
"when the $ calling [sic]." 
In the video, Omarion's adorable daughter could be seen strapped into a car seat, seemingly making a phone call with a wad of cash. A'mei held onto a snack as she talked over the "phone"— all that business talk would make anyone hungry. 
As the video inched towards the end, Omarion could be heard asking for a chance to speak to whoever was on the other line. Of course, his daughter obliged, and the video ended just as she passed him the "phone."
A'mei, whose name means "beautiful" and "harmonious," is Omarion's second child with his ex-fiancée Apryl Jones. The pair also share a six-year-old son named Megaa Omari Grandberry. 
The relationship between Omarion and Apryl took on a new dimension in 2019.
Apryl Jones and Omarion were engaged between 2014 and 2016. They had been together for about four years before they decided to call it quits.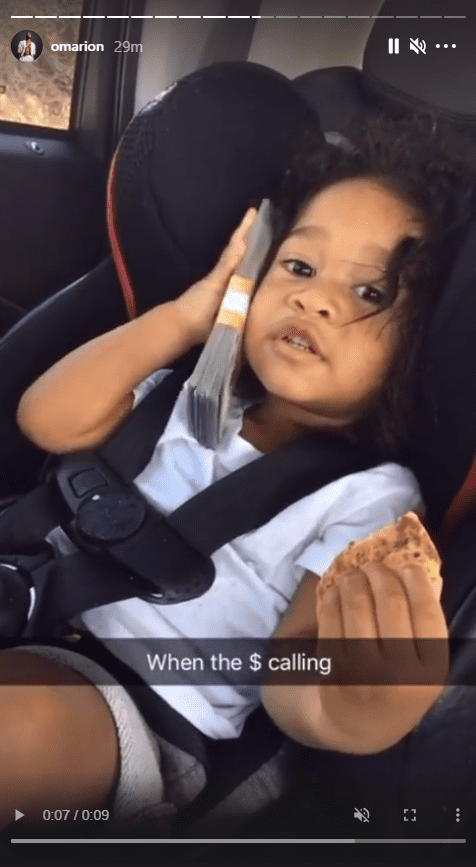 Omarion was granted full-time custody of their two kids. The agreement's details were private; however, Apryl once bragged about how she let her ex-fiancé take the kids because she had to work more. 
Apryl alleged that the child support was too little and would not have been enough to hire a caretaker for the kids while she worked. She stated that people would see Omarion more with the kids while they would see her working more.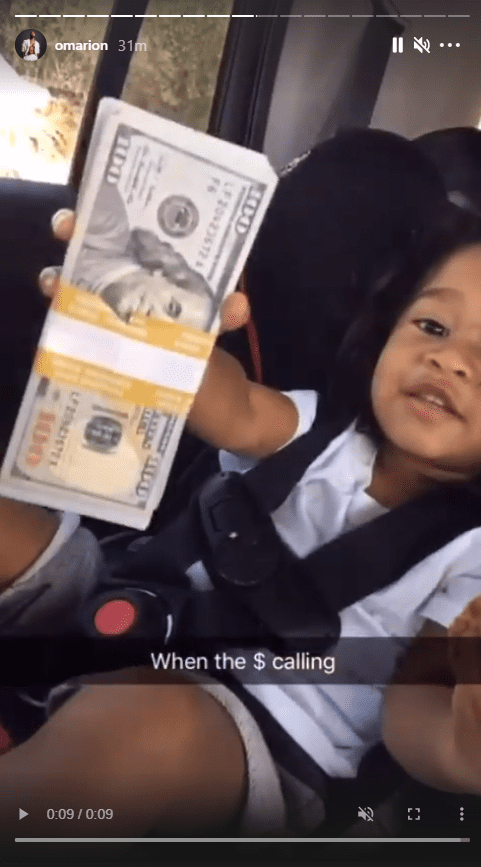 The proud mother also revealed that she could see her kids from time to time, but her ex would have them full time. Still, she makes sure never to miss any important event in their lives, especially birthdays. 
She threw a lavish lipstick-themed party for A'mei's fourth birthday. Obviously, all the work has been paying off because she spared no expense. 
The relationship between Omarion and Apryl took on a new dimension in 2019 when it was revealed that she was dating his B2K bandmate, Lil Fizz. Omarion has been acting quite unbothered by it all.
He once stated that he does not feel any way about it but instead hopes the pair is happy. The pop star does not allow the drama to disturb his home, and as long as his kids are fine, he is as well.