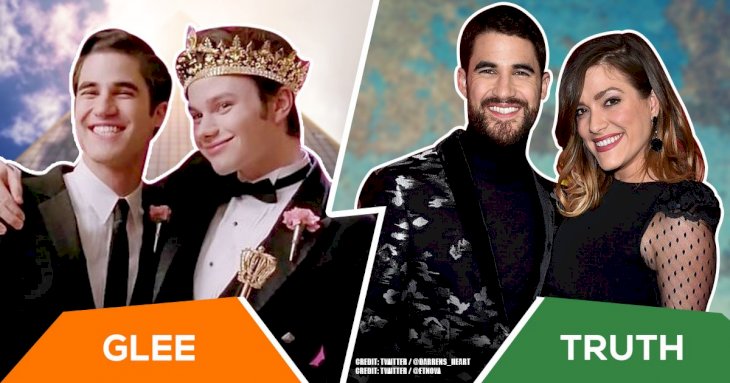 Glee: The Real-Life Partners Revealed
For those of you who followed "Glee," you're probably wondering what happened to them and where they are now. Today, we take a look at the real-life partners and delve into their love life.
As with all productions, the "Glee" cast had their fair share of bromances, dramas, and breakups. Though the characters on the show seemed to have dated everyone, let's see how their real-life romances panned out.
Dianna Argon as Quinn Fabray
Dianna Agron made headlines in the tabloids back in 2016 when she married Mumford & Sons musician, Winston Marshall Argon without even letting the public know.
View this post on Instagram
These two have been in love since the summer of 2015 when they were seen walking hand-in-hand down the streets just a year ago.
After Quinn debuted her engagement ring from her now hubby during the London Fashion Week, the actress and her musician-half have said to have completed their vows in Morocco.
Before these two tied the knot, she had dated many stars, and the list is actually shocking. Some of these lucky guys included Dave Franco, Nicholas Hoult, and Sebastian Stan.
View this post on Instagram
Naya Rivera as Santana Lopez
Naya Rivera's relationship with Big Sean ended in a huge scandal. Naya claims she found him at home with his future girlfriend, Adriana Grande, and broke off their engagement over the internet.
Shortly after, Naya surprised with marriage to Ryan Dorsey, and the couple soon welcomed a son, Josey. Sadly, tragedy followed.
While Naya and Dorsey's marriage didn't work out, the actress was happily single and spending time with her son when she drowned while saving his life during a trip out on a boat on Lake Piru on July 8, 2020.
View this post on Instagram
Heather Morris as Brittany S. Pierce
Heather Morris's love life is not in the media as much these days. She is married to Taylor Hubbell who was actually her longtime boyfriend.
Their relationship started back in high school but was put on hold when she decided to pursue an acting career in California. She attended the University of Louisiana at Lafayette, and they got back together.
Hubbell then moved from Louisiana to LA to be with Morris. That was such a romantic thing to do. Shortly after the couple welcomed their first son Elijah; they had their second, Owen, three years later.
View this post on Instagram
Leah Michelle as Rachel Berry
Many fans know that Rachel not only dated Finn on screen but also in real life. Leah Michelle and Cory Monteith had been dating since the show first began. In 2012, they officially became a couple.
Who knew that a few years later, something tragic would happen, and Cory was found dead in a hotel room on July 13, 2013. He struggled with substance abuse for most of his adult life, and it started at the age of thirteen.
Five years later, Leah finally found happiness with Zandi Reich. They began dating in 2017, and Zandi proposed in April the following year. In March 2019, the couple tied the knot in California.
View this post on Instagram
Jonathan Groff as Jesse St. James
For those of you who had a crush on this handsome fella, we have some sad news. Jonathan Groff is openly gay. However, we don't know the status of his current relationship.
Three years after his coming out, he got into a relationship with Zachary Quinto, and the duo was seen together many times. This seemed to be going perfectly, but sadly, they only lasted until mid-2013.
Jonathan then got involved with the filmmaker and choreographer, Corey Baker, and the couple is said to still be together.
View this post on Instagram
Darren Criss as Blaine Anderson
This actor played a gay man in the show, though he is straight and married in real life. After several years of dating, Darren Criss proposed to Mia Swier in 2018.
Later in the year, the couple tied the knot during four days of celebrations held in New Orleans, and Mia stunned in a beautiful gown by Vera Wang.
View this post on Instagram
Amber Riley as Mercedes Jones
In November 2020, Amber Riley got a new lease on love after she almost gave up on finding the man of her dreams. She got engaged to Desean Black.
The news came about a month after the couple went public with their relationship, and now happily planning their wedding and the rest of their lives together.
View this post on Instagram
Chord Overstreet as Sam Evans
Chord Overstreet dated Emma Watson until they split after a few months in 2018. He then found love with Suzanne Somers' granddaughter Camelia Somers.
PEOPLE confirmed their dating status in December 2020, shortly after Camelia celebrated her birthday with Overstreet and her family in October.
View this post on Instagram
Grant Gustin as Sebastian Smythe
Grant Gustin is happily married to Thoma LA Gustin. The couple got engaged in April 2017, and they tied the knot in December 2018. The couple is yet to start a family.
Thoma and Grant dated for just over a year before they decided to spend the rest of their lives together, and although fairly private about their personal lives, the pair often share adorable pictures on social media.
Chris Colfer as Kurt Hummel
Chris Colfer is openly gay and currently in a relationship with his longtime partner, Will Sherrod. The pair made their first public appearance at the Screen Actors Guild Awards in 2013, and still going strong.
Even though Sherrod makes an occasional appearance on Chris's Instagram page, he did reportedly confirm their relationship during an interview on "Watch What Happens Live," with Andy Cohen.
View this post on Instagram
Jenna Ushkowitz as Tina Cohen-Chang
In June 2018, Jenna Ushkowitz met David Stanley through a dating app, and they've been together since. In August 2020, Stanley finally popped the question, and of course, Jenna said a resounding yes!
View this post on Instagram
Harry Shum Jr as Mike Chang
Harry Shum Jr and Shelby Ribera have been in a relationship since 2007 and have gotten engaged earlier in 2015 when they were on holiday in Hawaii.
This lovely couple wed in November 2015, surrounded by their close relatives and friends. Shelby is also an actress and a dancer who co-starred with Harry in two episodes of "Glee."
View this post on Instagram
Becca Tobin as Kitty Wilde
Becca Tobin tied the knot with her love, Zack Martin, in Jackson Hole, Wyoming, on December 3, 2016, and the pair are still happy in love.
"Glee" co-stars joined in on the happy occasion, and Jane Lynch even officiated their nuptials while Becca stunned in a fairytale wedding dress.
View this post on Instagram
Check out these popular articles as well:
Please fill in your e-mail so we can share with you our top stories!