Here's How Kim Kardashian's Fans Reacted after She Confused Snow with Hail in Calabasas
Kim Kardashian confused hail for snow and shared her fans' hilarious reactions on her Instagram, including a few creative memes. 
Kim Kardashian shared a few of her fans' reactions to her mistaking hail on her property for snow. Kardashian took the teasing well and shared a few memes to her Instagram story.
On Wednesday, Calabasas experienced a storm that resulted in hail. The reality star shared a few videos of herself and her property while marveling at the weather and called it snow. 
She showed different views of her large yard, including the family's basketball court and patio area. In many of the videos, Kim can be heard excitedly talking about the snow.
In the videos she shared on her Instagram story, she expressed her excitement for the weather phenomenon that was not usual for her area in Los Angeles. She said in her story:
"This is a trip, like, it's snowing."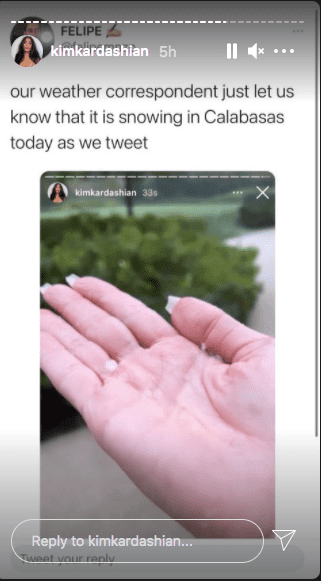 The video showed her usually black basketball court looking white as it was filled with "snow." She then zoomed into the hail and picked some up to show the camera. 
It was not long before Kim corrected herself. Following the "snow" videos, she wrote and said she got the message. It was not snowing. It was hail, as many of her fans pointed out to her. 
She shared a few of the hilarious memes and comments fans have made about her social media mistake.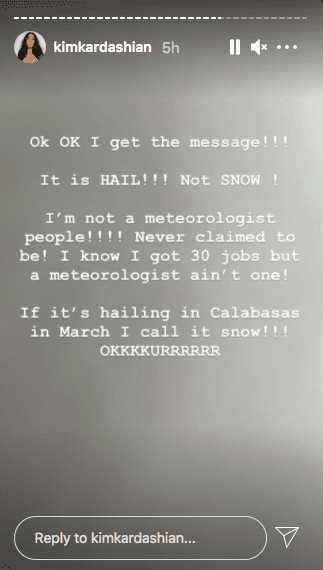 She continued and wrote that she was not a meteorologist nor claimed to be one. Although she had "30 jobs," being a meteorologist was not one. 
However, snow or hail in Calabasas is not common, and she added that if it was hailing in that area in March, it might as well be snow. Kim wrote in her stories:
"If it's hailing in Calabasas in March I call it snow!!!"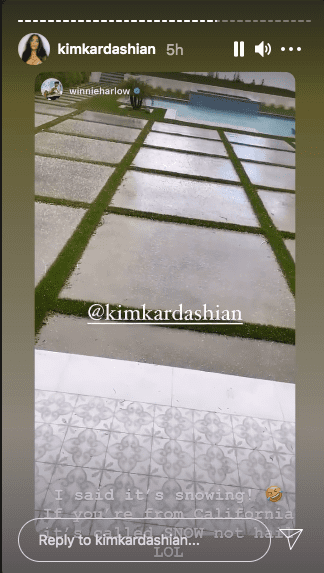 Of course, fans took the opportunity to poke fun at the Skims businesswoman. She shared a few of the hilarious memes and comments fans have made about her social media mistake. 
First, she shared a story from model Winnie Harlow who said that if you live in California, it is snow and not hail. Kim also shared a hilarious meme that someone made of her.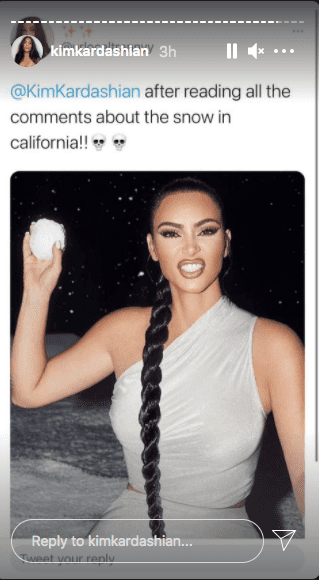 In the picture, Kim is holding a snowball and has an angry look on her face, as if she is ready to throw the snowball. The person wrote on top of the photo that it was Kim after reading all the comments correcting her. 
Kim might not be wrong, though, as National Weather Service meteorologist Ryan Kittell said that snow is possible in some parts of Southern California. So perhaps, it might actually snow in her area.