Kevin Hart's Daughter Kaori Captures Hearts with Her Cute Hair & Facial Expression in New Post
Actor and comedian Kevin Hart's beautiful wife Eniko Hart recently shared an adorable post on her Instagram page showing her beautiful baby girl Kaori Mai.
Kevin Hart's wife Eniko Hart gave her fans a glimpse into one of her baby girl Kaori Mai's cute moments with an adorable video post on her Instagram story.
In the video, Kaori melted hearts with her cute hair and lovable facial expressions as she stared at the camera, lying on her colorful baby foam which had a colorful city and its road printed on it.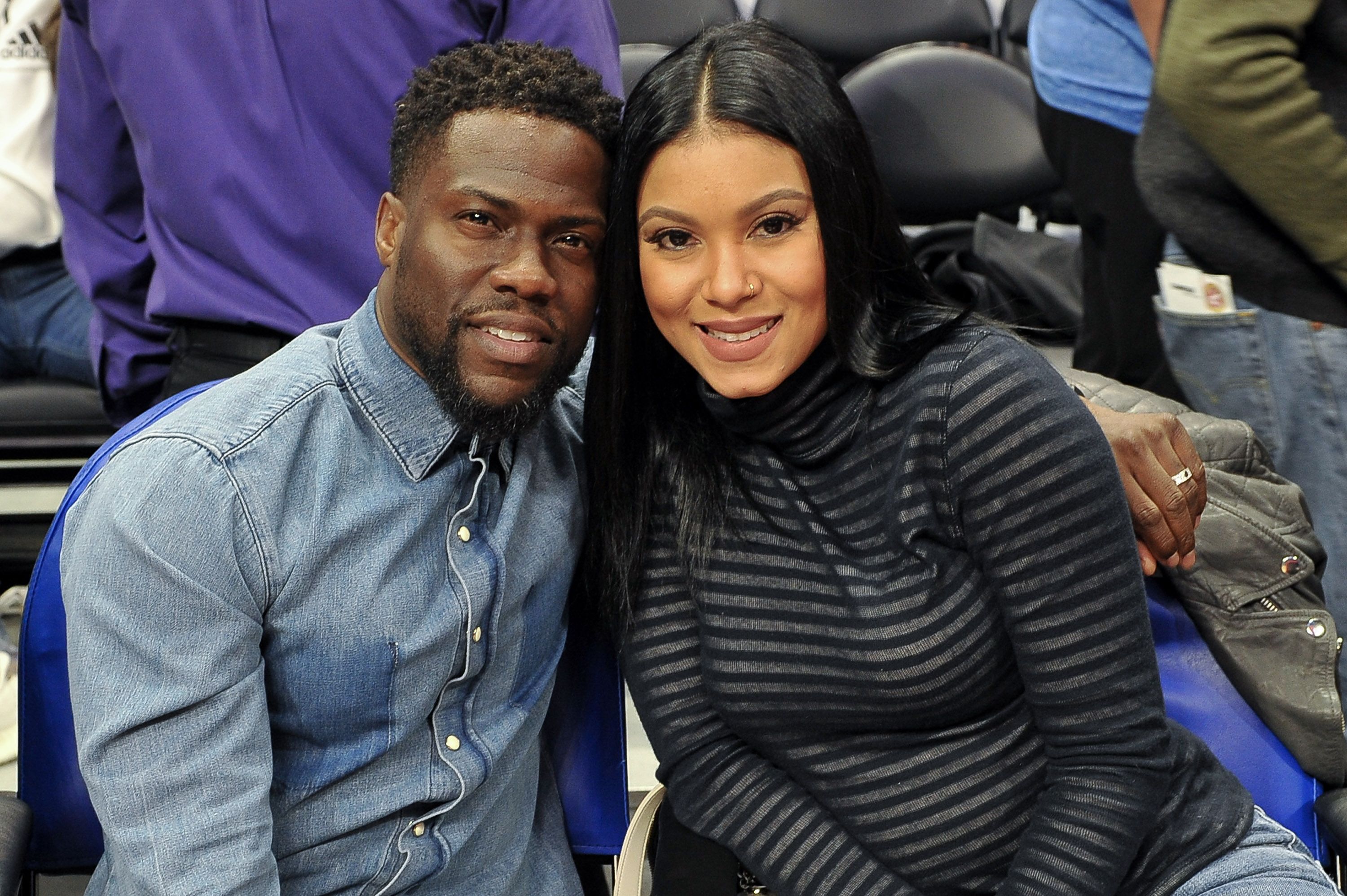 She was clad in a white onesie that had small yellow brushes printed all over it. The onesie's sleeves and neck regions had pink linings around them.
At one point in the video, Kaori raised her hands as though she wanted to be carried. She also folded her hands together, looking inquisitively as she did. Her mom captioned the video:
"Cutie pie!"
Eniko and Kevin welcomed Kaori on September 29, 2020, amid the COVID-19 pandemic. About a week after her precious baby's birth, the proud mom shared her newborn daughter's first picture on Instagram.
The picture showed Eniko, clad in a black T-shirt paired with a black head tie, cuddling the adorable Kaori who was wrapped in a blanket, close to her chest.
He showed a glimpse of their bond in June 2019 when he got his payback for a Father's Day prank.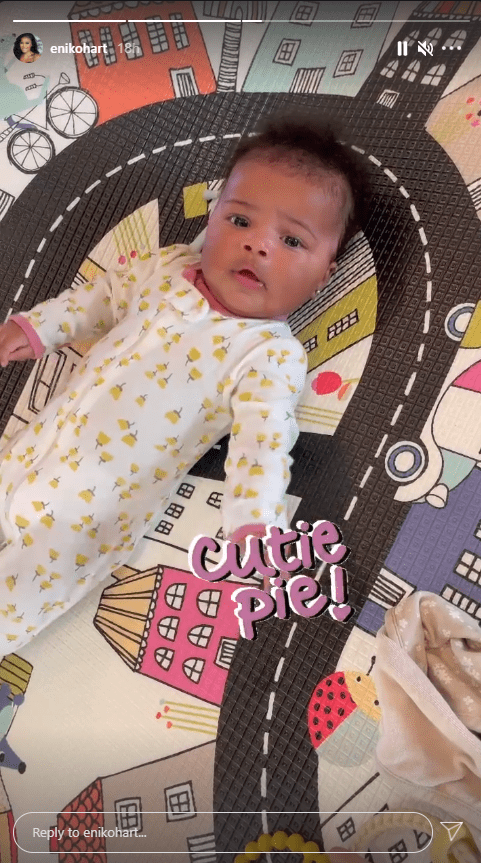 The loving mom smiled excitedly as she looked at her baby, savoring the sweet moment. Kaori wore a white onesie which covered up her hands. In the post's caption, Eniko expressed her love for her daughter with the most heartwarming words:
"when your heart literally lives outside of your body all over again. Ori my girl you are everything I could've ever imagined plus more."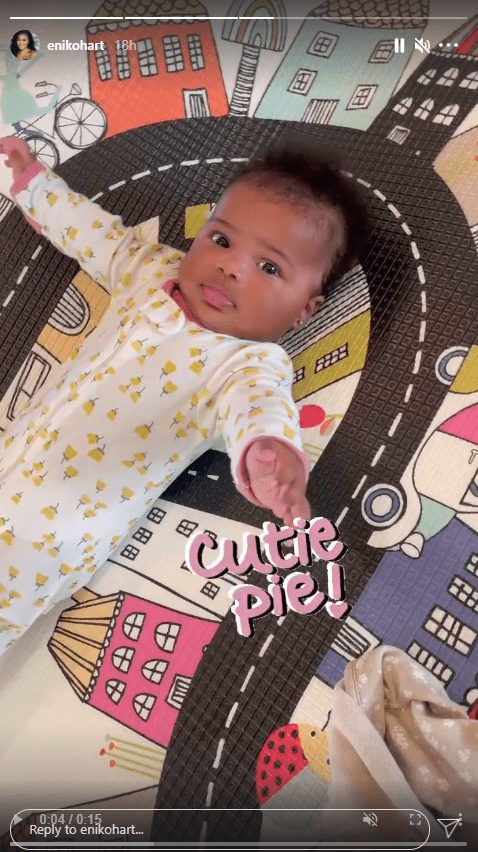 Meanwhile, Kevin shared another photo of his newborn daughter on his Instagram page two weeks after her birth. The picture showed his mother-in-law, Honey Andrea cradling the precious baby. 
The baby looked up at the camera with her eyes wide open and her tongue sticking out. The "Jumanji" star captioned the post, "All I can do is smile 🤦🏾‍♂️."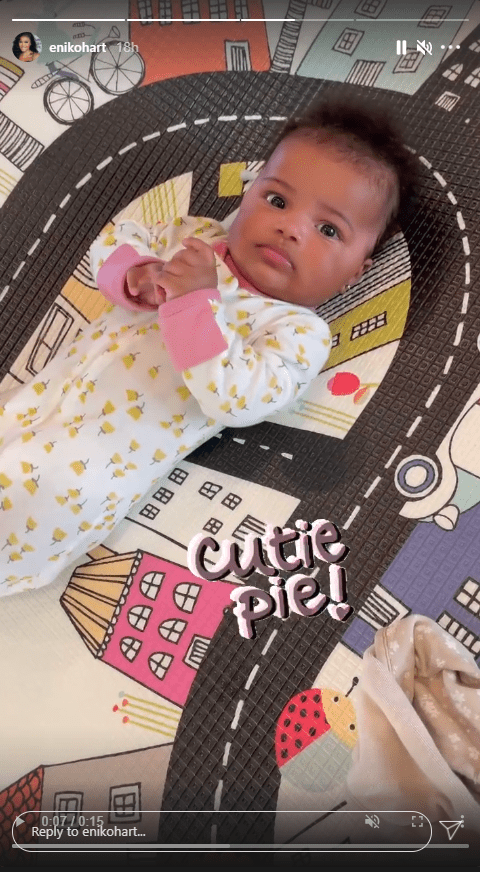 Kaori is the comedian's second daughter and fourth child. He has an older daughter, Heaven Hart, 15, who he shares with his ex-wife, Torrei Hart. The former couple also shares a son, Hendrix Hart, 13, while Kevin and Eniko have a son, Kenzo, 3. 
Kevin has a close bond with his older daughter, Heaven. He showed a glimpse of their bond in June 2019 when he got his payback for a Father's Day prank she played on him by shoving her into a pool while she was fully clothed.
It is too early to tell the extent of Kevin's bond with Kaori in the years ahead, but if one is to judge based on how the comedian acts with his kids, the adorable baby is in for a lot of fun times with her dad.