Miranda Lambert Looks Gorgeous Rocking a Plunging Silver Gown as She Accepts Her Grammy Award
Miranda Lambert stole the show as she went on stage to accept her Grammy Award wearing a stunning silver gown that had all eyes on her. 
As Miranda Lambert made her way on stage to accept her Grammy Award for Best Country Album, she had all eyes on her. Her metallic silver dress with its plunging neckline had the audience doing a double-take at the country star. 
The 37-year-old walked away with the most prestigious country award this year and was nominated for two others. Lambert's album "Wildcard" secured her the Best Country Album award.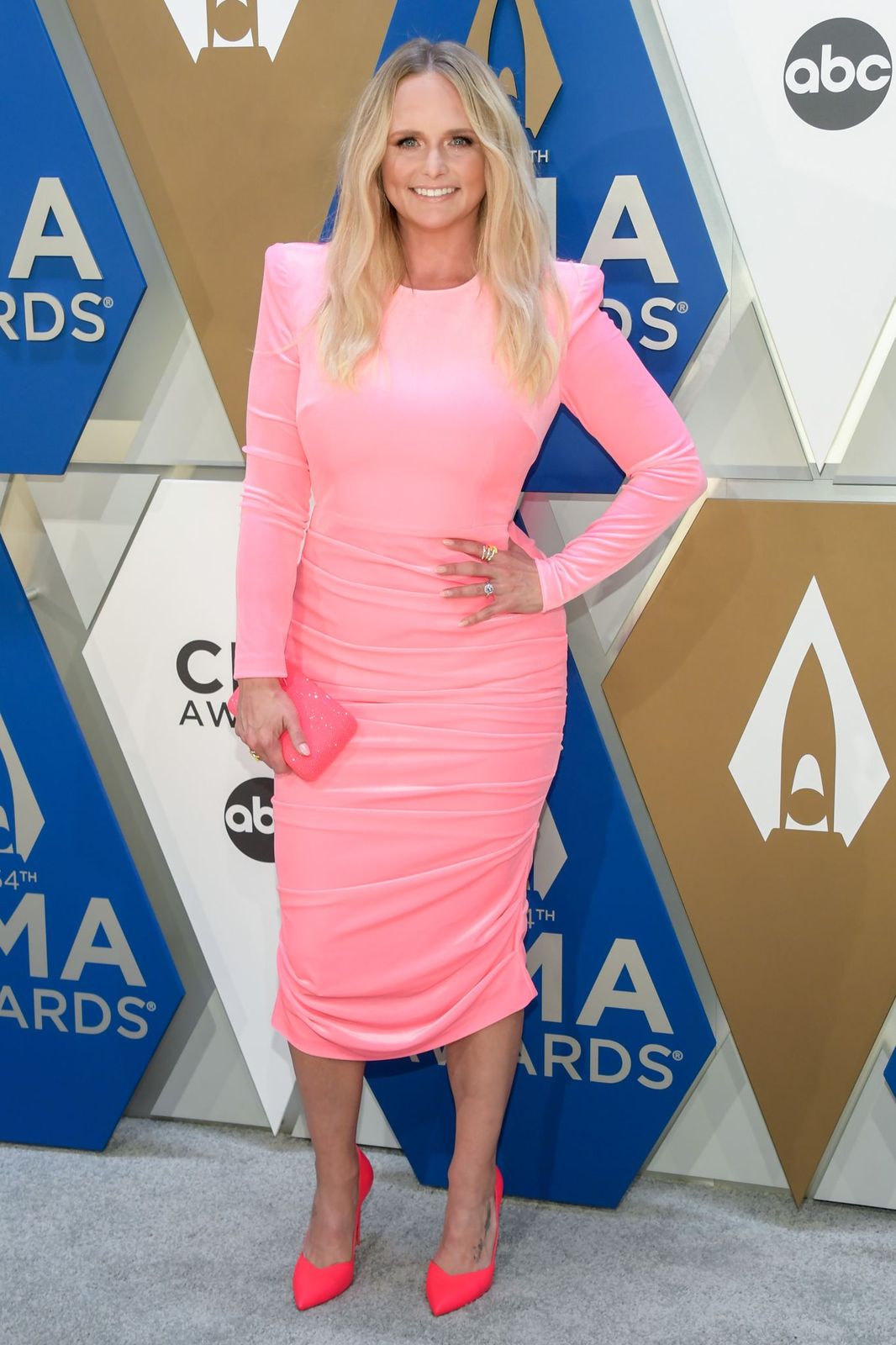 SLEEK IN SILVER 
The country star wore a silver dress with a black pattern that revealed some cleavage. She gave some warning before the show that her outfit would be a show-stopper, and she came through on her promise. 
The country crooner's dress is made by the Italian designer Genny and features in the Spring 2021 Ready-To-Wear Collection. Lambert teased her dress before the event, saying: 
 "I'm going sleek and sexy. I have a dress and a really hot husband who has a really nice suit, so we're good on that." 
The moment you win a GRAMMY. ❤️ @mirandalambert #GRAMMYs https://t.co/QPXIcT5X82 pic.twitter.com/9mEEgfboA9

— Recording Academy / GRAMMYs (@RecordingAcad) March 15, 2021
COUNTRY FAMILY
During her acceptance speech, Lambert acknowledged her fellow nominees in the category, who included Karen Fairchild, Kimberly Schlapman, Phillip SweetJimi Westbrook, and Ingrid Andress, Brandy Clark, Ashley McBryde.
Lambert entered the recording booth at only 16 and sang songs that were chosen for her.
This group will go down as in the records as the first group of nominees for Best Country Album made up of all females, including female-fronted bands such as Little Big Town. 
"WILDCARD" 
This isn't the first time that the 37-year-old country singer went home with this category's award. Her fifth album, "Platinum," also had Lambert winning Best Country Album in 2015. 
"Wildcard" is Lambert's seventh album which she released back in November 2019. It includes the hit "Bluebird," which the singer was ready to perform at the 2021 Grammy Awards. She shared about performing her hit single, saying: 
"'Bluebird' was a big song for me and I haven't got to sing it with them and play it with the band much and so I'm excited to do that."
STARTED FROM THE BOTTOM 
With 21 Grammy nominees behind her country singing buckle, Lambert has made a name for herself as one of the leading female country singers, but getting there wasn't always easy. 
Lambert entered the recording booth at only 16 and sang songs that were chosen for her. The young country star had to stick to her guns and fight for her country roots, leading her to learn how to play guitar. 
Lambert then started writing her own music at 17, which allowed her to maintain her signature country voice and move away from the pop direction that she found herself going in. 
Her hard work and dedication have paid off with the string of awards and accolades serving as proof of her success, not to mention the Oklahoma ranch that she bought and now calls home.