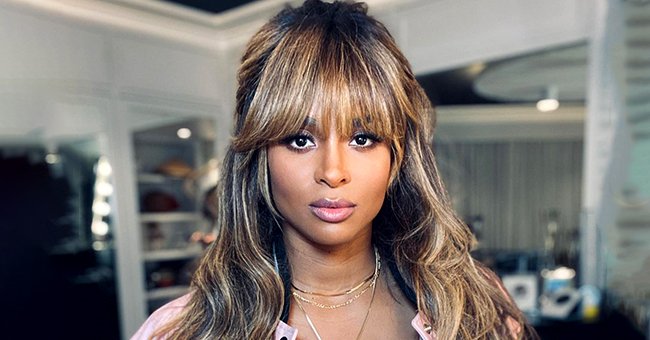 Instagram/ciara
Ciara Shows Glowing Skin as She Poses with Natural Makeup in the Bright Sun — See Fan Reactions

Having worked towards her weight goals, Ciara looked incredibly fit in one of her latest Instagram posts, with many fans commenting on how beautiful she looks in the picture while posing with natural make-up on.
Once again, Ciara has stunned the internet, looking gorgeous in one of her most recent Instagram posts. In a snapshot, the singer showed off her glowing skin while posing with natural makeup in the bright sun.
Many of Ciara's fans were in awe, expressing their amazement in the comment section. A lot of them commented on her beauty, while some complimented her skin, and some even went on to tell the singer that they love her.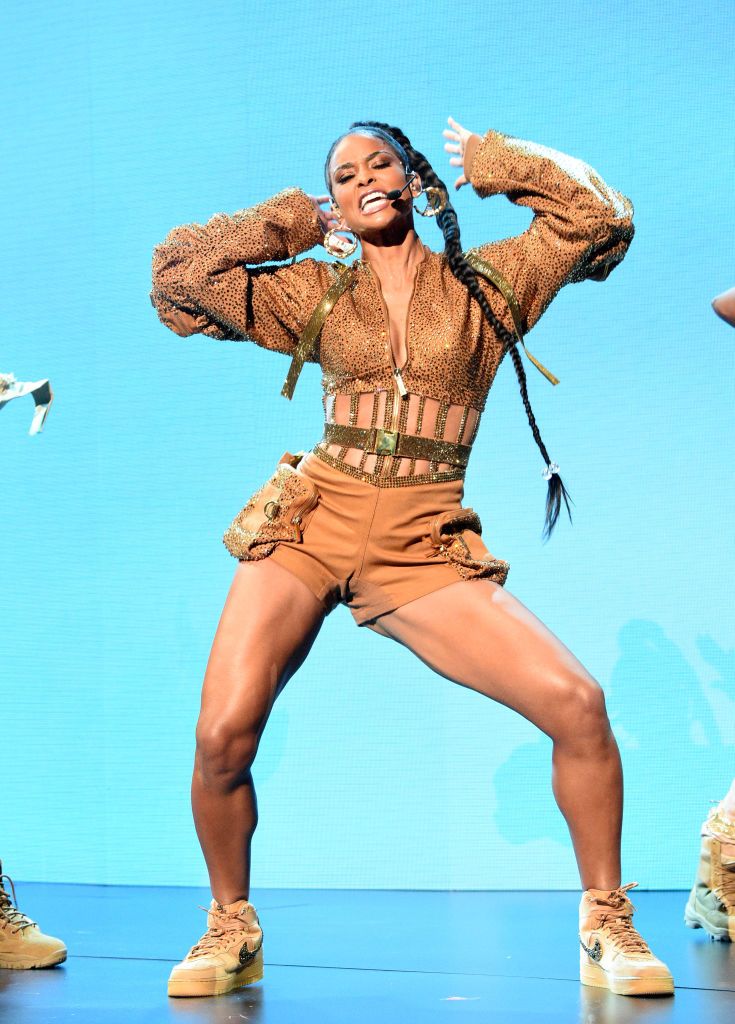 Singer Ciara dancing on the stage during the American Music Awards on November 24, 2019 in L.A. | Photo: Getty Images
A NATURAL BEAUTY
The singer gracefully looked into the camera, her one hand elegantly touching her cheek while her braids fell over her dark eye. Fans rushed into the comment section, absolutely taken by the singer's post, with one commenting:
"Absolutely beautiful I love you???."
Ciara's nude make-up brought out her inborn beauty, with a follower remarking that she has incredibly perfect skin. The post was highly popular, gathering in a whopping number of just under 345,000 likes in total.
SHE'S PERFECTION
Ciara's left eye, glowing outside of the shadow cast by her gorgeous light-brown tresses, stared deeply into the lens with a sultry-like manner. Her pink-nude lips were in a slight pout, adding to the intuitive essence of the snapshot.
Following the birth of Win last year, Ciara stated that she had to lose 30 pounds to reach her goal weight.
The sun glistened down on her, her gold bangles, glowing skin, and light brown dreadlocks all simultaneously shimmering in the bright light. An adoring follower went so far as to remark that the singer is perfect.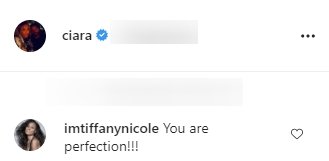 A follower commenting on singer Ciara's Instagram posts. | Source: Instagram/ciara
WEIGHT LOSS JOURNEY
Ciara could, indeed, be close to perfection. About a month ago, she spoke about losing weight after giving birth to her son Win in 2020 on which the singer had a lot to say, including that she had her motivation back. Ciara expressed:
"I have about 18 more pounds or so left, so I'm also enjoying the process to reach my goal."
Her journey to lose pounds is definitely working out. She recently shared a flattering video of her body while dancing to Cardi B's "Up" on a yacht. The dance is not easy, including workout-like moves that prove her fitness level.
A LONG JOURNEY
This celebrity's weight loss journey didn't happen overnight. In fact, following the birth of Win last year, Ciara stated that she had to lose 30 pounds in total to reach her goal weight.
Of course, this means that the superstar has now almost lost half of that bodyweight, bringing her much closer to her final target. If that doesn't scream determination, then what does?
Continuing to comment on her weight loss journey, she said that this was a much more fun experience compared to her previous journeys losing postpartum pounds. Ciara stated that it was because of her collaboration with Weight Watchers.
Emphasizing her experience with the weight loss group, she claimed that it allowed her to have more balance in her life. She said that it enables her to focus on her fitness while still allowing her time to be a parent and have a career.
Please fill in your e-mail so we can share with you our top stories!