Arctic Walrus Reportedly Spotted on Valentia Island Ireland after Napping on an Iceberg
An arctic walrus was spotted on Valentia Island in Ireland after reportedly napping on an iceberg that transported him to the far country. A father and his daughter sighted the rare creature. 
A unique discovery was recently made in Valentia Island, Ireland, on Monday when a father and daughter duo who were taking an afternoon walk spotted an arctic walrus washed up on rocks by the beach.
According to reports, 5-year-old Muireann and her dad Alan Houlihan were taking a stroll on the beach when the young girl saw the creature lying on the rocks. At first, the little girl thought it was a seal.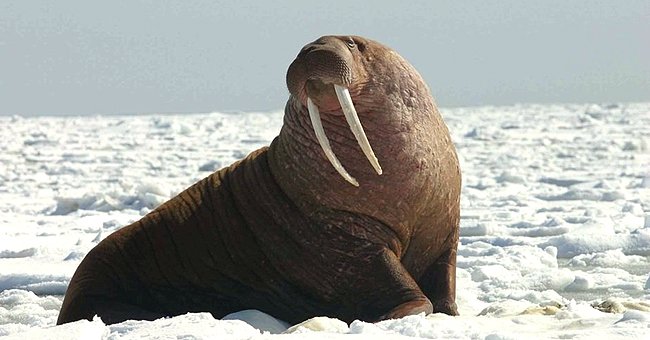 However, on having a closer look, they discovered it was a walrus. They saw the animal climb onto a nearby rock and rest there. Speaking about the encounter with RTE News, Muireann said: 
"It was amazing. A real adventure. We couldn't believe our eyes. It is once-in-a-lifetime stuff."
LOUNGING AROUND: A sleepy walrus relaxed on the rocks on an Irish island—far from its Arctic home. https://t.co/UYJCwBafn8 pic.twitter.com/tpmzVAYwDP

— ABC News (@ABC) March 16, 2021
The creature, two meters in length, is believed to be a young male walrus, given that his tusks only measure about 30 centimeters. He was described to be as big as a bull and looked exhausted while lying on the rock.
The Irish Parks & Wildlife Service has since been notified in case the walrus is spotted again.
First ever sighting of a walrus in Ireland after it is thought to have drifted across Atlantic after falling asleep on iceberg https://t.co/LKrJinW9un pic.twitter.com/aieS7JEb0c

— Independent.ie (@Independent_ie) March 14, 2021
Per reports, it is pretty rare to spot a walrus in Ireland. The first one was seen in 1987, and after that, it took almost ten years before another one was seen. Since then, about 20 more of the marine mammal has been seen.
Houlihan, who had been fishing all his life, told The Independent that he hadn't seen anything like the creature in Irish water. When he returned to the beach the following day, he, unfortunately, didn't see the animal again. 
Ireland doesn't have walruses.

So Alan Houlihan and his five-year-old daughter Mimi were pretty psyched when they found one. https://t.co/vZ3eZxR6vL pic.twitter.com/XvQPfC2ZjK

— As It Happens (@cbcasithappens) March 16, 2021
He was unsure how the animal, whose natural habitat is the North Pole's colder waters, found its way to Ireland. Kevin Flannery, director of Dingle Oceanworld Aquarium, believes the walrus napped on an iceberg that melted and transported him.
Flannery urged that the animal would be exhausted and tired and suggested that anyone who sights the wild animal should leave him alone to regain his strength and probably transport himself back to his home. 
Arctic walrus spotted in rare sighting off Ireland's coast https://t.co/d6hXsSzdEX

— BBC News (World) (@BBCWorld) March 15, 2021
The Irish Parks & Wildlife Service has since been notified in case the walrus is spotted again. In a similar vein, a malnourished seal pup was rescued and taken to the Baltimore National Aquarium.
The 1-month-old animal named Eloise was first found in Cape Henlopen, Delaware, on February 12 and, with the help of the Marine Educational Research and Rehabilitation Institute, was rescued. She is reportedly doing well.