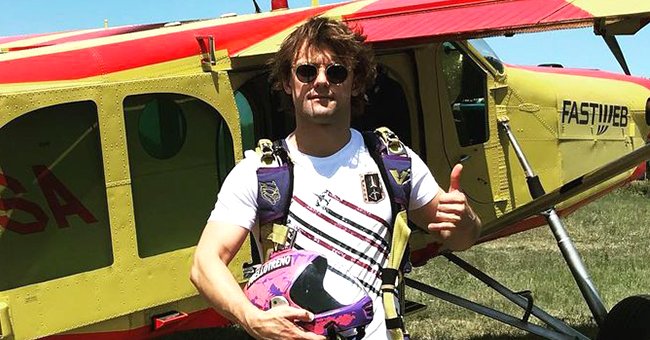 Instagram/supersoviet
Skydiver, 30, Dies in Australia after Parachute Fails to Open Following 6,000 Successful Jumps
A 30-year-old skydiver tragically dies in Australia during a competition after his parachute fails to open. The veteran skydiver had successfully done 6,000 jumps in the past.
Talented skydiver Dimitri Didenko recently passed away after his parachute failed to open during a competition in Australia. According to reports, the 30-year-old was part of the contestants at the Virtual Nationals Skydiving Championships.
He joined several competitors at Jurien Bay in Australia, ready to show off his skills. At about 1 pm local time, Didenko jumped with his wingsuit, and on attempting to land, his parachute deployed incorrectly.
Sadly, Didenko plummeted to his death with a group of 20 friends watching the horrific incident. Authorities revealed that he sustained severe injuries from the fall and was pronounced dead at the scene.
It is believed that although wingsuits can allow a skydiver to glide through the air for a long distance, a parachute is needed towards the end of the dive for the jumpers to successfully and safely land.
In a statement by Leslee Holmes, the president of Dandaragan Shire —where Jurien Bay is — the deceased was described as a veteran skydiver who had previously completed 6,000 successful jumps.
Back in July, a similar devastating incident occurred when a newbie skydiver and her veteran instructor passed away.
The Australian Parachute Federation is investigating Didenko's death to see if any foul play was involved. Thousands of tributes have flooded social media, mourning the late skydiver who was praised as "an absolute legend."
Many heartbroken friends of Didenko spoke about the great void he left behind, while others recalled fun skydiving activities with the late enthusiast. He had reportedly recently relocated to Perth from the Gold Coast due to the competition.
A
GoFundMe
account has since been set up by a loved one Erica Zanei to transport Didenko's remains back to his home country of Italy. Of the $15,000 goal set, $29,992 has been raised for the cause.
Back in July, a similar devastating incident occurred when a newbie skydiver and her veteran instructor passed away after their parachutes failed. 18-year-old Jeanna Triplicata chose to go skydiving to celebrate graduating high school.
A photo of a man and a woman skydiving. | Photo: Pixabay
She employed the help of renowned instructor Nick Esposito to perform a jump in Georgia when something went wrong with the primary parachute. Triplicata's family, who were present, hoped to see her land, but that never happened.
Please fill in your e-mail so we can share with you our top stories!