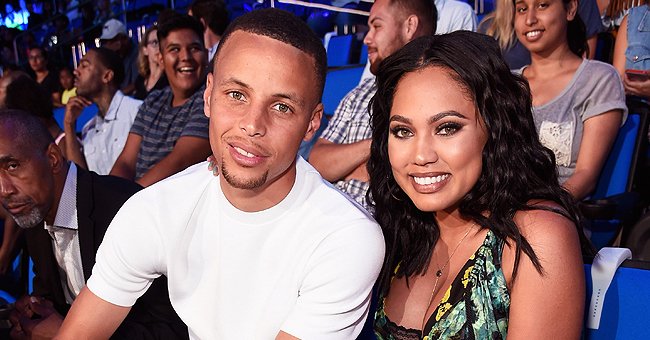 Getty Images
Ayesha and Steph Curry's Adorable Daughters Riley & Ryan Look like Twins in This Candid Photo

NBA and Golden State Warriors star Steph Curry's wife, Ayesha Curry, shared an adorable picture on her Instagram page, showing their daughters Riley and Ryan playing outdoors.
Steph Curry's impressive shooting range and knack for hitting three-pointers are not the only impressive things to watch about the NBA and Golden States Warriors star.
When he goes home after games, the basketballer relaxes with his wife, Ayesha Curry, and their three kids, daughters Riley, 8, and Ryan, 5, and son, Cannon, 2.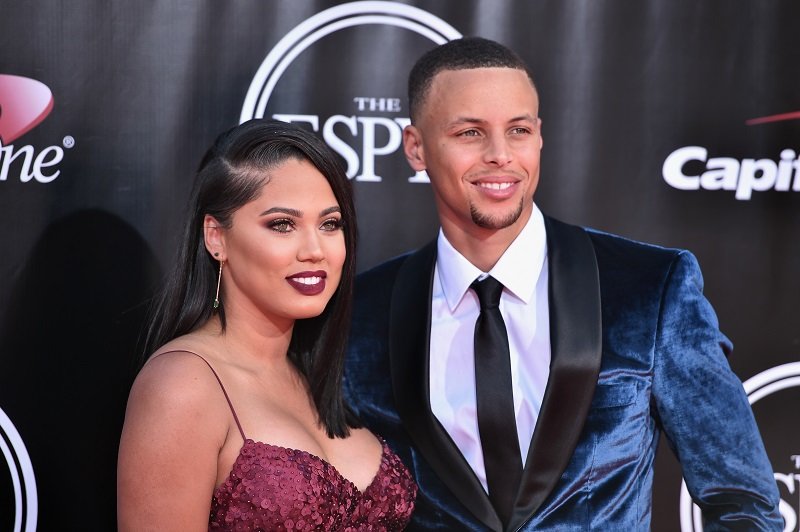 Stephen Curry and Ayesha Curry in Los Angeles on July 13, 2016. | Photo: Getty Images
Steph's kids are a joy to watch whether they are cheering him on in a basketball game, spending time with him and Ayesha, or appearing in their social media posts.
Recently, Ayesha shared a post on her Instagram page showing Ryan and Riley having a fun time outdoors. In the snapshot, Riley was clad in a white print top which she matched with blue denim pants and white sneakers.
The 8-year-old also wore a chic black hat over her long hair. She posed close to a pavement, stretching her arms wide as she crossed her legs in a standing position.
Ryan posed in front of her older sister. She wore a purple jacket over a brown print T-shirt and matched it with tight black pants that reached just below her knee.
Riley was easier to manage because she was disciplined, while Ryan found it hard to stay engaged for extended periods.
Ryan matched her outfit with nude boots and flaunted her long braids. She was on the move and looking at something in the background when the picture was taken.
In the post's caption, Ayesha gushed over how fast her daughters are growing, a feeling common to most parents. The proud mom wrote:
"How are my baby girls growing up so fast?! I can't keep up! Feeling all the feels right now. Thank you Lord. ???."
Ayesha's daughters are indeed growing up so fast, and it is all too amazing to see. The cute girls showed how much they are coming of age in an Instagram video their mom shared in August 2020.
In the video, Riley and Ryan posed and danced to Beyonce's song, "Already," on the back of a pickup truck. They also showed off their stylish outfits.
Last year, the Currys got through the quarantine by spending time together as a family in their home in Northern California, which Ayesha decorated herself.
With the lockdown necessitated by the COVID-19 pandemic, Ayesha and Steph had to homeschool their kids, which was not easy. However, she found a way to do it.
In a chat with People, Ayesha shared some tricks on how she and Steph managed to keep their kids busy amid the quarantine, revealing they tried to get them outdoors whenever possible, went on family hikes, and chilled with them in the pool when the weather got hot.
She also said they figured out homeschooling techniques for Ryan and Riley. According to her, Riley was easier to manage because she was disciplined, while Ryan found it hard to stay engaged for extended periods.
Hence, Ayesha made Ryan perform physical activities before her classes to focus her mind and get some wiggles out. She also ensured the little tot had periodic dance breaks between lessons.
Ayesha finds so much joy in her kids and showed this in the way she snuggled up to all of them in an adorable Mother's Day picture she snapped with them last year. Unsurprisingly, the man behind the camera was no other than proud dad and husband, Steph.
Please fill in your e-mail so we can share with you our top stories!