Get to Know Jonny Lee Miller, Angelina Jolie's 1st Husband and 'Elementary' Star
In 1996, 20-year-old Angelina Jolie married a young British actor she met on the set of the tech thriller, "Hackers," but the marriage ended in divorce after only 3 years.
Angelina Jolie is now divorced from her third husband, Brad Pitt, and the end of the relationship is allegedly been anything but amicable. Jolie's first marriage -- and divorce -- were very different, and her ex is still a close friend.
Jolie met her first husband, British actor, Jonny Lee Miller, during the filming of the 1995 film, "Hackers" and fell in love. Twenty-four years after their marriage we look back at the failed romance that turned into a life-long friendship.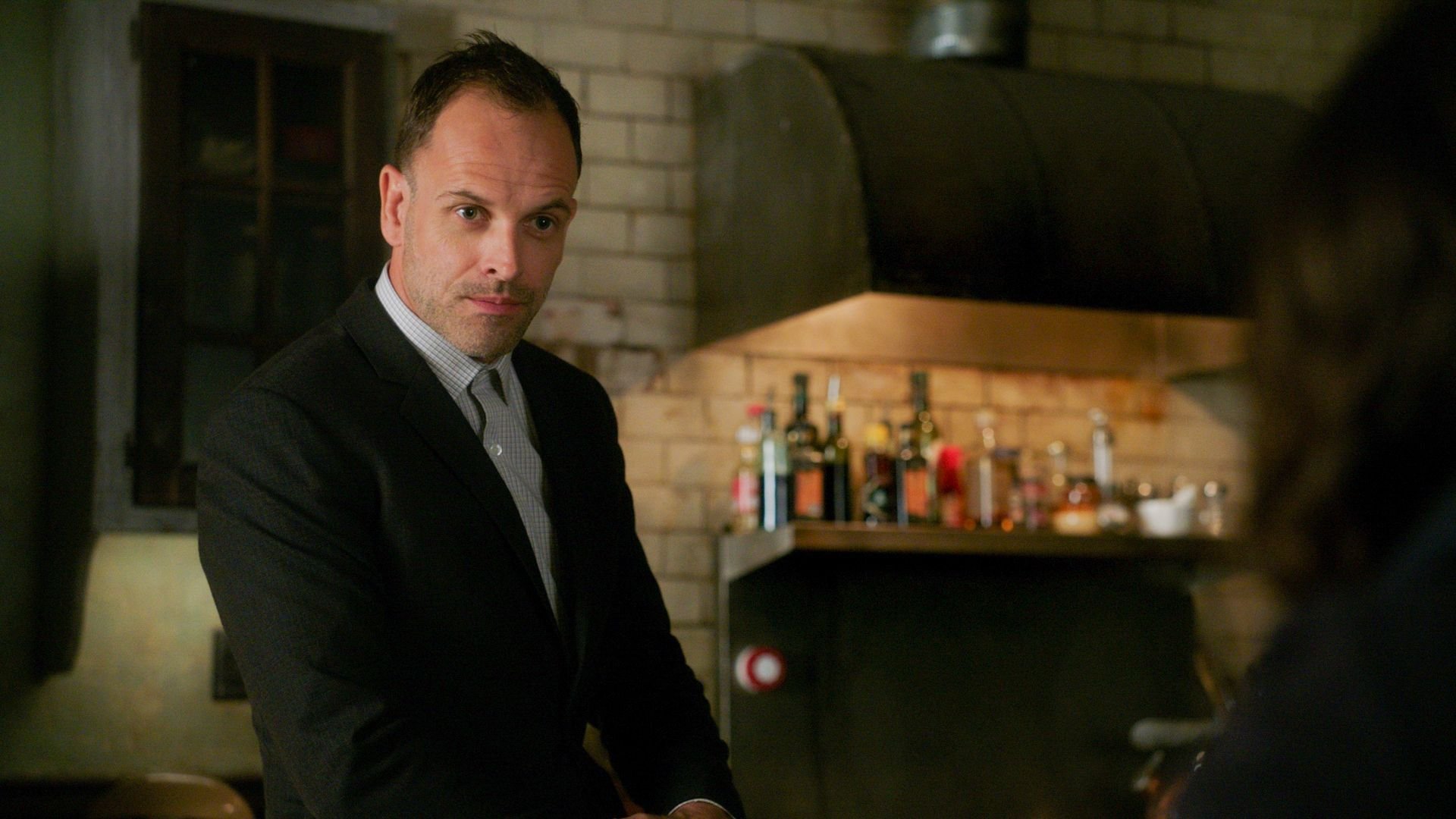 PUPPY LOVE
At the time they met and married, Jolie and Miller were very young -- the actress was 20 and he was 23. Jolie was just taking her first steps in what was to become a brilliant career, and Miller had just starred in his breakthrough role in "Trainspotting."
The couple married in a quiet private ceremony, and the bride wore black rubber instead of white lace, and a white T-shirt with her future husband's name written in the back in her own blood.
Miller revealed that he and Jolie have remained close despite her subsequent marriages.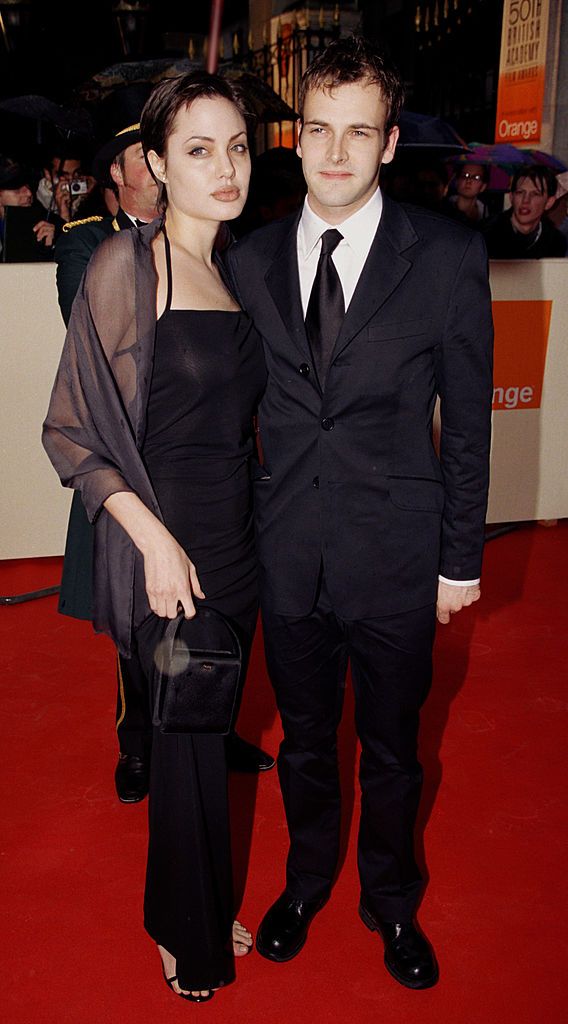 THE BRIDE WORE BLOOD
The wedding was attended by one of Miller's closest friends, and Jolie's mother, former model Marcheline Bertrand. As to the blood on her t-shirt, Jolie would later explain her unusual outfit:
"It's your husband. You're about to marry him. You can sacrifice a little to make it really special."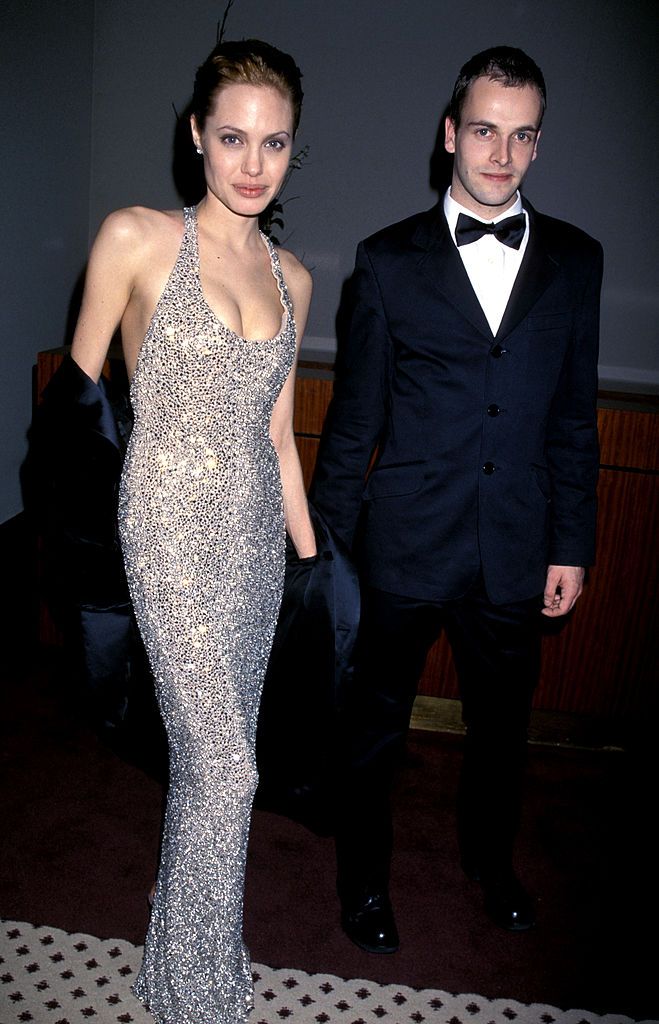 DIVORCE BLUES
A little over a year later, in 1997, Miller and Jolie had separated, but they still stepped out at the  56th Annual Golden Globe Awards red carpet together in1999. The marriage ended but the love and the friendship endured. Miller commented:
"There are no regrets and no bitterness. Marriage was something that didn't work out, and I had to make the decision sooner or later."
What happened to the cast of Hackers? Angelina Jolie's '90s cyber classic turns 20 today http://t.co/YZx0GvFO69 pic.twitter.com/1NhafNuFd7

— Digital Spy Film (@digitalspyfilm) September 15, 2015
FRIENDS FOR LIFE
In fact, when Jolie made her debut as a director with the film "The Land of Blood and Honey," Miller was one of the guests at the movie's 2011 premiere. Miller revealed that he and Jolie have remained close despite her subsequent marriages.
In 2000, shortly after her divorce from Miller, Jolie married another actor in Las Vegas, Billy Bob Thornton. The wedding took place after a two-month whirlwind courtship. and ended almost as quickly in 2003.
JONNY LEE MILLER - SHY STAR
The quiet, shy Miller has become something of a cult figure due to his role in Danny Boyle's "Trainspotting" saga, and reached star status with his role as Sherlock Holmes in the CBS hit series "Elementary."
Miller was born into an acting family. His grandfather Bernard Lee, was the famous "M," head of the British Secret Service in the first eleven 007 films based on Ian Fleming's iconic James Bond novels.
Both of Miller's parents were stage actors, and he took part in school plays and discovered that he liked acting. As a teenager, he met and befriended another young British actor, Jude Law, who has been his best friend ever since.
While Jolie quickly remarried, Miller took his time and quietly romanced beautiful model and actress Michele Hicks, whom he married in 2008. The same year the couple welcomed their son Buster.
While Jolie has sadly gone through three failed marriages, Miller has happily settled down to life beside the "Orange Is The New Black" actress. Of all her ex-husbands, the shy, quiet and unassuming Jonny Lee Miller is the one who has remained a constant in Jolie's life.