Alabama Hit with Multiple Tornadoes Killing Almost 5 People, Injuring Many & Damaged Buildings
Alabama was hit with a deadly storm, and at least five people have been reported dead and multiple injured in various parts of the state.
On Thursday, March 24th, 14 tornadoes hit Alabama, according to the National Weather Service. One tornado hit Mississippi, and another hit Georgia. At the same time, a much larger tornado hit Newnan, Georgia, late Thursday. 
Calhoun County Sheriff Matthew Wade told CNN details of the tornado's damage that hit the area on March 24th. Numerous homes have been damaged, and numerous people have been injured as a result.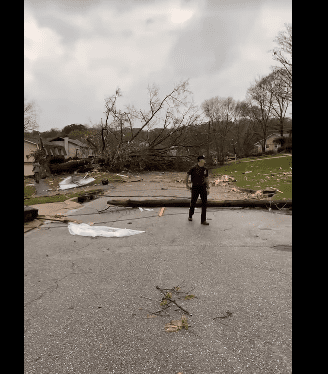 The situation was described as dangerous, and residences were urged to take cover as the storms hit different state areas. Pelham Police department shared footage of the damage on Facebook. 
Unfortunately, damaged housing is not the only issue. Five people have been killed, and multiple injured as the tornados made their way through Alabama's various states, as confirmed by Calhoun County Coroner Pat Brown.
Confirmed tornado now, with a debris signature, on the cell moving across northern Hale County, about to move toward the Tuscaloosa and Bibb County line. If you are in the path, TAKE COVER NOW! #alwx pic.twitter.com/MoPQULmm8E

— NWS Birmingham (@NWSBirmingham) March 25, 2021
Calhoun county was hit particularly badly by a tornado as all five deaths are located there. Five adults were killed in three separate residences, two in Ohatchee and one in Wellington. 
On Thursday, residences of Calhoun County were warned about dangerous weather conditions. A tornado warning was given at 2:30 pm and stayed in effect until after 6 pm. 
🚨 ALERT: The city experienced heavy damage in and around the historic downtown area due to tonight's weather. Please note that both the city and county crews are in route and working on scene to clear impacted areas. Please remain safe in your homes and take shelter. Stay safe!

— City of Newnan, GA (@cityofnewnanga) March 26, 2021
The NWS forecasted multiple intense and long-track tornadoes for Thursday night with large scattered hail storms. Tornadoes at night are very dangerous as visibility is low and they are fast-moving. 
The latest update is from the NWS Twitter page was a tornado warning for southeastern Caly, southern Randolph and northern chambers, and Tallapose until 10:45 pm Friday, March 26. 
⚠ A Tornado Warning has been issued for southeastern Clay, southern Randolph, and northern Tallapoosa & Chambers counties until 10:45 PM. This storm is located near Goldville moving towards Wadley and Roanoke at 60 mph. Take shelter now! #alwx pic.twitter.com/Q2qUkYaI0C

— NWS Birmingham (@NWSBirmingham) March 26, 2021
Residents have been warned about the weather and are urged to stay indoors as the tornado moves around different parts of the state. Alabama Governor Kay Ivey released a statement.
In the statement, she shared her condolences for those impacted by the tornado as reported of loss of life came in. She urged citizens who are on the path of the tornado to "remain on high alert."