Getty Images
Venus Williams Films Serena in a Mini Dress as She Purposefully Arrives at the Same Dinner Spot
Venus Williams recently took to social media a comedic video clip that saw her capture her sister Serena arriving at the same dinner spot she was eating at. Find out what happened.
Standing off against each other on the court, Venus Williams and her sister Serena are a competitive duo; however, they morph into best friends who enjoy spending time together off the court.
Venus recently took to her Instagram page with footage that captured her sister and her husband Alexis Ohanian arriving at a restaurant where she was enjoying quality time with friends.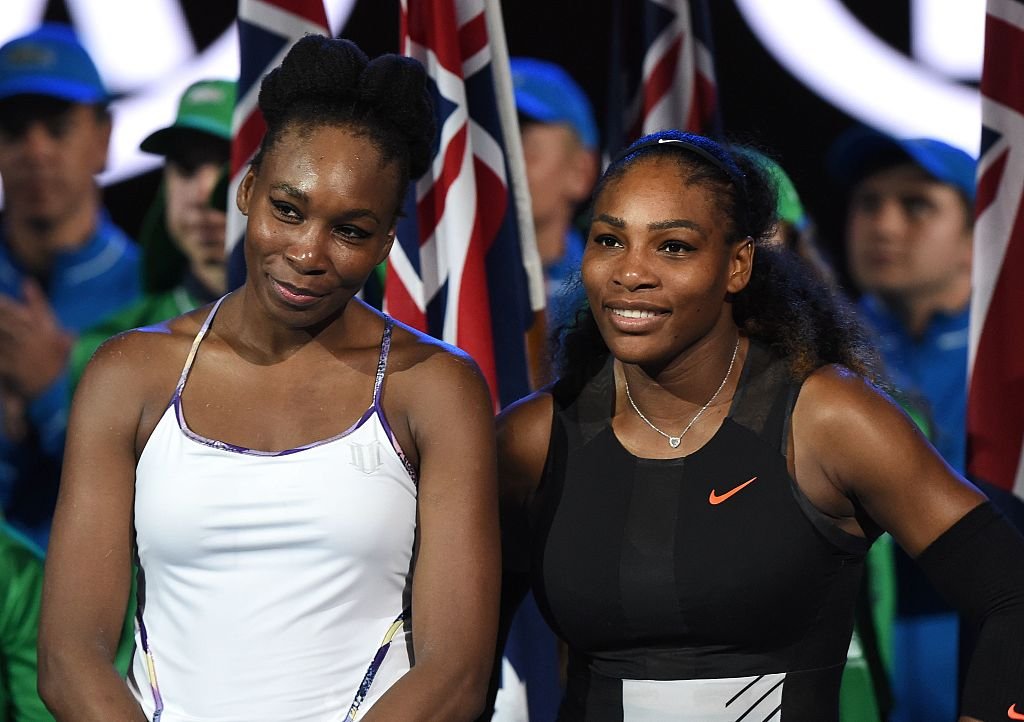 Serena and Venus Williams at the Australian Open tennis tournament in Melbourne on January 28, 2017. | Source: Getty Images
The video was a hilarious one that showcased the bond and the resemblance between the two sisters. The footage was not too long, and Venus had taken time to add subtitles that gave more meaning to the video.
It began with Venus introducing her "bestie" to the camera. Immediately after, she spots her sister and Alexis at the entrance and, according to the subtitle, wonders who it is.
Venus got her answer when Serena and her husband waltzed over to the table where she was having dinner with her best friend.
When Serena and Alexis reached their table, she did a little dance with her hips even as her quiet partner, who wanted nothing of the drama, gently bowed out, leaving to find a table.
The prize money ($40,000) had caught his attention.
Of course, she follows, and pretty soon, they're settled. Venus wasn't finished, though—she decided to get her sister to pay her bill, so she headed over to their table with her drink in hand.
According to the on-screen captions, she dumps the bill on poor Alexis, who still wanted nothing to do with the friendly sibling drama.
Serena faked shock and decided that if she picked up the bill, then her sister would not return to her table with the drink she came with. Venus wouldn't leave without her drink, but Serena just took a sip from it and winked.
The video showcased just how great things are between the two sisters, who are considered fierce rivals on the court. They learned to play the game from their father, Richard Williams.
He had seen a broadcast of one tennis game, and the prize money ($40,000) had caught his attention. From that day on, the ambitious man decided his daughters would learn the game and become world champions.
Decades later, both women fulfilled his dream of making them champions. The two motivate each other to be better versions of themselves, and their success has spread to more than just sports.
Serena, a fashion icon, owns a clothing line and is a mother to Olympia, while Venus works on athletic wear and interior design and is a doting aunt.
The two sisters have also played a huge role in correcting some wrong ideals where tennis is concerned, especially equality for women in the sport. The world is lucky to have them, and they are not done yet.
Please fill in your e-mail so we can share with you our top stories!