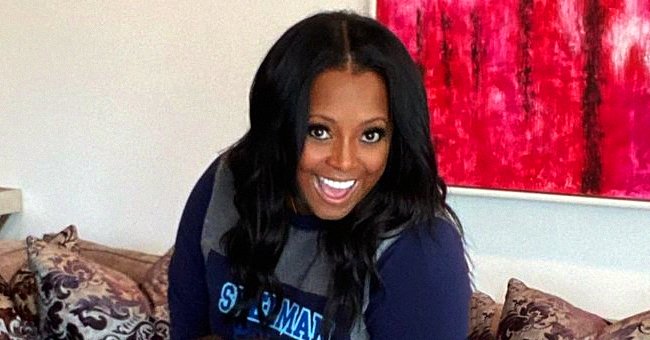 instagram/keshiaknightpulliam
'The Cosby Show's Keshia Knight Pulliam & Daughter Ella Flash Similar Smiles in Morning Selfie
American actress Keshia Knight Pulliam recently shared a selfie with her only daughter wearing similar smiles — "my Sunday morning crew!!"
Keshia Knight Pulliam is a proud mother who enjoys spending as much time as she can with her adorable daughter Ella Grace Hartwell.
And what's even better? The American actress shares photos taken from time spent with her child with her fans on social media, and they love her for it.
On Sunday, the proud mother took to her Instagram story to share a selfie that captured her posing with Ella and the family dog, which was so dark and fluffy, it looked like a throw pillow at first sight. She captioned it,
"My Sunday Morning Crew!!"
The trio was seated in the living room with their backs to a modern-looking dining area. Pulliam wore a faded animal print coat on top of a striped top while her daughter was dressed in a simple sleeveless top.
The adorable girl held a dark pink toy shaped like a small dog. Unlike her mother, whose hair was styled straight, Ella's curly hair was a complete mess, but it only served to accentuate her cuteness.
Ella is Pulliam's only child. She shares the adorable three-year-old with her ex-husband Ed Hartwell. Ella was born in 2017; however, her parents went their separate ways before she was born, and that reportedly influenced the name Pulliam gave her.
Ella had at some point asked her if she could be an actress.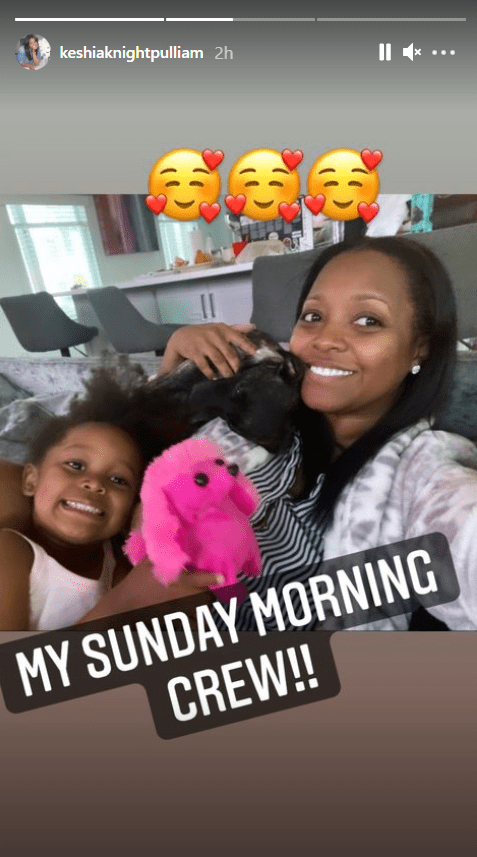 Keshia Knight Pulliam with her daughter Ella and the family's dog on Instagram | Photo: Instagram.com/keshiaknightpulliam
Apparently, Ella had been her "saving grace" when things were rough, so she only thought it right to use "Grace" as her middle name. Perhaps it's why the actress is so fond of going everywhere with her daughter.
She once told Closer Weekly that her daughter and her mother often join her on the road. It's no wonder Ella started harboring desires to become just like her mother with all that exposure.
Pulliam, who started acting at age 6, is all for it. The proud mother is ready to support her daughter in any of her endeavors, and should that be entertainment, then there is no doubt she will have the best mentor.
Pulliam once admitted to ET that Ella had at some point asked her if she could be an actress. The proud mother had explained to the toddler that she could start as soon as she wanted.
If Ella does take the step, the world is sure to hear about it, and if the little girl is anything like her mother, she will make huge waves in the movie industry or whatever career she sets her eyes on.
Please fill in your e-mail so we can share with you our top stories!