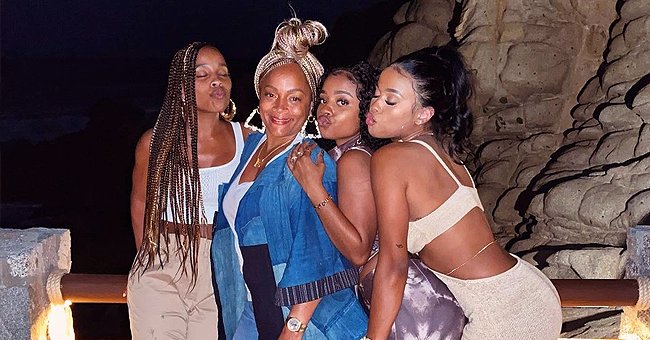 Instagram/sislovespurple
LL Cool J's Wife Shows Uncanny Likeness to Her 3 Daughters as She Poses with Them on Her B-Day

LL Cool J's wife, Simone, recently turned 51 years and the stunning mom of four celebrated her big day with a beautiful photo posing with her three daughters, Italia, Samaria, and Nina Symone.
It was a day of celebration at the Smith household as they commemorated the matriarch, Simone Smith's 51st birthday. Simone and rapper Todd "LL Cool J" Smith have been married for 25 years and share four beautiful children.
Taking to Instagram, Simone marked her big day with an outdoor snap while flanked by all three of her daughters, Italia Anita, Samaria Leah, and Nina Symone Smith.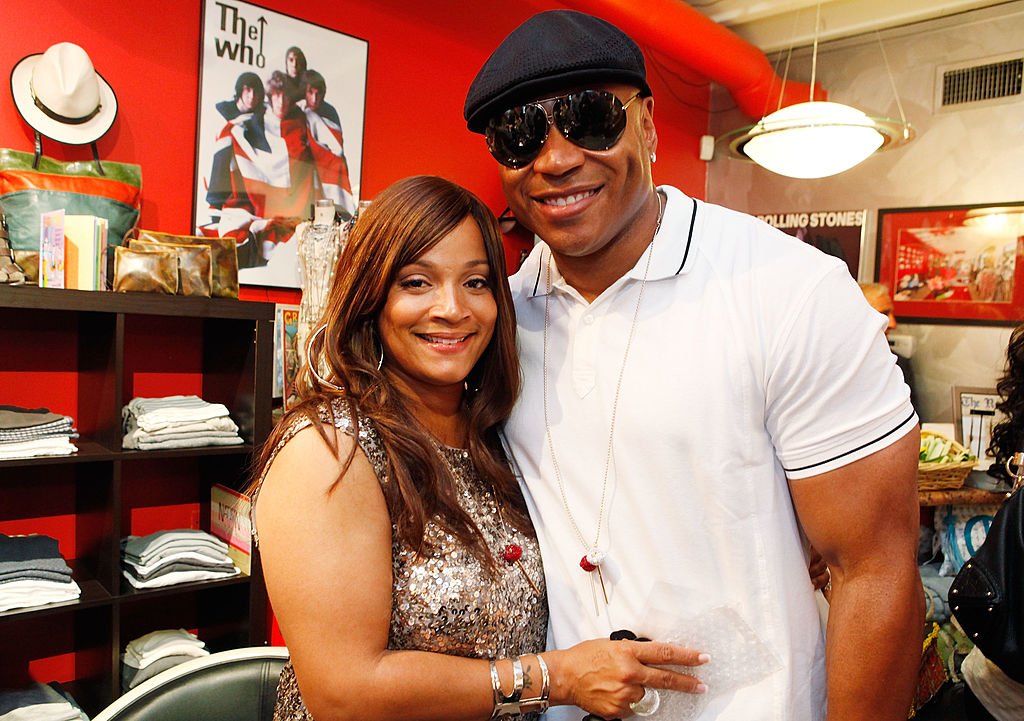 L.L Cool J and Simone Smith attend her Jewelry Trunk Show at Shag on June 16, 2011 in Roslyn, New York. | Source: Getty Images
SIMONE AND HER GIRLS
In the photo, Simone and her daughters' uncanny resemblance was unmissable as the three young women pouted while the jewelry designer smiled joyously, captioning the photo:
"My baby loves."
The snap also proved that each of the Smith ladies is as stylish as the next as they all rocked fabulous outfits. Italia looked casual in khaki pants and a white crop top, while Nina Symone and Samaria both rocked maxi dresses.
However, Simone's denim ensemble stole the show. The designer looked chic in a white top, distressed jeans, and a floor-length denim jacket. She paired the look with platform shoes and gold jewelry, including stunning triangle-shaped earrings.
SIMONE BATTLES CANCER
Every year, Simone's birthday is a reminder of her strength and the journey she has been through as a cancer survivor. In 2004, she was diagnosed with stage 3 chondrosarcoma and underwent a grueling 15-hour surgery to replace her tibia bone.
Following surgery, Simone had to learn to walk again, and her rehabilitation took two and a half years. Fortunately, she beat cancer "like a boss" and has been in remission ever since.
BEAT CANCER LIKE A BOSS
Simone owes much of her recovery to the support she received from her husband, LL Cool J, who made some professional sacrifices so he could be by her side throughout the process.
After the life-changing ordeal, Simone and the "NCIS: LA" actor used their experience to contribute to cancer research and raise awareness through the Beat Cancer Like a Boss campaign and Simone's eponymous jewelry line.
THE SMITH FAMILY
Besides inspiring Simone and LL Cool J to give back, the ordeal also brought the couple closer together. After 25 years, their marriage is strengthened by their support and respect for one another and their matching spiritual background.
As for their children, including their only son, Najee Smith, Simone, and LL Cool J are doting parents, but they didn't spoil their kids and raised them to fend for themselves by pursuing their different passions.
Please fill in your e-mail so we can share with you our top stories!