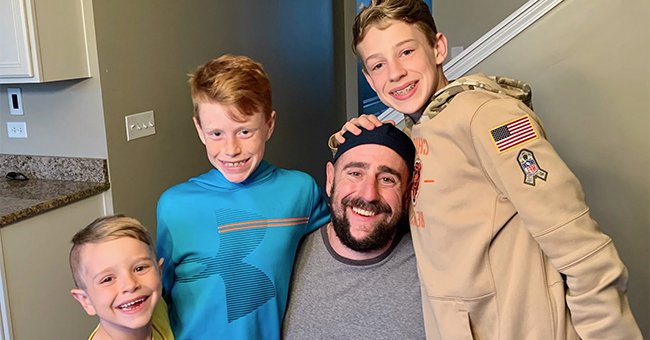 Twitter/DanaRebikWGN
Father of 3 Dies While Rescuing Kids from from Being Carried Out to Sea by a Rip Current
A GoFundMe page has been set up for Peter Rosengren, who died on March 28 while rescuing his three kids from being carried out to sea by a rip current.
Peter Rosengren, a Daily Herald executive, tragically lost his life on Sunday, March 28, 2021, while spending time with his family on vacation in Florida. He was 42.
Before his death, he was the vice president of sales and digital strategies at Daily Herald Media Group. He is survived by his wife, Maura Rosengren, and their sons, Grant, 7, Charlie, 12, and Gavin, 14.
The deceased and his family were in Florida for what was expected to be a week of fun in the sun and surf. They had driven from their home in Batavia to Florida.
However, instead of the fun they expected to have, Maura, spent her and Peter's 18th anniversary thinking about getting his body home. Peter died as a hero while rescuing his sons and other children from a dangerous rip current.
South Walton Fire District's beach safety director at Miramar Beach said the children were caught in a rip current, and Peter went to save them. The beach was open on the day, but the water was off-limits with a double red flag warning, Florida's most severe water limitation.
Peter's death is in many ways similar to that of a father who drowned while saving his four-year-old son's life.
Maura said the family had only been at the beach for a couple of minutes when the kids ran into the water immediately. She said her sons and others entered into the waves before she had set up a beach chair.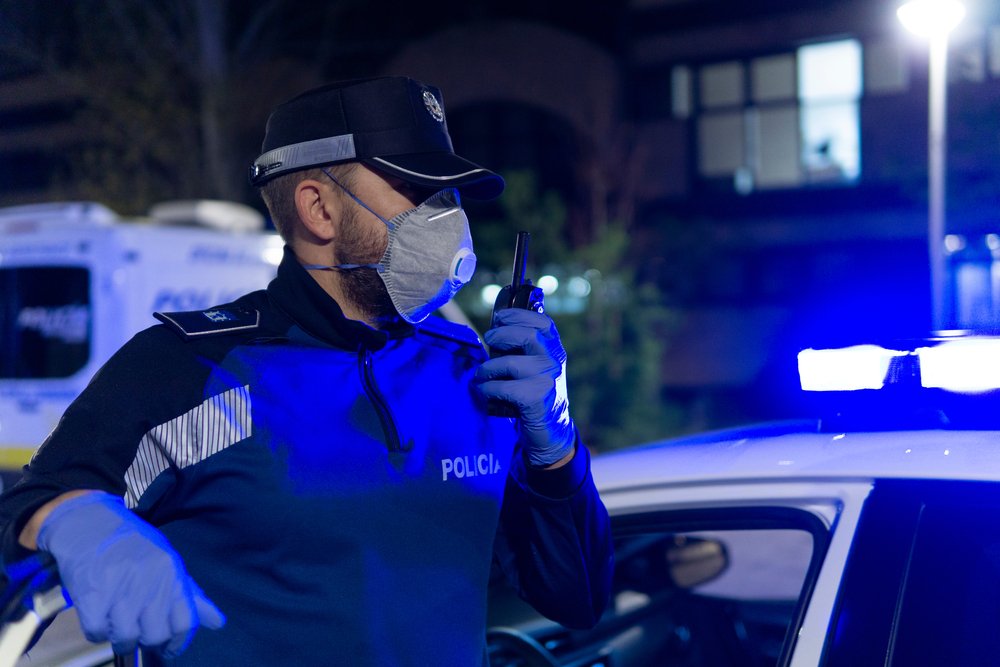 A police officer radioing in a call while wearing a face mask and gloves to protect himself from COVID-19 | Photo: Shutterstock
Right after entering the water, they were in trouble. It happened so fast. While narrating the incident to Daily Herald, she recalled running into the water as the boys tried to help each other reach the shore. With tears in her eyes, she added:
"We could see one little boy couldn't get in and ... (Pete) went out there."
Peter was able to get the boys to those in charge of chairs, umbrellas, and towels operation on the beach. He was on the beach when lifeguards from the closest tower about half a mile away arrived at the scene and performed CPR.
Afterward, an ambulance came and took him to a hospital. The lifeguards also pulled two boys from the water. The boys recovered. It is yet undetermined whether Peter died due to a cardiac issue or drowning.
However, he goes down as a hero. His longtime friend, Joe Shaker, said his actions were typical of his personality, adding that he was such a hero.
Daily Herald's chief operating officer, Scott Stone, also noted that Peter was always there for others. A GoFundMe page has been created to raise funds for Peter's family. At present, $57,036 has been raised out of a target of $75,000.
Peter's death is in many ways similar to that of a father who drowned while saving his four-year-old son's life. The man, Stephon Hunt-O'Neal, was described as a good father who was capable of lighting up a whole room.
Last week, the body of a 69-year-old man was pulled from the surf at Strand Beach in the Western Cape. The man had gone for a swim but never returned. He was spotted face down in the surf, near The Pipe at Strand Beach, and pulled by bystanders.
Please fill in your e-mail so we can share with you our top stories!