Inauguration Day Poet Amanda Gorman Dons Yellow Dress as She Debuts Book 'The Hill We Climb'
Amanda Gorman looks glowing in yellow as she holds her debut book "The Hill We Climb." The poet has graced the stages of historical events like the US Presidential Inauguration and the Super Bowl for her eloquence. 
At 23 years old, Amanda Gorman has achieved a lot. Now, she can add being a book author to her long list of accomplishments after she announced the release of "The Hill We Climb," set to hit bookstores this month. 
According to Gorman, she never thought a special edition poem booklet would ever be possible. In fact, she never thought that one of her poems would hit best-seller lists before the book even hit the shelves. More than being on best-seller lists, though, what matters to the young woman is that people can now appreciate her poetry.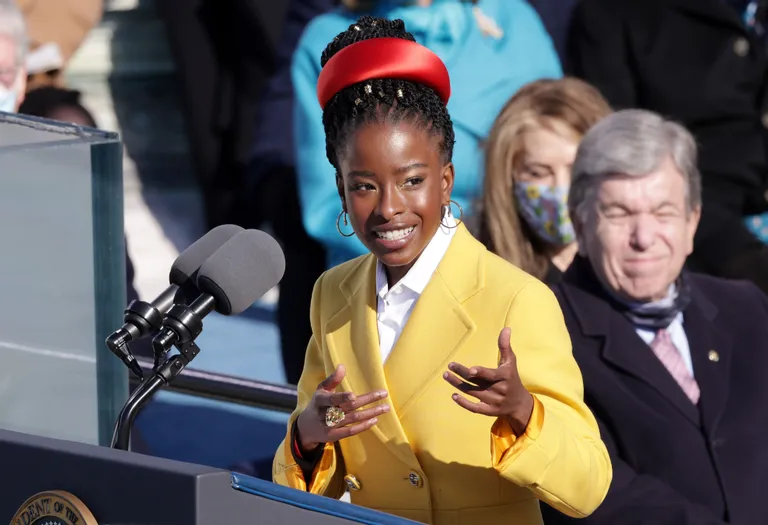 She opened up about the value books had on her while growing up, keeping well-loved and well-worn books with her until adulthood. Now, she hopes people will be able to do the same with her new book, especially with all the lessons it holds. 
"I'm so happy that even now this poem will be able to sit in people's homes, hearts, and hands in a new way."
Gorman made history after being the youngest Inauguration Day poet. She recited "The Hill We Climb," the same poem people can now enjoy reading at home. The inspiring speech speaks about America, the beauty of both its troubled past and its promising future. 
It speaks of the courage and bravery of Americans, ready to rebuild, reconcile, and recover from the past and look forward to a future filled with love, legacy, and change. To many, it was the perfect inauguration poem for Joe Biden and Kamala Harris. 
Following her inauguration day speech, she was given another powerful platform, this time at the Super Bowl LV pregame show. She did not dress in her signature yellow; instead, she donned a light blue coat as she delivered her powerful poem. 
Her poem was narrated alongside footage of three everyday citizens chosen as honorary team captains by the NFL. The footage paid tribute to Tampa nurse Suzie Dorner, who managed the COVID-19 ICU at Tampa General Hospital. 
It also included LA teacher Trimaine Davis who secured internet connections and laptops for his students amid the pandemic, and James Martin, a Marine veteran who helped veterans and families connect through the Wounded Warrior Project.
Gorman's poem spoke of action, asking people to celebrate the heroes' lives by acting with courage and compassion every day. By doing so, they are honored for the help they've provided to the community.