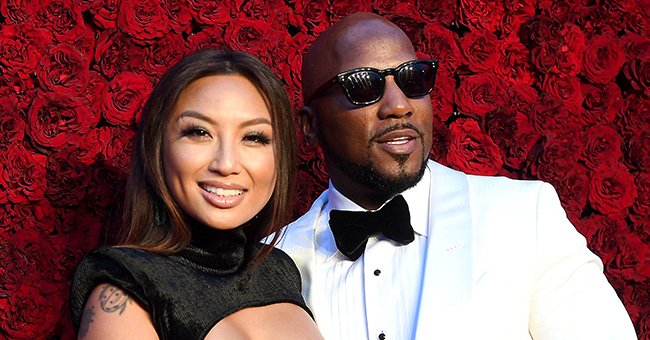 Getty Images
Jeannie Mai Marries Jeezy in an Intimate Ceremony – Here's Everything You Need to Know
Jeannie Mai and Jeezy recently got hitched in a small ceremony. Both looked incredibly stylish; Jeezy was wearing a pink tuxedo, and Mai's wedding dress was shaded in cream with a spatter of floral patterns.
After one year as an engaged couple, rapper Jeezy and his now-wife and television host Jeannie Mai got married in a COVID-19-safe ceremony. They didn't hesitate to dress up to the nines and pull out all the stops when it came to the decor.
Mai recently took to her own Instagram, sharing a gorgeous greyscale picture of her walking downstairs, gorgeous bouquet in hand, and a glowing smile. Her bridesmaids and another individual held up her trail from behind with loving looks.
IN SICKNESS AND IN HEALTH
Vogue was also present at the event, sharing a snapshot of Mai resting on Jeezy's face as she held a bouquet of light pink roses and other multi-colored greenery. The magazine shared some of the bride's words in the caption, where she said:
"We had to change all of our wedding plans due to COVID."
However, following Jeezy's mother's sudden death, the two realized how quickly life goes by, opting to get married anyway. They attempted to ensure that the event was safe, including the provision of COVID-9 tests for guests.
Another attempt to ensure that the ceremony was as secure as possible was by having what Mai referred to as a "mini-mony." The two love birds only invited a small circle of friends and close relatives.
This is not the first time Mai has been married, enduring what she called a deeply harrowing divorce from Freddy Harteis.
Baller Alert shared a few photos of the ceremony too, one of them exchanging their vows underneath an arch with what appeared to be large fake golden leaves. Jeezy wore a pink tuxedo, while Mai sported a cream-colored wedding dress.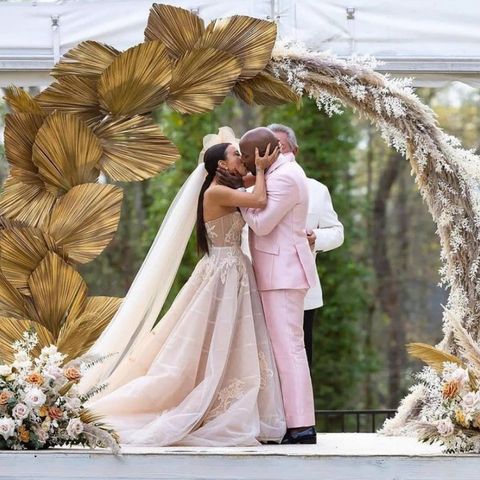 Jeannie Mai and Jeezy kissing at their wedding ceremony. | Instagram/balleralert
Jeezy and Mai first caught eyes when he attended her talk show "The Real" as a guest. It was many years later when the star-crossed lovers ran into each other again, Mai commenting that:
"Years later, he asked me out on a date."
Continuing, the talk show host opened up about their first romantic evening. She shared that they both ate sushi when he eventually asked her if she could see them together for the rest of their lives, and weirdly enough, she said she could.
It was reported at the end of March that Mai and Jeezy signed up for their marriage license incredibly recently. Apparently, the two did so at the Fulton County Court Clerk in Georgia.
This gave them six months to tie the knot officially. They had not announced the official date at the time, but there were whispers that their day would be coming up soon, and these rumors, obviously, turned out to be true.
This is not the first time Mai has been married, enduring what she called a deeply harrowing divorce from Freddy Harteis. Following this, the talk show host didn't believe she would get hitched again.
However, she stated, the only reason she was able to find a man again is that she refused to give up on being happy and in love. She also admitted that she learned to love herself, which helped her form a healthy bond with Jeezy.
Please fill in your e-mail so we can share with you our top stories!