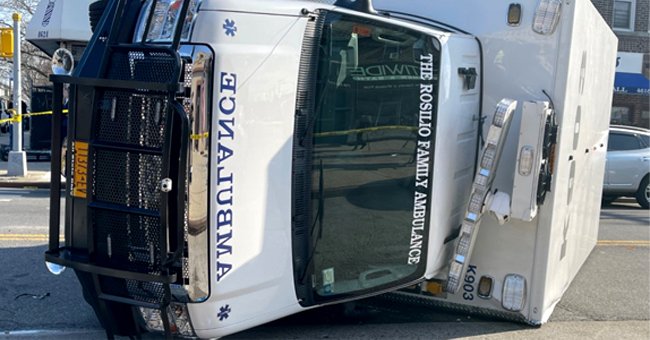 twitter.com/PIX11News
95-Year-Old Woman Dies & 8 People Injured after T-Bone Crash Overturns an Ambulance in Brooklyn

A 95-year-old woman has been confirmed dead after an EMS vehicle she was being transported in was overturned in a crash with a car headed in the opposite direction.
The NYPD police have confirmed that the sole casualty in a recent T-bone crash in Brooklyn was a 95-year-old patient. The woman was getting transported in an ambulance due to an illness when the crash happened.
In the footage shared on Twitter, the EMS vehicle transporting the patient was rammed from the side by a black 2002 Maxima, and the effect caused it to topple over, lying on its side.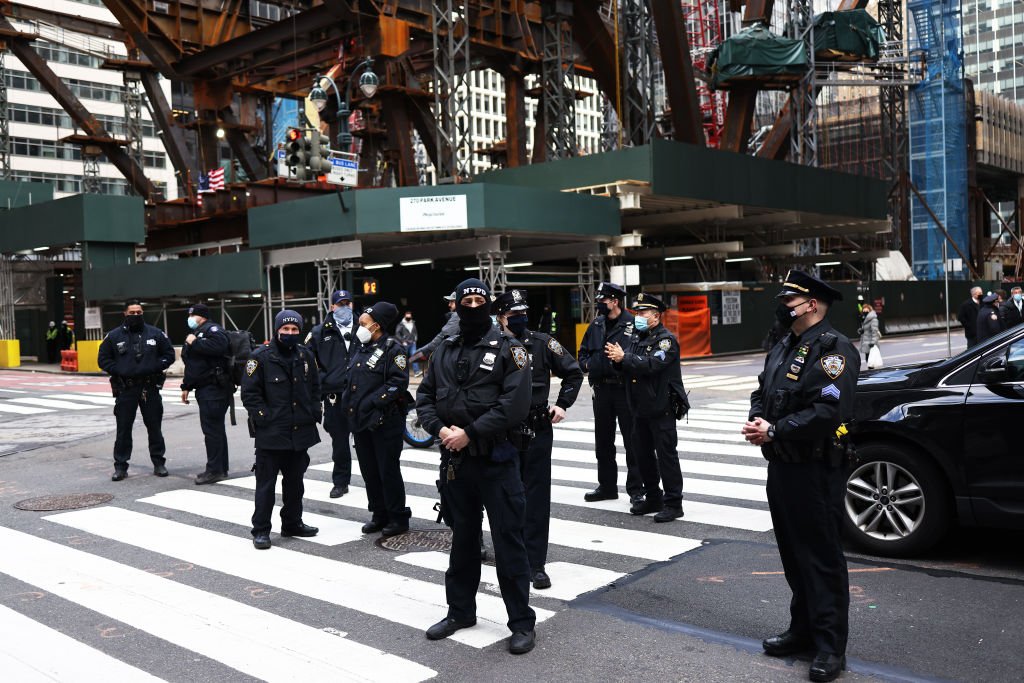 NYPD officers stand at the scene of an incident. | Photo: Getty Images
Authorities relayed that the patient, who had a heart-related illness, died from the injuries sustained in the crash. Eight others were also said to be badly injured and were transferred to the hospital.
The Ambulance was said to be southbound on Schenectady while the Maxima was headed for the west. The EMS vehicle contained an adult male believed to be the woman's son and some health workers.
The Maxima had two people who were also injured. So far, investigations are going on concerning the accident as authorities are trying to confirm if there were criminal undertones to the incident.
Authorities believed that the weather was a significant cause.
Another ambulance accident reported at Boone County was said to have caused the death of three people. The three-vehicle collision involved a Whitesville ambulance.
Boone County first responders recounted that a car lost control, crossed the center line, and crashed head-on into another vehicle. The impact of the collision affected the ambulance on Lens Creek Road.
The two casualties of the crash were from the same vehicle while the occupants of the ambulance, a patient, and two paramedics were left unscratched. Authorities believed that the weather was a significant cause.
Last November, an ambulance responding to an emergency on Cross Coates Road, Grimsby, was in a collision with a white Suzuki Alto. The white vehicle had two occupants, an 85-year-old woman, and an 87-year-old man.
Humberside police shared that the woman died at the crash scene while the man was taken to the hospital. Appeals were also made to the public concerning the possibility of a dashcam.
Please fill in your e-mail so we can share with you our top stories!