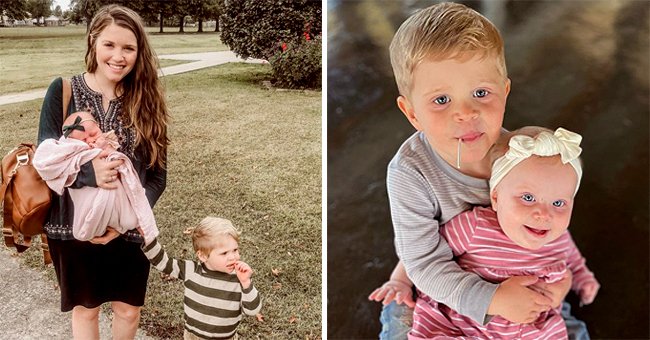 Instagram.com/joy4site
Joy-Anna Duggar's 3-Year-Old Son Gideon Cuddling His Baby Sister Evy in New Photos Is Adorable
Joy-Anna Duggar shared adorable photos of her two children cuddling together and praised her son on Instagram over the weekend.
Joy-Anna Duggar shared the most adorable photos of her son, Gideon, holding his baby sister, Evelyn Mae. Duggar wrote a sweet message about their relationship in the caption.
In the photo, the two children are sitting on the floor. Big brother Gideon is tightly holding his little sister in his lap. He looked adorable in a pair of denim jeans and a blue striped t-shirt.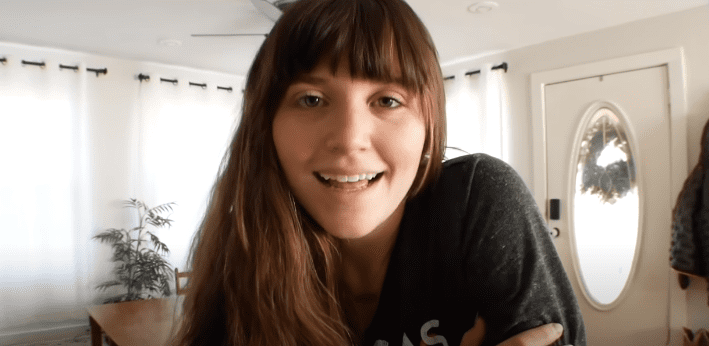 Joy-Anna Duggar pictured in a video on her family's YouTube channel. | YouTube/FollowtheForsyths
While Evelyn, who is nicknamed Evy, wore a pretty pink dress that had white stripes. Her mom accessorized her outfit with a cream-colored headband and bow.
In the caption, Duggar praised her son and the love he has for his sister. She wrote that she loved how much he loved her. She shared a sweet antidote about her two children:
"Gideon loves to make Evy belly laugh and when she's crying he holds her hand, says "don't shry", and starts singing "crinkle, crinkle, liddle sta...⭐️" "
Duggar shares her two-year-old and eight-month-old with her husband, Austin Forsyth. They welcomed Gideon in 2018 a few months after their wedding in 2017 and welcomed Evy to the family in August 2020.
Before Evy's birth, the couple shared that they had suffered a miscarriage. The doctor did not find a heartbeat when Duggar went for her 20-week scan. In July 2020, Duggar shared that it had been a year without their daughter, Annabell.
Recently the Forsyth family and the rest of the Duggars meet up for Jed Duggar's wedding to Katey Hatasku.
She then announced she was pregnant in March 2020, and Evy was born a few months later. Duggar shared sweet photos of her, Forsyth, and their new baby at the hospital.
Unfortunately, Evy had some health issues. On her YouTube channel, Duggar explained that her doctor was worried about a bump on the back of Evy's head. Duggar explained:
"She's got like a kind of a weird bump on the back of her head here. And the doctor was concerned enough to where he wanted us to go get it checked out by a craniofacial doctor."
Luckily, everything turned out fine. Evy did not need any treatment, and her parents were advised to watch the bump to make sure it did not grow larger or become irritated.
Recently the Forsyth family and the rest of the Duggars meet up for Jed Duggar's wedding to Katey Hatasku. Jed shared a photo of himself and his new wife on his Instagram this past weekend.
The newly married couple's courtship or engagement was not made public. The family's Instagram page wrote that they enjoyed a low-key and quiet relationship to prepare for married life.
Jed's
sister (and other siblings) shared their congratulations on Instagram. Joy commented on his photo and wrote that the wedding had been gorgeous, while his brother Jase wrote that they were great together.
Please fill in your e-mail so we can share with you our top stories!