Kate Hudson & Mom Goldie Hawn Look like Twins in a Sweet Photo with Her Kids Ryder and Rani
Kate Hudson and her mother, Goldie Hawn, proved they are twins as they showed off their striking resemblance in a new heartwarming family photo. The mother-daughter duo was joined by Hudson's sons Ryder and Rani.
Yesterday, Kate Hudson took to Instagram to bless her followers with a heartwarming family photo. Hudson was joined by her mother, Goldie Hawn, and two of her children, son Ryder and daughter Rani Rose.
The group of four posed in the kitchen next to a white and green island. The foursome tightly embraced each other, with 17-year-old Ryder wrapping his hands firmly around his mother and grandmother.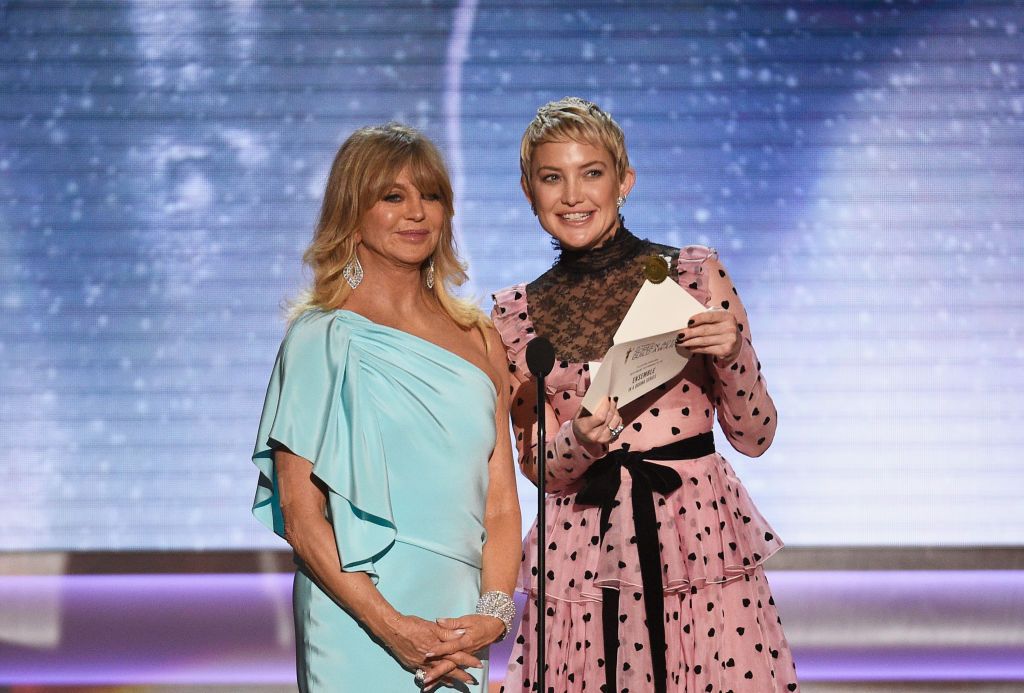 Hudson was without makeup and looked relaxed in a robe while Hawn rocked a black off-shoulder top. The mother-daughter duo held on to the baby of the house, Rani, as they smiled sweetly. Hudson wrote in the accompanying caption:
"My role as a mother to my beautiful children is my most important – and there isn't a thing I would not do for my family."
The actress continued, talking about the United Nations World Food Programme and its importance for women worldwide that struggle to feed themselves and their loved ones.
In April 2020, Hawn, Hudson, and Rani made history in an issue of People Magazine.
Kate encouraged her followers to partner with WFP amid the pandemic and help achieve its mission of empowering women. She concluded, adding the link to the site and using the hashtag #WomenAreHungrier.
The tight bond between Kate and Hawn is often reflected in social media posts shared on their pages. Last month during Kurt Russell's 70th birthday celebration, Hawn gave a subtle shoutout to her only daughter.
Under the Instagram tribute, the "How To Lose A Guy in 10 Days" shared to honor her step-father— whom she often credits for raising her and her brother Oliver Hudson— Hawn left a touching comment for her baby girl.
"The First Wives Club" star, evidently touched by the sweet words and lovely throwback family photo that Hudson shared, wrote in the comments section, "I love you, my darling daughter," alongside several heart-emojis. 
Last week, a photo that Oliver shared of his only daughter, Rio, caused a stir. The doting father was seen enjoying a delightful outdoor breakfast with his 8-year-old daughter in the happy image.
Fans couldn't help but compare little Rio to her grandmother Hawn. The 75-year-old veteran actress has often been likened to her granddaughters. In April 2020, Hawn, Hudson, and Rani made history in an issue of People Magazine.
The three generations of women graced the cover for the 30th anniversary of the "Beauty Issue." Their breathtaking photo made history the first time three generations of a family have been on the cover.