See Kate Hudson's Adorable Video of Mom Goldie Hawn with Daughter Rani, 2, in a Baby Carrier
Kate Hudson melted hearts over on Instagram on Monday when she posted an adorable video of her famous mother, Goldie Hawn carrying her daughter Rani, 2, enjoyed a daytime walk.
Kate Hudson shared an adorable video of Goldie Hawn and her granddaughter Rani spending some quality time together on Monday enjoying a walk. Hawn, 74, looked fit as ever with the cute toddler carried on her back in the clip.
Hudson referred to her mother as Gogo for short and Rani as 30lbs of love. Rani often makes appearances on the actress's Instagram page in sweet snippets showing her growth and bond with her mother and grandmother.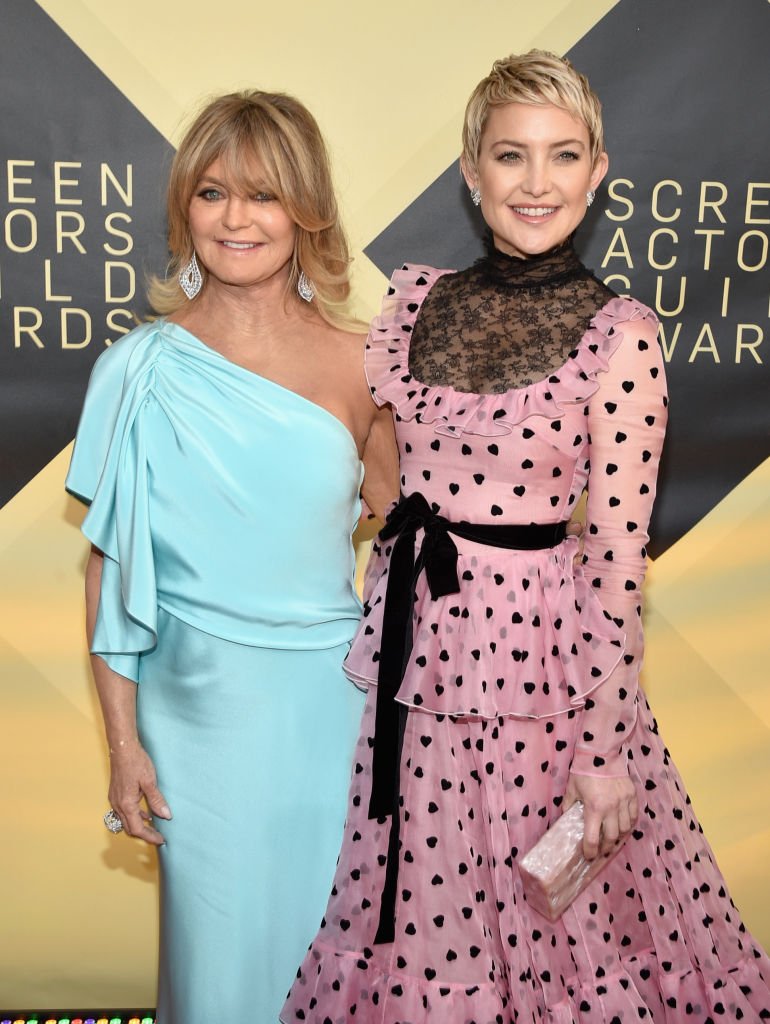 Hawn and Hudson are famous for their unbreakable mother-daughter relationship. The two even featured on the cover of People's, The Beautiful Issue back in April to open up on motherhood.
In the profile, Hudson and Hawn touched on various topics but spoke in great detail on their parenthood and resultant friendship due to it. Hudson praised her mother, sharing her wish to raise Rani the way Hawn raised her.
"Mom was my greatest cheerleader. And it just made me think about Rani…going, 'I hope I give her that kind of confidence,' you know?"
Hudson, a mother of three, shares her youngest child Rani with her beau musician Danny Fujikawa. Hudson also shares her son Ryder 17, with ex-husband Chris Robinson and daughter Bingham with ex-fiancé Matt Bellamy.
The "Fools Gold" actress has joked about her many relationships. In an interview with "Sunday Today with Willie Geist," the star laughed, explaining she has high expectations of family and strives to achieve it.
The famous Hawn is a grandmother of six.
Hudson puts these expectations on herself as well. The star has described motherhood as a process of trial and error. While defining her parenting style with Rani, the star described it as different from how she raised Ryder.
Despite a full house, the actress has hinted she is not done expanding her family just yet. Hudson, who hails from a large family herself, has stated that she may want another child since meeting Fujikawa.
"At one point, I was like, 'Oh, maybe I'm done.' And then I met Danny and was like, 'Alright, I got to pump them out for him."
Hudson and Fujikawa have been going strong. The star has explained Hawn's 37-year relationship with her partner Kurt Russell is her ultimate goal. Hudson revealed the union was a source of strength in times of trouble.
Russel, 69, is not Hudson's father but is often spotted spending quality time with her and her children. Hawn and Russel often spend time with their grandchildren, participating in several activities together.
The stars have been spending a lot of time together lately due to the coronavirus pandemic. However, the pair have found a positive in the chaos, revealing they are all reflecting on what's truly important.
The famous Hawn is a grandmother of six. Her son Oliver has three children as well, Bodhi, Wilder, and Rio. With Hudson sharing her mommy-daughter moments, fans can be sure to spot another sweet bonding activity soon.