Demi Moore Looks Ageless Gracing the Cover of Vogue Italia in an Elegant Black Ensemble
Actress and film producer Demi Moore sizzled in her latest project as she graced Vogue Italia's cover and took to social media to share how flattered she feels.
Demi Moore looked stunning on her recent cover of Vogue Italia, wearing a gorgeous outfit. She took to Instagram to share her milestone with her 2.3 million followers.
Moore captioned her post, "Honored to be on the cover of @vogueitalia, thanks to @mrkimjones! Holding your book from your collection that Virginia Woolf gave to Vita Sackville-West felt like a lightning bolt of intense love and passion running through me!"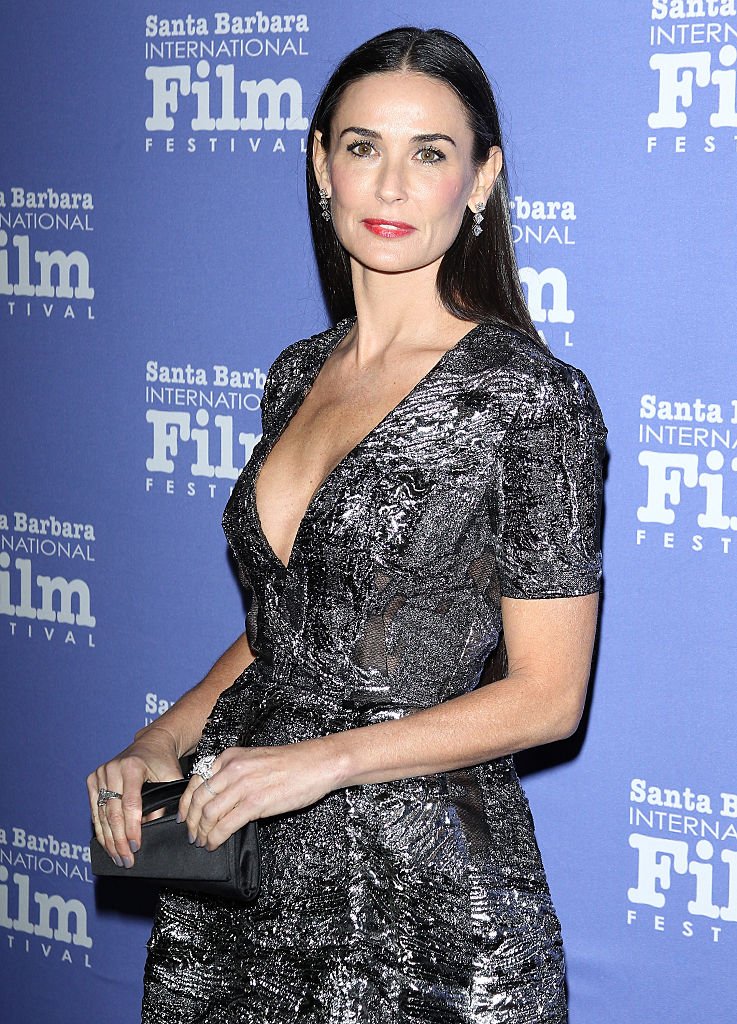 MOORE ON THE VOGUE COVER
She then gave a shout-out to Kim Jones and said she is loving the journey so far. "I love being on this magical adventure and journey with you, @mrkimjones. Excited to see where it takes us and for the next price to unfold," she wrote.
Along with a heart emoji, she posted a panoramic photo of herself. She donned an elegant black ensemble. The 58-year-old wore a plunging, silk, off-the-shoulder peplum blazer.
Moore posed with her one hand placed on her chest with some of her fingers touching her earring and holding a book in the other while one earring went all the way down to her cleavage.
She styled her dark hair neatly pinned back in a chignon. The poster of the magazine had words written, "Many friends have helped us in writing."

THE COLLABORATION FOR THE EDITION
According to the Daily Mail, the magazine's April 2021 cover for  The Many Friends edition was led by special guest editor Jones, the artistic director of Fendi women's collection.
Jones was called on by editor Emanuele Farneti to collaborate. His issue celebrates the collaboration between artists, musicians, collectors, movies, and web stars.
PARIS FASHION WEEK
On January 27, Moore walked the runway at Paris Fashion Week and modeled the outfit she wore for the magazine cover. The surprising cameo was for the Fendi Haute Couture runway.
The "G.I Jane" star modeled pieces from the Italian label's spring/summer 2021 line. At the time, she opened Jones' debut couture collection for Fendi.
PLASTIC SURGERY RUMORS
Despite her gorgeous looks to go with, Moore faced scrutiny about her physical features. According to The Sun, following her walk at the high-end fashion event, she sparked plastic surgery rumors after looking unrecognizable.
Fans reportedly believe she had work done. While walking her runway debut, people noticed that she looked a bit different, and her cheekbones appeared much more defined. Moore's fans took to Twitter to share their opinions on her new appearance and were in disapproval.
HONORING EMMA HEMING
Despite the backlash she faced, she still has some love to share. Last month, Moore took to Instagram and penned a heartfelt tribute to ex-husband Bruce Willis' wife, Emma Heming.
She honored her on International Women's Day and gave her a shout-out referring to her as "family." Moore praised Heming for being a good mom and even called her a sister.