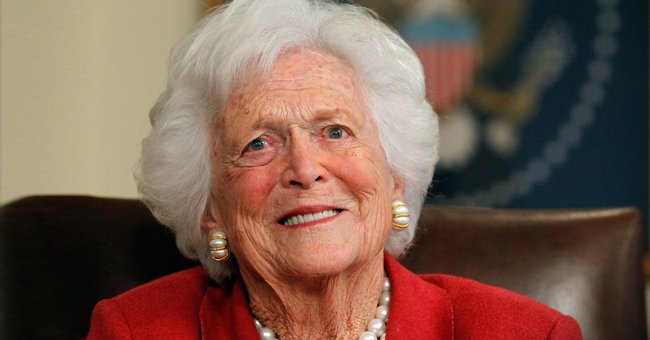 Getty Images
Former First Lady Barbara Bush Died 3 Years Ago at 92 – Remembering Her Life
Barbara Bush, former first lady of the United States, lived a remarkable life in her 92 years on earth. Here's a look into the life of one of the greatest women to ever pass through the White House.
On April 17, 2018, former First Lady Babara Bush took her last breath. But now, even three years later, her legacy lives on in the hearts of many who knew her.
Born in 1925 to Pauline and Marvin Pierce, Barbara grew up in Rye, a suburban town in New York where she made some of her earliest notable memories. Altogether, she had a happy childhood.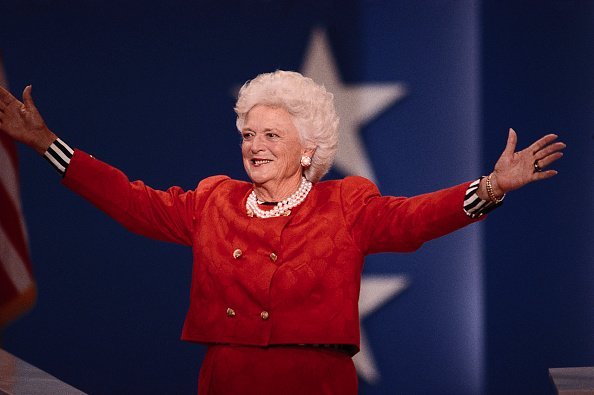 Barbara Bush at Republican Party National Convention | Photo: Getty Images
While at boarding school at Ashley Hall in South Carolina, she met George Bush, a senior at Phillips Academy in Andover, Massachusetts. The year was 1941, and Barbara was only 16 at the time.
Less than two years after their first meeting, the couple got engaged, shortly before George went to serve as a Navy torpedo bomber pilot in the war.
On his return, Barbara had dropped out of school, and two weeks later, they tied the knot on January 6, 1945. After the war, George finished his education at Yale, and the couple relocated to Texas to start a family.
During their marriage, George and Barbara welcomed six children, George, Jeb, Neil, Marvin, Dorothy, and daughter Robin who passed away from Leukemia before turning four.
Barbara was one of the only two women in American history whose husband and son became US president.
Though a tragic loss, Robin's death left a lasting impact on George and Barbara, for the couple, their daughter's death translated them into a lifetime of longtime compassion that simply helped them love people better.
With George mostly away for business and political reasons, Barbara was left to run the family. Stepping up to her role, she was soon given the name "The Enforcer," given her disciplinarian ways with the children.
However, despite this, Barbara built a solid relationship with her kids, guiding them to become the best adults in their respective paths and showing them that family is all that matters above all else.
From January 20, 1980, to January 20, 1989, when George served as vice president, Barbara won over the press and the public with her relentless efforts to promoting literacy in the United States.
Barbara is remembered as a lot of things by different people, but one thing is common in how she has been described; she was a woman who adored her husband, loved her children, and sought to serve in her own little way.
Barbara was one of the only two women in American history whose husband and son became US president. She was, however, the only one alive to have seen both sworn in.
A devoted mother, a support system to her husband, and an inspiration to many, Barbara, simply put, was a woman who commanded respect till the very end of her time here on earth.
Please fill in your e-mail so we can share with you our top stories!