Fans Are In Awe as La La Anthony Sports Blonde Hair with Blue Highlights in This Close Up Photo
La La Anthony recently stunned her fans with close-up pictures that showcased her colorful hair— find out how they reacted to the look. 
La La Anthony put her fans in awe recently after she equipped her Instagram page with two gorgeous photos of herself. The snaps were taken outdoors, as evidenced by the large tree and yard fence visible behind her as she posed for the camera.
Anthony had a beautiful smile on her face in the first picture, but her eyes were staring off to the side. The next shot saw her hands raised slightly in the universal symbol for peace.
Again her eyes were fixed on something in the distance, this time straight ahead. Her lips were pursed somewhat, but she couldn't have looked more perfect.
The American TV personality's curvy body looked as though it had been poured into the long sleeveless red dress that she wore in the shots, but her hair was the cherry on top of the cake— she had added faint blue highlights to her Blonde hair. 
Anthony looked good, she bodied the shots, and she was well aware of the fact; perhaps it's why she revealed in her caption that the "price been up." 
Her fans could not find fault in the images; all they had for the beautiful woman were sweet words like "beautiful" and "gorgeous." Many eschewed even to point out the things they loved about the shot— her hair.
The two women often get up to all manner of adventures when they hang out.

Anthony has always been a huge fan of long beautiful hair like the one she is now rocking. At some point in February, her stylist convinced her to switch things up with a short brown–blonde bob that looked fabulous on her. 
She debuted the classy look in a series of posts she shared via her Instagram stories. Her hairstylist Tae also shared shots of the finished look on his page.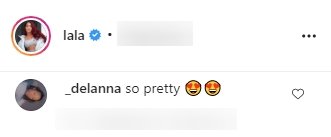 Anthony has come a long way in her life. She is referred to as the "Queen of the multi-hyphenate" creatives because she has a lot going for her. At 38, she is already a best-selling author, designer, producer, actress, and mother.
She has a son named Kiyan with her husband Carmelo Anthony— the two separated in 2017 after cheating allegations were leveled against him. 
Anthony started her career at 16 and, in the years since then, has evolved into one of the elites of Hollywood. Some of her closest friends include Ciara, Serena Williams, and Kelly Rowland. 
She also shares a close relationship with Kim Kardashian. The two women often get up to all manner of adventures when they hang out. 
They sometimes share pictures documenting their time together on their social media pages. Fans love to see women love and support each other, a sentiment that sets a precedence for those who look up to them.