Queen Elizabeth Appears to be in Deep Mourning As She Arrives At Late Husband Prince Philip's Funeral
A sad day for Queen Elizabeth II as she laid her husband, Prince Philip, the Duke of Edinburgh to rest. The royal pair were married for 73 years.
Her Majesty arrived at the St. George's Chapel in Windsor Castle to bid farewell to her beloved spouse, who died on April 9, at age 99.
During his final days, Prince Philip spent his precious time with his wife and died peacefully with her beside him. The Queen arrived in Royal Bentley at his funeral.
The monarch was photographed looking through the car window with sadness in her eyes while heading to the chapel. She was dressed in a black ensemble to mourn the Duke.
The 94-year-old paired the outfit with a matching hat, a trench coat, and a black and white face mask. The Queen completed her look with big pearl earrings.
Lady Susan Hussey accompanied the royal matriarch as her lady-in-waiting as they followed the procession in her State vehicle. While sitting inside the chapel, Queen could be spotted with her head bowed, only the top of her black hat visible.
She wiped away her tears as she mourned away from her family and looked grief-stricken in front of Prince Philip's coffin which was carried in with his sword, naval cap, and a wreath. 
The day before the burial, she released her first official statement, which excluded her now-late husband. At the time, she expressed her sympathy and support towards the people of St. Vincent and Grenadines following volcanic eruptions in their country.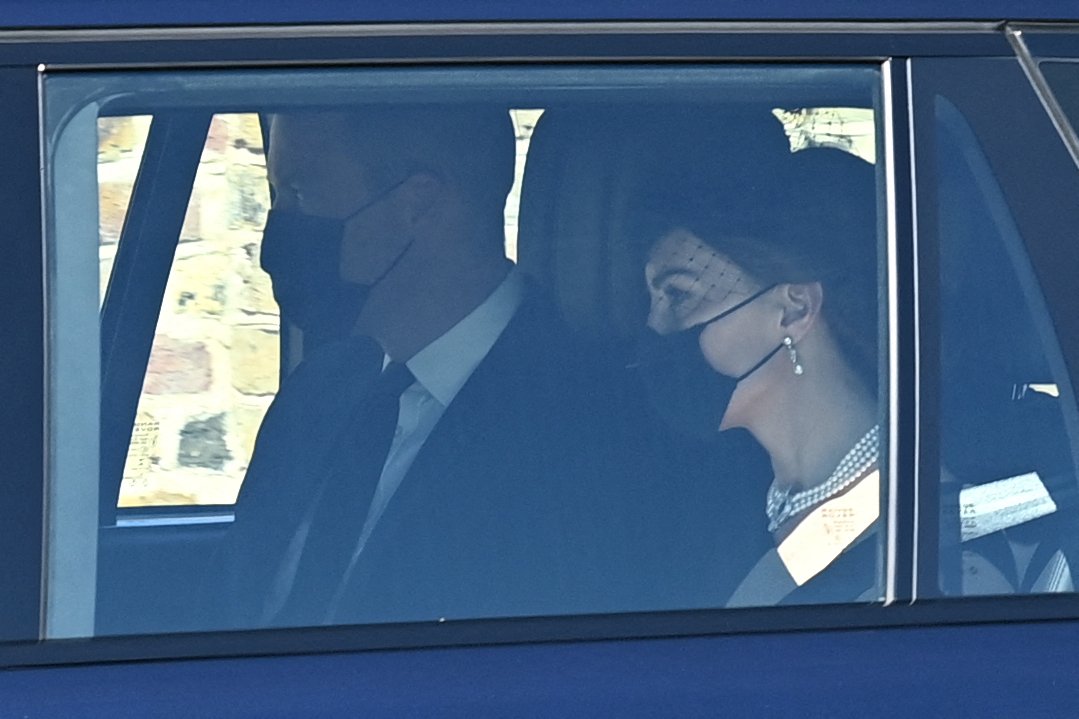 While her messages usually begin with the words "The Duke of Edinburgh and I," she instead referenced herself only without including him. It is the first such message without him.
Nevertheless, the monarch has been comforted by members of the public who have paid tributes to the love of her life, and by her witnessing such has been nothing but extraordinary.