Salma Hayek Looks Flawless Wearing a Beige Dress With Rich Embroidered Belt in Throwback Photo
Actress Salma Hayek, 54, recently stunned her fans with an incredible photo of her wearing a unique beige dress to show off her beauty and notoriously curvy physique.
Every time actress Salma Hayek posts photos of herself on Instagram, her fans can almost swear that the dark-haired beauty looks like she is aging backward, and they would not be wrong!
The actress recently shared a sizzling hot photo of herself in a beige outfit. As Hayek's caption stated, the fabulous photo of herself was a throwback, no doubt to remind her fans that she has always been a breathtaking woman whose beauty knows no bounds.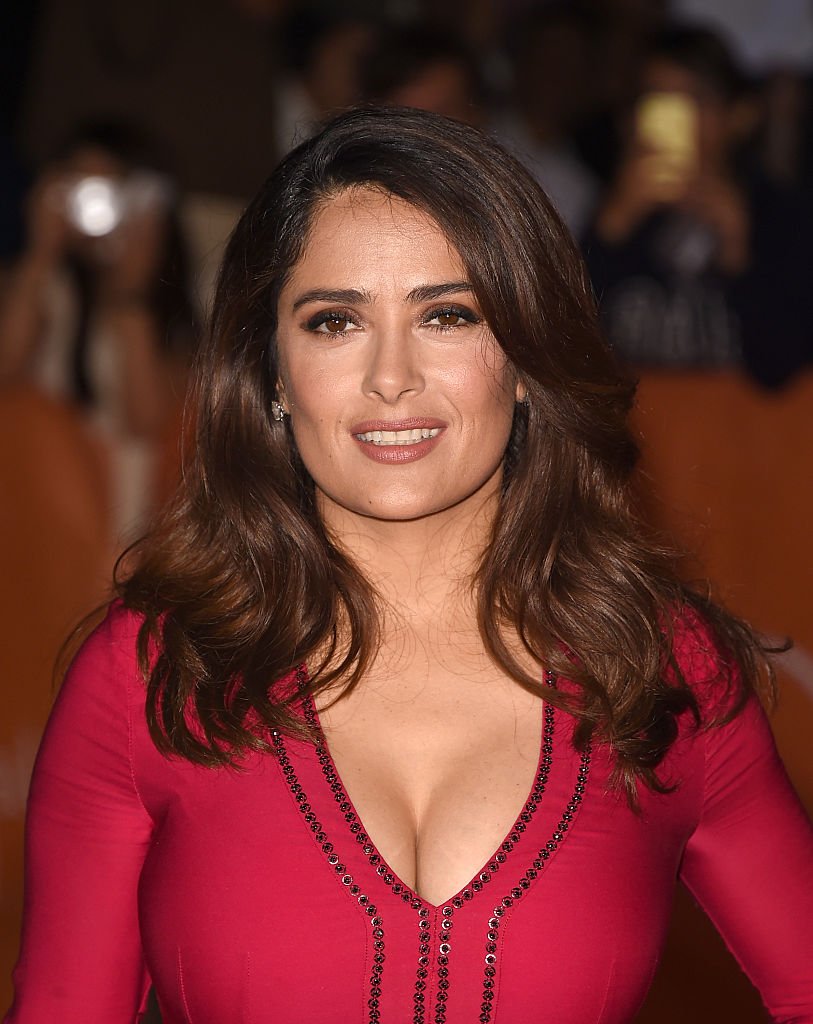 The picture showed Hayek dressed in a form-fitting beige dress with complementing silver-colored embroidery designs running down its length. The neckline of the dress also sported an unusual slit design making it as unique as possible.
To accentuate her notoriously sexy figure, a belt ran around her midriff, cinching her waist to perfection. She completed the look with her signature lush brunette locks styled to perfection.
As always, Hayek's fans marveled at her beauty as they not only showered the post with hundreds of thousands of likes, but they also trooped to the comments in thousands to give her the praise she very much deserves.
While Hayek uses her social media page to delight fans with great throwbacks, fans also get glimpses of her life in present times.
Hayek's unforgettable beige look is not the first time that she has had her fans and followers falling in love with a throwback in the last couple of months. In fact, the actress has shared some of the most epic celebrity throwbacks out there.
On April 8, she stunned her fans by rocking a gorgeous green dress with a very deep plunging neckline. Beside her in the photo was fellow actress Patricia Arquette, who was celebrating her 53rd birthday. Wishing her friend a happy birthday, Hayek wrote:
"Happy birthday to the lovely and talented @patriciaarquette."
Both women looked absolutely exquisite in their daring outfits. While Hayek rocked her green dress to the nines, Arquette looked just as smashing in a black dress with colorful glitters and an equally surprising plunging neckline.
While Hayek uses her social media page to delight fans with great throwbacks, fans also get glimpses of her life in present times. Early in April, the actress revealed that she had an unusual best friend who shares her love for wine.
In an interview with People, the "Frida" star shared that she has a pet rescue owl named Kerring. She gushed all about her fabulous owl friend and the bond that they share. Hayek's charms clearly work on other species too!
The actress is currently preparing for the release of the much- anticipated sequel to the 2017 action-comedy "The Hitman's Bodyguard," in which he starred alongside Samuel L. Jackson and Ryan Reynolds. 
The sequel, "The Hitman's Wife's Bodyguard," is set to come out later this year in June. While fans wait to see her on the big screen, Hayek will continue to serve her fans with the best looks.