Check Out Salma Hayek's Tiny Waist & Curly Locks in a TBT Photo from 'Wild Wild West' Premiere
Salma Hayek stuns this time in a throwback photo from the premiere of "Wild Wild West." The actress' cinched waist in a pink corset is a reminder of her enviable curves. 
It's hard to believe Salma Hayek is 54 years old; the woman never ages! The actress treated fans to a throwback snap of her outfit from when she attended the "Wild Wild West" premiere and compared to how she looks today, and it's evident she's ageless. 
In the snap, the "Tale of Tales" star wears a pink dress with a pink corset cinching her tiny waist. The top of the dress is embroidered in gold as the sleeves hang off her shoulders.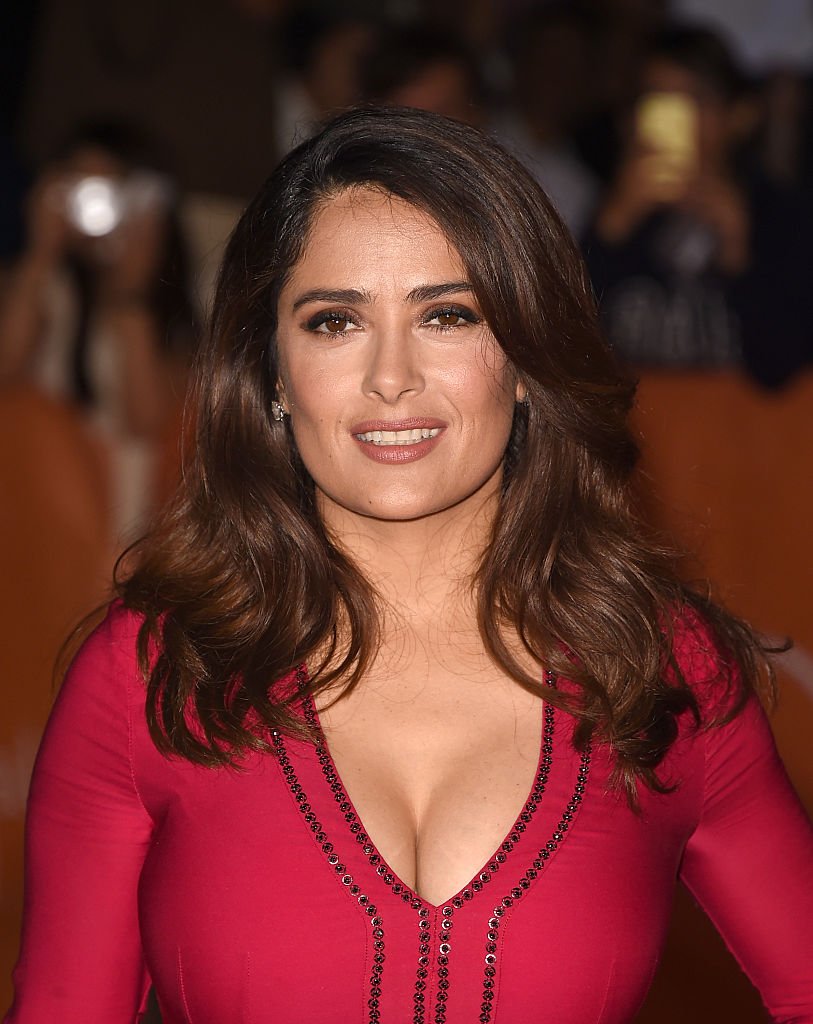 Her dark mane cascades from the top of her head in luscious curls to her shoulder. She wears gold drop-down earrings, while her makeup includes rose-colored cheeks and a pink lip. Hayek is hilarious with her caption: 
"This picture is from the premiere of Wild Wild West @salmahayekfan commented "wild wild waist" ? ." 
Hayek concludes the caption by reminiscing about her little waist was before she became a mother. Although, judging by the actress' curvaceous figure, we really think Hayek's body has been perfect throughout her entire career. 
The "Frida Kahlo" star (for which she received an Oscar nomination) recently celebrated her impressive Instagram following of 17 million. She treated her followers to a photoshoot, where she wore a green plunging neckline dress. 
Fans can look forward to her upcoming movie, "Bliss", where she stars alongside Owen Wilson.
The images included shots of Hayek striking a strength pose with both her fists in the air, a picture of her standing next to some palm trees, as well as a beach shot with the word 'seventeen' carved into the sand. 
Hayek has been married to her husband, Francois-Henri Pinault, for 11 years, and together they share a daughter, Valentina, who is 13 years old. Hayek dedicated a sweet message to Pinault for International Father's Day through her caption:
"You are our strength, you are our inspiration, you are our home."
Fans have loved the actress since she burst onto our movie screens in "Desperado." Other memorable performances include Quentin Tarantino's "From Dusk Till Dawn," including her hypnotic scene where she dances with a snake. 
Hayek almost missed out on the role due to her fear of snakes. When Tarantino told her he could have her replaced by Madonna, it encouraged Mexican-American to overcome her fear and keep the role for herself. 
Hayek's 54 years are made even more impressive because the star has not had any plastic surgery done. Furthermore, she's got great self-confidence to boot, saying she believes she'll be happy when she looks back on her pics in a few years.
The star added that when she looks back on old snaps of hers from the time she was in her 30s and 40s, she does so with a greater sense of appreciation of how she looked back then since she didn't think she looked amazing at the time.  
Fans can look forward to her upcoming movie, "Bliss," where she stars alongside Owen Wilson. "Bliss" is set for release on 5 February, on Amazon Prime.