Toby Keith and Tricia Lucus Have Been Married for 37 Years — Look Through Their Love Story
Toby Keith and Tricia Lucus have spent more than three decades together and have become one of country music's most incredible love stories. Here's a look at their love journey.
Toby Keith is one of those stars who enjoyed the best of both worlds. Keith, whose real last name is Covel, has enjoyed an illustrious career as a country star, but most importantly, he was lucky to find his soulmate.
The country star met his bride in an Oklahoma nightclub in 1981, and it was love at first sight for Keith. The moment he set his eyes on his future wife, Tricia Lucus, his heart knew it had found the one. A look at their history.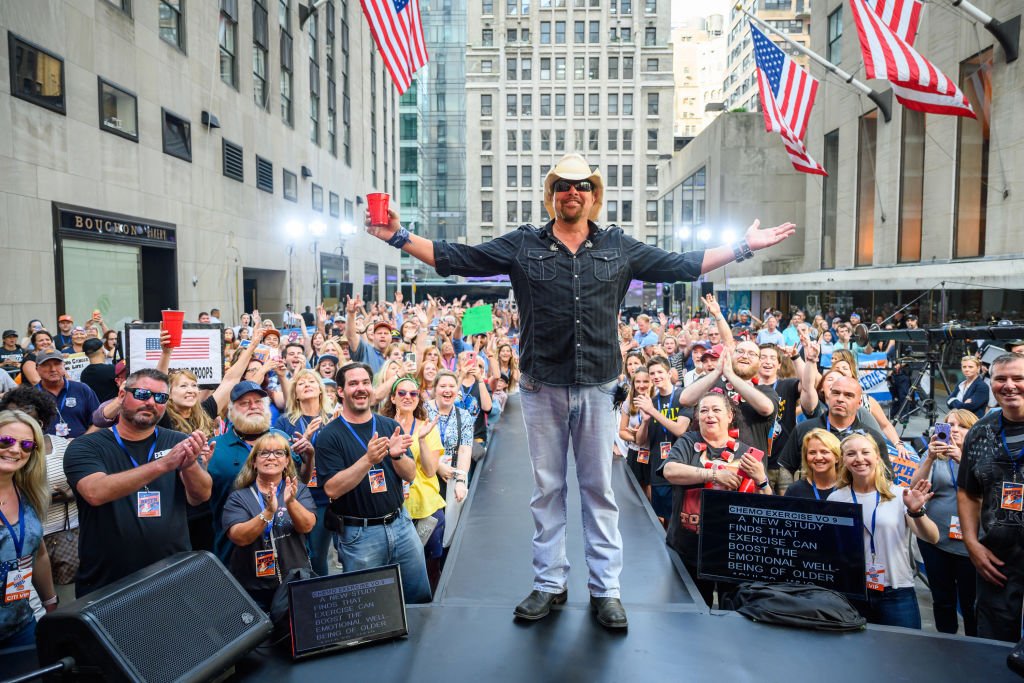 EARLY DAYS TOGETHER
Keith and Lucus met when they were 20 and 19, respectively. Speaking on what attracted her to the country star, Lucus explained that she found his confidence attractive and loved how he carried himself.
In his account, Keith recalled them having a dance on their first meeting and the moment left an impression on his heart. He noted that he found it difficult to go his way after their dance. At that point, he realized that he wanted more.
Few years after dating, Keith took the bold step of walking down the aisle with Lucus. He was 22 at the time, beginning what would go on to be decades of bliss.
Being married to his new bride quickly made Keith a father as he adopted Lucus' daughter Shelley, born in 1980. Later on, the couple would raise their kids, daughter Krystal Keith, and son Stelen Keith Covel.
Together, the couple is celebrating 37 years of staying together.
 A NOT SO ROSY START
Life as a new couple was not as rosy as it is now for the country star who enjoys the tag of being one of the richest country stars of all time. To provide for his growing family, Keith sometimes worked dangerous jobs.
The 59-year-old Keith provided for his family by working the Oklahoma oil fields with his dad, and sometimes, he would witness the death of others on the field.
TAKING UP MUSIC
When work became scarce, Keith revived his old passion of singing and took up his guitar to play with the "Easy Money Band" in bars for $35 a night plus free beer. His income was not enough to keep his family growing, but Keith saw his big break coming.
Choosing music was not an easy choice for Keith. He was discouraged by lots of bashers who asked him to be reasonable and get a proper 9-5 job to provide for his family.
Wishing @tobykeith and Tricia Lucus a happy anniversary! 💜 pic.twitter.com/8usJY1BkcB

— CMT (@CMT) March 24, 2019
Despite the opposition the couple faced, Lucus held on to her belief in her man and encouraged him in his musical ambition. It did not take long for his big break to come.
KEITH'S BIG BREAK
His biggest break happened when the CEO of Mercury Records, Harold Shedd, gave him a chance. Shortly after being impressed by his demo life, Keith was offered a contract.
Soon, his album became a dominant force in the music industry, and his bank account started reflecting his status as country music's starman. Soon, Keith earned a total of $500 million net worth.
Despite enjoying wealth and fame, his love and preference for his supportive wife never changed. The 59-year-old never stopped gushing over the support and love from his wife. Together, the couple is celebrating 37 years of staying with each other.